5 Minute Tiramisu Dip
5 Minute Tiramisu Dip recipe is all the great flavors of your favorite Italian dessert turned into an incredibly easy dessert served with Ladyfingers.  Have your coffee and eat it, too!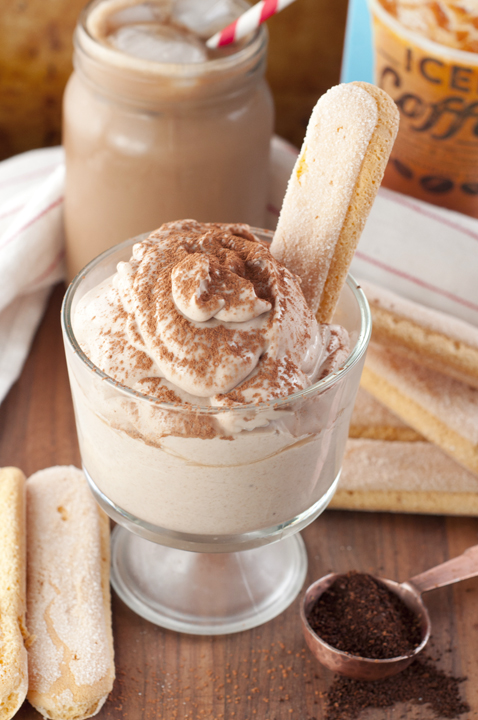 All things summer are filling up my weeks lately, including my stomach. I love taking advantage of the season where I can do the things and eat the things that just scream "summer time". This 5 Minute Tiramisu Dip is one of those things.
No-bake desserts and cold dips are one of my favorite things to make when the weather is nice and toasty. Also, the past couple summers have been filled with my beverage of choice: International Delight Iced Coffee. They have plenty of flavors to choose from (vanilla, caramel Macchiato and mocha) and my favorite flavor lately has been the mocha.
I'm not normally even a huge chocolate fanatic (call me crazy), but this iced coffee is positively addicting!  I decided to be nice and share it with Mr. Wishes who didn't expect to like it as much as he did. Now he drinks it more than I do!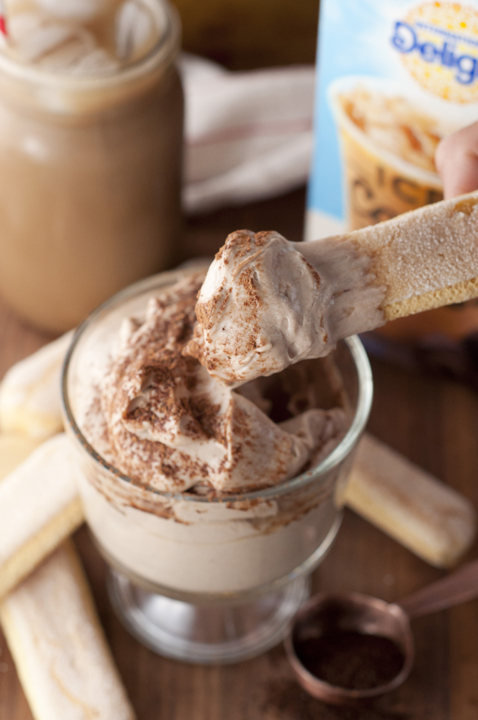 My best idea yet was to combine my love for cold dessert dips and iced coffee. The idea of iced coffee in a Tiramisu Dip got me super excited. I got to thinking – what kind of dip has coffee in it? Tiramisu dip, of course!
I thought of all the ingredients that normally would go into Tiramisu that I could incorporate into a dip and this is what I came up with. I'm ashamed to say that I am an Italian who has never made Tiramisu before.
Why does it seem so intimidating? As I looked up recipes for actual Tiramisu, it seems like a very practical dessert with very impressive results. The dip? Even easier and more fun as, let's be honest, dips are always more fun – especially for parties (like my Easy Cannoli Dip)! For the dipper, I thought what would go better with Tiramisu dip than Ladyfingers?
Of course, feel free to use vanilla wafers as I realize not every grocery store would carry the Ladyfingers.  Ladyfingers (or Savoiardi) are just a sweet, fairly dry finger-shaped sponge cake cookie.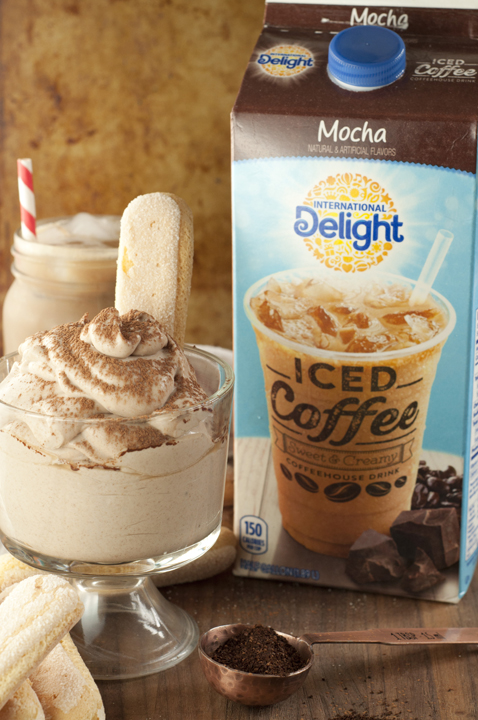 This Tiramisu Dip is the perfect summer dip (or anytime dip) and you can even go a little bonkers, double up on your coffee dose, and serve this with a tall glass of some delish International Delight iced coffee in your flavor of choice. You just pour it over ice and BAM…nothing else needs to be added!  All of the work is done for you.  Hey, even saving a couple of minutes in our daily hectic lives can be huge, right?
The texture of this Tiramisu dip came out perfect – not too runny and not too thick for dipping. I was thrilled with the results!  I have experimented with many dips before with less than satisfying results (the price of food blogging and recipe developing) as I find the texture hard to perfect sometimes.  Tiramisu dip did not disappoint – and on the first try, no less!  That never happens…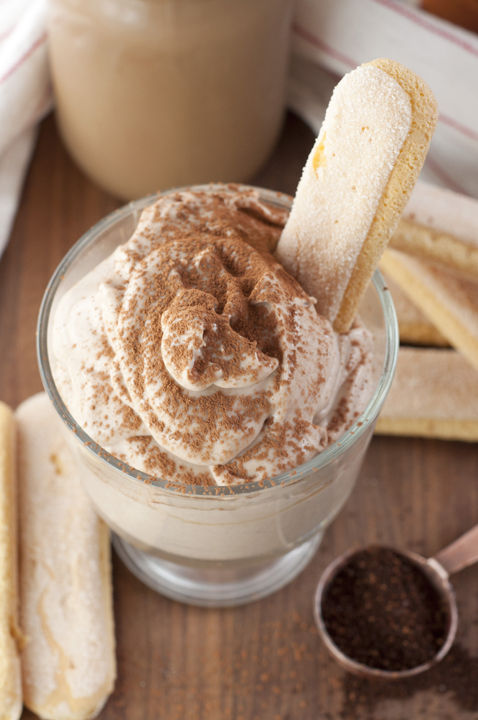 Serve this Tiramisu dip to your family or for your next party and sip on some International Delight Iced coffee as the summer just wouldn't be complete without it.  Personally, I plan on making this one all year 'round, especially around the holidays.  I can totally see it on the dessert table at Christmas…OK, don't hate me for mentioning the "C" word in July!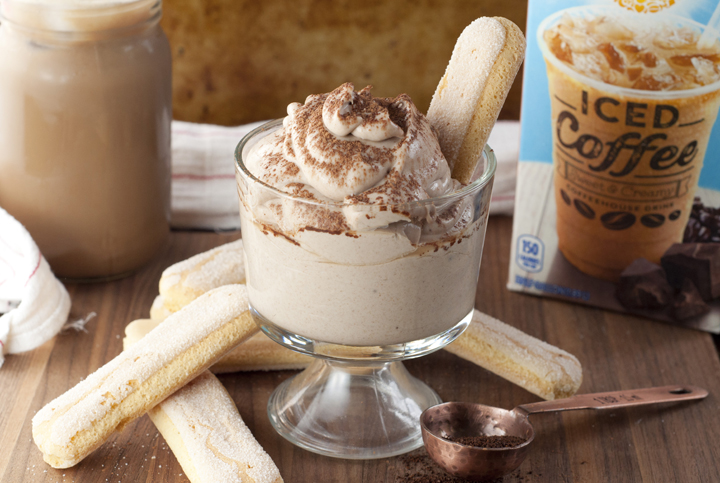 5 Minute Tiramasu Dip
5 Minute Tiramisu Dip recipe is all the great flavors of your favorite Italian dessert turned into an incredibly easy dessert served with Ladyfingers!
Ingredients
8 oz. Mascarpone Cheese, room temperature
⅓ cup Sugar
¼ cup International Delight Mocha Iced Coffee
1 tsp unsweetened cocoa powder
½ tsp instant espresso powder
Additional cocoa Powder, for dusting
1 package Savoiardi or Ladyfingers cookies, for dipping
Instructions
Whip the Mascarpone cheese with the sugar until well incorporated. Slowly add in the iced coffee and espresso powder until worked into the cheese/sugar mixture.
Add the cocoa powder and mix well, which will thicken the dip. (If not using International Delight prepared iced coffee, substitute heavy whipping cream as plain iced coffee will be too watery for this dip)
Add to small serving bowl and dust with cocoa powder for serving. Serve with Ladyfingers or vanilla wafers. Enjoy!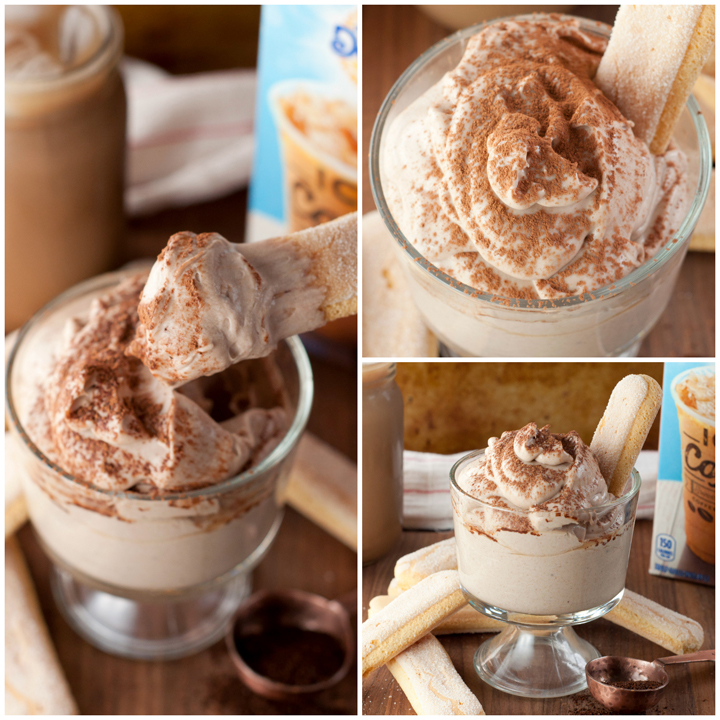 This is a sponsored conversation written by me on behalf of International Delight. The opinions and text are all mine.