Caprese Pasta Salad
Caprese Pasta Salad recipe with tomatoes and mozzarella is great for a summer grilling side dish and perfect for a picnic or BBQ!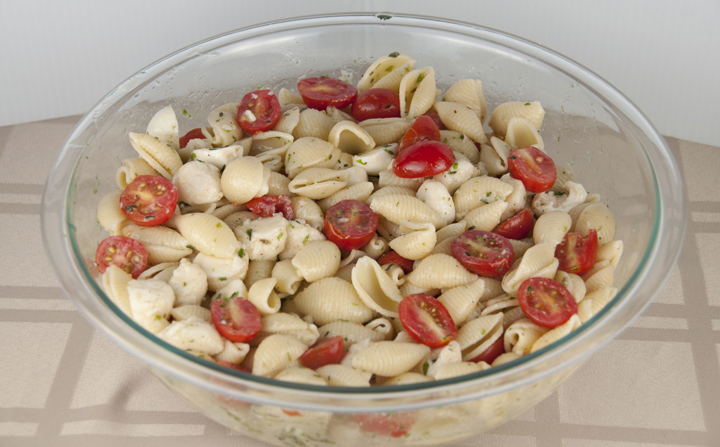 When it comes to summer grilling, there are a few dishes that always have a place at the table and pasta salad is one of them.  I made this caprese pasta salad version of it way back in the beginning of the summer for a small BBQ we were hosting with family on the 4th of July.
This Caprese Pasta Salad got a lot of compliments and I loved how quick and easy it was to assemble and it's perfect for any summer cook-outs, picnics, BBQs & potlucks. It is just as popular as my California Spaghetti Salad.
What I love most about this Caprese Pasta Salad was that it is full of fresh ingredients and exciting flavors – delicious and beautiful enough for any occasion.  It is also so simple to make due to its short ingredient list, it comes together in no time, and can easily feed a crowd.
Leftovers taste pretty spectacular, too.  I actually thought it tasted even better the next day, so next time I think I will make it a day in advance.
I really love this recipe and the addition of garlic-infused oil. I am a huge garlic lover and I feel that just adds SO much to this recipe.  Garlic power!
What about your plans for the long Memorial Day weekend? Check out my post 12 Perfect Pasta Salads for more great ideas!
Caprese Pasta Salad
Prep time:
Cook time:
Total time:
Caprese Pasta Salad recipe is great for a summer grilling side dish and perfect for a picnic or BBQ.
Ingredients
This recipe doubles and triples nicely if you're feeding a large crowd.*
1 lb. pasta shapes (I used shells)
6 tbsp. extra virgin olive oil
4 cloves garlic, minced
½ tsp. red pepper flakes
2 tbsp. balsamic vinegar
1 lb. cherry or grape tomatoes, halved
1 lb. fresh mozzarella, cubed (or buy the mozzarella balls)
½ cup loosely packed fresh basil leaves, chopped
salt and pepper, to taste
Instructions
Cook the pasta according to package directions. Drain and rinse well with cold water. In the meantime, add the olive oil, garlic, and red pepper flakes to a small skillet. Over medium-low heat, allow the oil to infuse with the flavors for about 5-10 minutes. Be careful that the garlic doesn't burn. Remove from heat and allow to cool slightly.
Combine the cooked pasta, olive oil mixture, tomatoes, mozzarella, basil, and balsamic vinegar in a large bowl and toss to coat. Season with salt and pepper to taste. Serve cold or at room temperature. Enjoy!
 Recipe source: adapted from annies-eats.com