California Spaghetti Salad
If you need an easy side dish for a potluck or picnic, California Spaghetti Salad has diverse textures, loaded with pasta and zucchini, & is a great summer salad recipe that tastes even better the next day!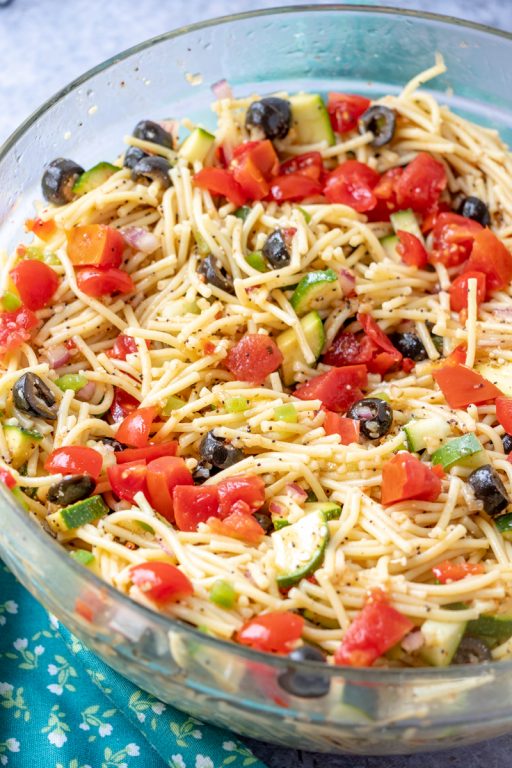 Make better pasta salad, because you can. This California Spaghetti Salad is bigger, better, harder, stronger. Seriously though, I made this for a family picnic for the first time a couple years ago and everyone swooned.  Sounds dramatic, but it's true. Nobody expects spaghetti to be in a pasta salad – it's refreshing and different!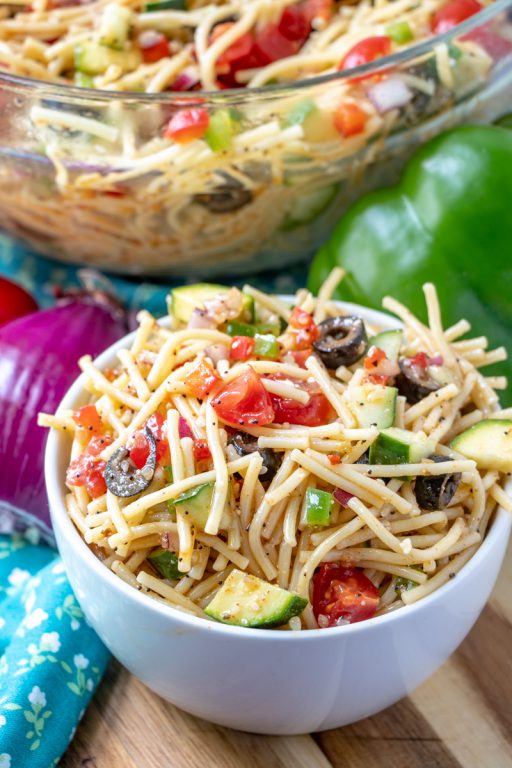 We had quite the busy last few weekends. Eliza's big first birthday party was last weekend and we had almost 100 people at the party! We spent a the weekends before that doing a lot of planning, shopping, and errands. Eliza is a popular girl, what can we say?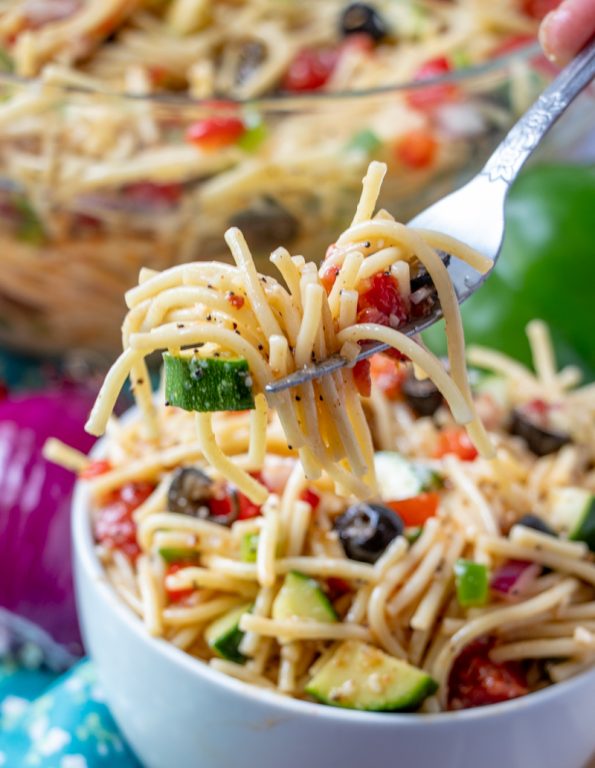 We had her party at Nosh in Rochester and it was the perfect space for the event. The food was unforgettable and having all of our family and friends there who are special in Eliza's life made it all worth it! She lasted the full four hours plus of the party on no nap and I was super impressed.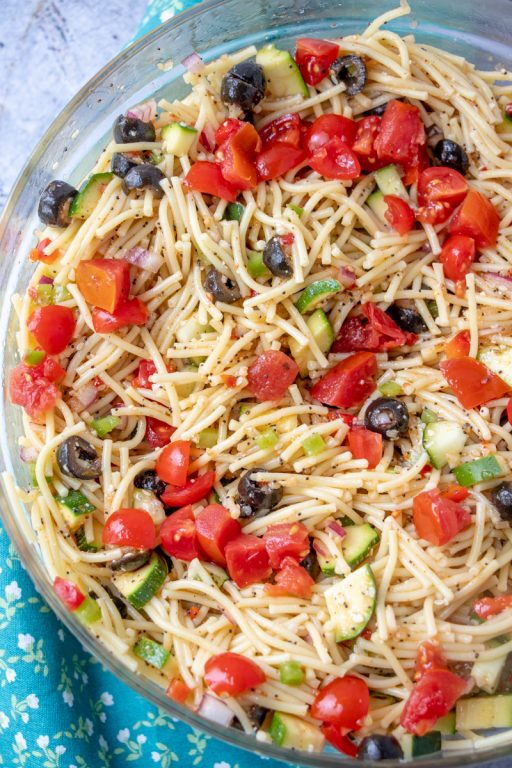 I can live off pasta salads like my chicken club sausage pasta salad in the summer, how about you? In the winter I always crave HOT food and cannot fathom eating a cold salad for my meal. There is something about the hot weather that has me craving summer foods, like my Bacon and Apple Broccoli Salad.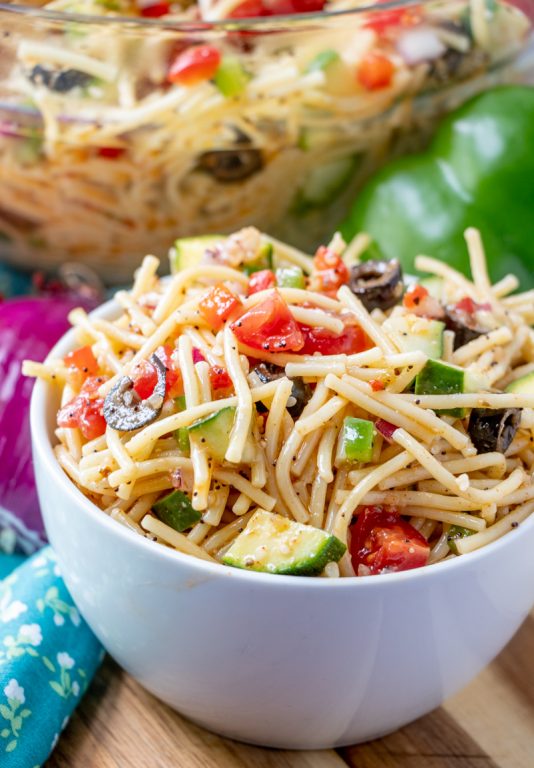 This particular salad is especially perfect because it has zucchini in it and it just so happens to be zucchini season! Using veggies that are in season is always a plus in my book. Summer is the best time to get those great tasting fresh veggies.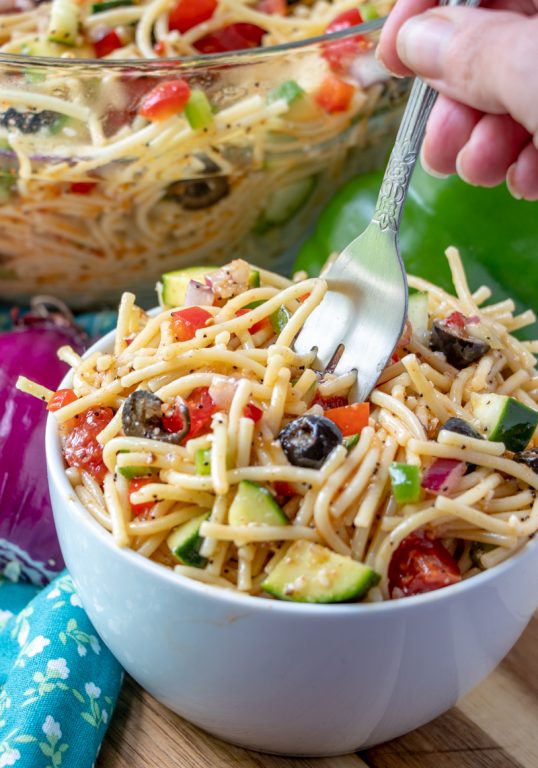 This California spaghetti salad is absolutely picnic perfect, crowd-pleasing and easy to throw together in advance. All things I love for a summer side dish rolled into one. Another absolute favorite pasta salad is my Macaroni Coleslaw Salad.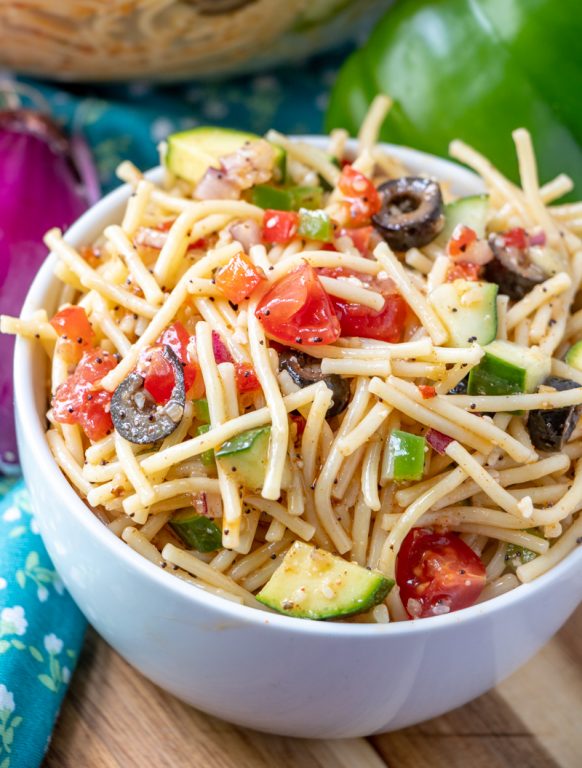 Make this for barbeques, potlucks, make it all summer long. This California spaghetti salad can be a side dish or a meal – it is your choice! If you're looking for another Italian pasta salad, you will love my Classic Italian Pasta Salad with pepperoni.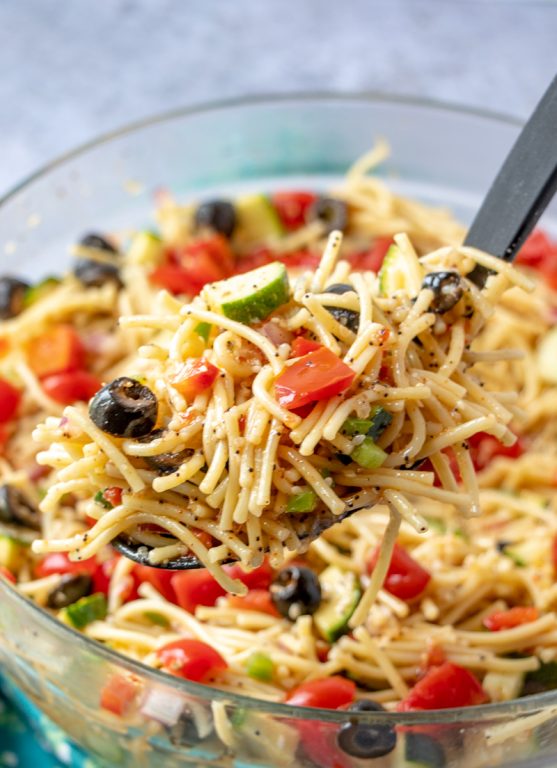 I hope you enjoy this salad and are having a great week soaking up the nice weather!
Check out my how-to video of me making the recipe for this California Spaghetti Salad!
California Spaghetti Salad
Recipe type:
Side Dish, Main Dish
If you need an easy side dish, California Spaghetti Salad has diverse textures & is a great summer salad recipe that tastes even better the next day!
Ingredients
1 pound thin spaghetti, broken into (roughly) a couple inch pieces
2 large tomatoes, chopped/diced
2 medium zucchini, diced
1 cucumber, chopped small
1 medium green pepper, diced
1 sweet red pepper, diced
1 red onion, diced
2 cans (2-1/4 ounces each) sliced ripe olives, drained
DRESSING:
1 bottle (16 ounces) Italian-Style salad dressing
¼ cup grated Parmesan cheese
1 tablespoon sesame seeds
1 tablespoon poppy seeds
1 teaspoon paprika
½ teaspoon celery seed
½ teaspoon garlic powder
2 teaspoons seasoning salt
½ teaspoon cayenne pepper
½ teaspoon ground black pepper
Instructions
Cook pasta according to package directions.
Drain well and rinse in cold water to stop cooking.
Transfer to a large bowl.
Add the vegetables (minus the onion, tomato and cucumber) and olives.
In a large mixing bowl, whisk together the dressing ingredients.
Stir in cucumbers and onion.
Drizzle over spaghetti mixture; toss to coat.
Cover and refrigerate for several hours or overnight for best flavor. Top with diced tomatoes. Serve with a slotted spoon. Enjoy!