Buckeye Brownies
This recipe for Buckeye Brownies is the most amazing homemade brownie you will ever taste: loaded with peanut butter, gooey chocolate, and layers of deliciousness.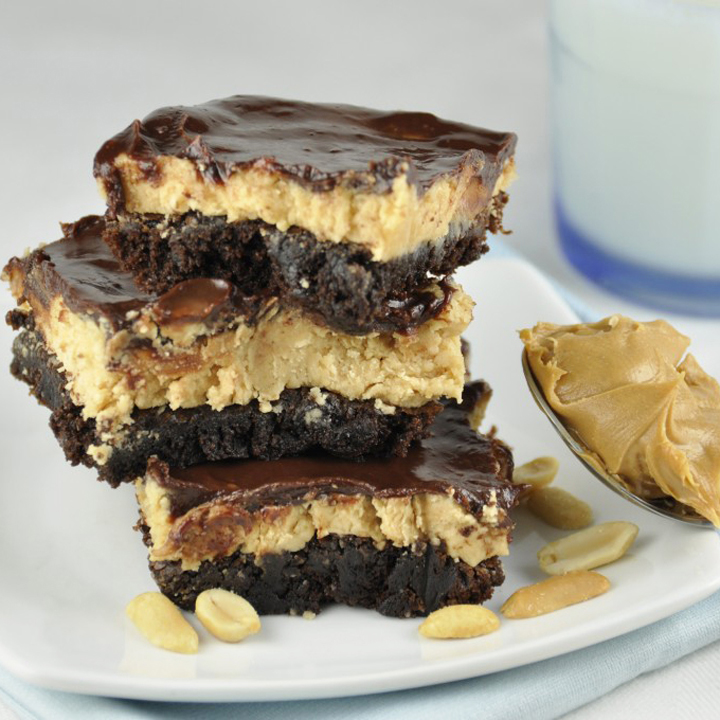 These Buckeye Brownies are definitely a winning gold medal dessert.  I posted them on my Instagram page and they went crazy so I figured I would share them here!
OK, so maybe I've been watching a lot of the Olympics lately.  I've mostly been watching the swimming, synchronized diving, and women's gymnastics.  The gymnastics uneven bars and floor routines have always been my favorite events, by far!  I remember way back in 1996 watching the Magnificent 7, specifically my favorite girl -Dominique Moceanu, and getting so in to it.  I remember going to school very tired those couple of weeks because I would stay up late with my mom and watch (the only reason I was ever allowed to stay up past my bed time) :).  The only gymnastics event that I have a really hard time watching are the balance beam routines – I get so nervous for them!  I seriously couldn't even walk across that thing without busting my face.  My sense of balance is horrendous – you should see me attempt yoga.
I knew my waistline wouldn't thank me once I made these beauties…but that didn't stop me.  When does that ever stop me?  I don't know what it is about the peanut butter and chocolate combination, but it has always just worked for me.  Buckeyes are one of my favorites goodies around the holidays and I was intrigued by this non-traditional way of preparing them when I saw the idea floating around.
If you love peanut butter, and you love brownies you will love these. You will also love my Peanut Butter Buckeye Bark! These Buckeye Brownies and the Buckeye Bark are show-stoppers for the holidays.  You also need to try my friend Mary's Buckeye Fudge. Pure delight!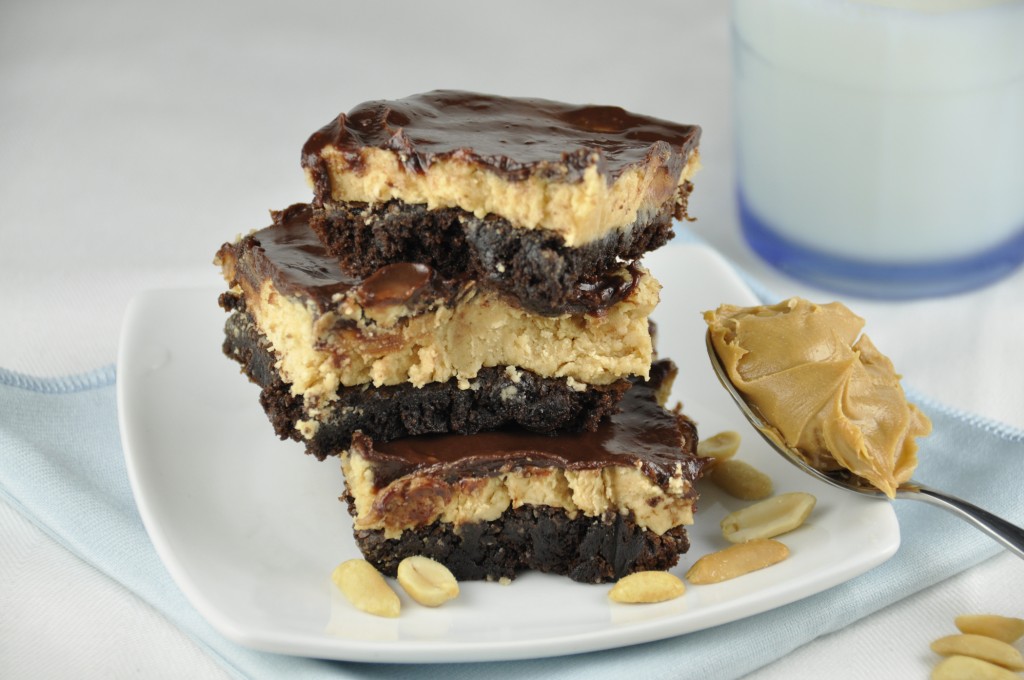 Buckeye Brownies
This recipe for Buckeye Brownies is the most amazing brownie you will ever taste: loaded with peanut butter, gooey chocolate, and layers of deliciousness.
Ingredients
1 box mix brownies, prepared according to package directions
1 cup creamy peanut butter
½ cup softened butter
2-3 cups powdered sugar (start with 2, add more as needed)
1-2 tablespoons milk, as needed
½ cup heavy whipping cream
6 ounces semi-sweet chocolate chips
Instructions
Prepare the brownies according to recipe or make brownies from a box mix. Allow brownies to cool completely.
In the bowl of a stand mixer, beat together the peanut butter, butter, and 2 cups of powdered sugar until well combined and smooth. Add more powdered sugar as needed to get the consistency you prefer. The mixture should be thick, but add a tablespoon or two of milk if needed, so that you are able to spread the mixture easily on the brownies.
Heat the cream in a small sauce pan over medium heat until it just begins to boil. Remove from heat and pour over the chocolate chips in a bowl. Whisk until the chocolate is melted.
Allow to cool for 10 minutes and then pour over the peanut butter and brownies. Smooth with a spatula and then place the brownies in the fridge to set for at least 1 hour.
Recipe source:  adapted from bunsinmyoven.com