Open Faced Croque Monsieurs
Maybe I am the only person left in the world who had never heard of these sandwiches before, but when I saw them pop up on the web one day I was very curious.  I thought to myself, "croque–WHAT?"  For those who have been living under a rock, like myself, a croque-monsieur is basically an upscale hot ham and cheese grilled sandwich.  The name is based on the verb croquer ("to crunch") and the word monsieur ("mister").  It's roots are traced back to France and it is served in many cafes and restaurants there.  Go figure!
I made this for a quick and easy weeknight dinner but I was thinking this would also be perfect for a breakfast or brunch!  The ideal accompaniment to this dish would be a fresh green salad and a nice cold beverage.  Enjoy!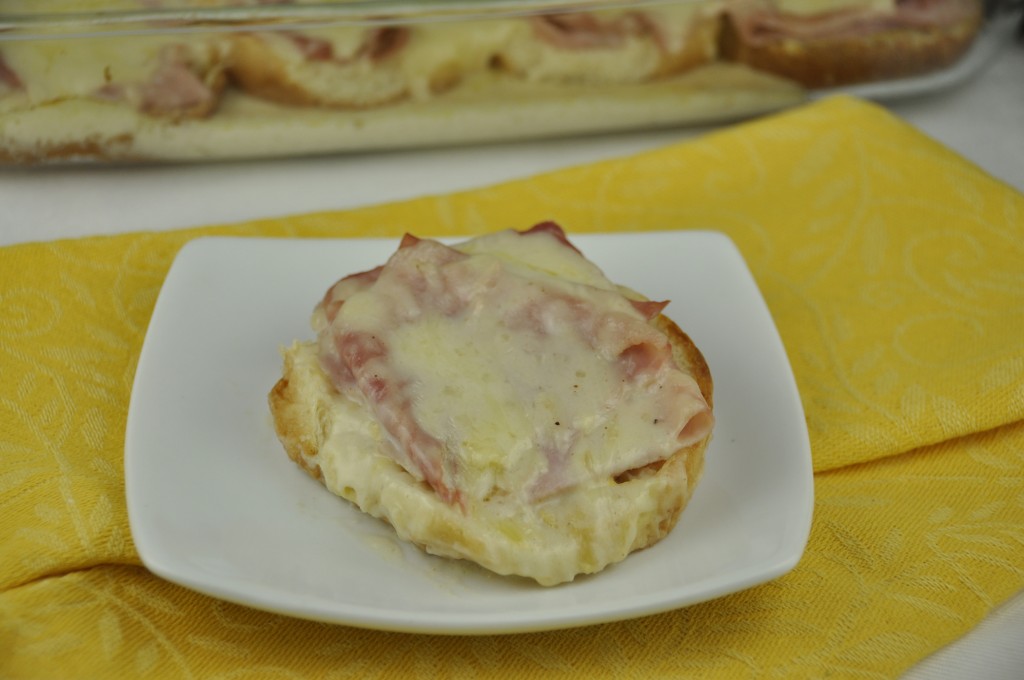 INGREDIENTS:
For the sauce-
2 tablespoons Butter
2 tablespoons Flour
1 ½ cups Milk
1/8 teaspoon ground Nutmeg
Salt & pepper, to taste
1 ¼ cups grated gruyere cheese, divided
4  rolls, homemade or store bought (I used hamburger buns)
¼ cup Dijon mustard
16 thin sliced deli ham
DIRECTIONS:
Preheat oven to 350 degrees. In a small pot, melt butter over medium heat. Stir in flour until paste forms. Cook 1 minute, then whisk in milk. Continue stirring until sauce thickens, 5 minutes. Stir in salt, pepper, nutmeg and 1 cup of the gruyere cheese. Set aside.
Slice rolls in half and spread Dijon mustard over each half. Place into baking dish. Top with 2 slices deli ham. Pour cheese sauce over top and sprinkle with remaining gruyere cheese. Bake 10-15 minutes until hot and bubbly. Serve.
Recipe source: laurenslatest.com