The Best Italian Wedding Soup
Mini meatballs made of ground beef and pork combined with fresh vegetables to make this delicious Italian wedding soup.  Great easy comfort food for cold nights!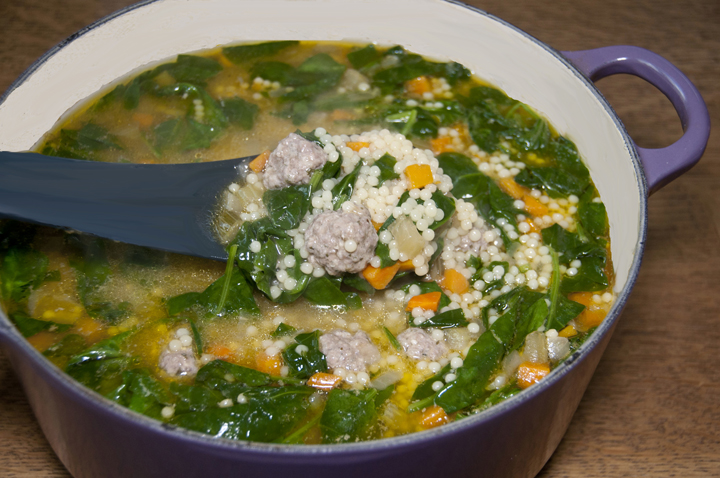 When it comes to soup season, I can easily say I have a hands-down favorite: Italian Wedding Soup.  Maybe I'm a bit biased, but if it has the word "Italian" in it, you know it's gotta be good, right?  I actually love soup all year 'round, but the perfect timing for eating soup is when it gets cold…and believe me, this week is looking COLD here in Rochester, NY.  I don't even want to say the "S" word, but the forecast calls for snow flurries and possible even some accumulation later on this week.  Nooo!  I sat there on the couch watching the news last night and when the meteorologist showed the 5 day forecast and said the "S" word out loud, I think my exact words were "Cute…real cute" and Mr. Wishes looked at me, laughed, and said I need to "get over it" when it comes to cold weather.  I'm just not ready for it yet.  I got a pedicure over the weekend while in Ohio for the Certified Angus Beef holiday cooking event and wanted to wear flip-flops a little bit longer in order to show off my pretty toes 🙂  By the way, the event I went to in Ohio was one of the most amazing experiences I've ever had – more on that, along with delicious holiday recipes, coming your way soon!
So, I made this soup for lunch on a cold, lazy Sunday afternoon.  I made homemade wheat bread to go along with it.  I don't call anything the "best" unless I really mean it – and this really is the best Italian wedding soup I've ever had.  I don't think I could have picked a meal I liked more – it hit the spot, whether for lunch or dinner (or breakfast, as it was for me the next day).  This soup will always satisfy – even the non-soup-lover like my hubby!  It is truly my new favorite.  Following close behind is this Chicken Pumpkin Soup.
Oh, and you don't have to be Italian to love this easy-to-make soup!  It will be a popular meal with everyone in your family served with hot crusty Italian bread or garlic bread for dunking.  Enjoy!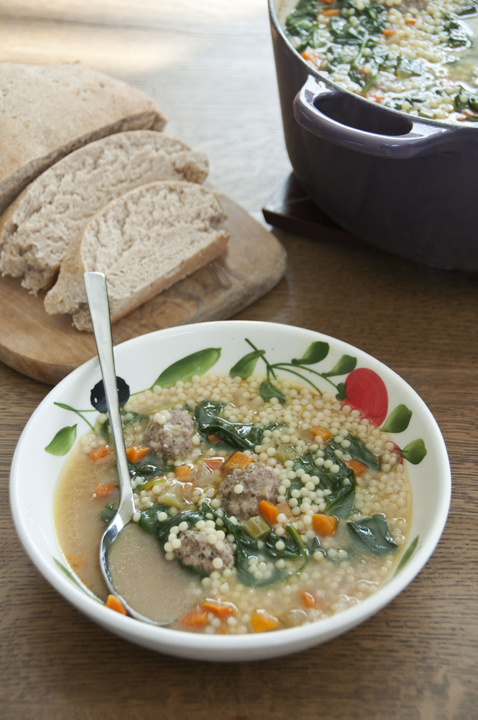 The Best Italian Wedding Soup
Prep time:
Cook time:
Total time:
Mini meatballs made of ground beef, pork and veal combined with fresh vegetables to make this delicious Italian soup. Great comfort food for cold nights!
Ingredients
Meatballs:
½ Pound ground beef
½ Pound ground pork
1 small onion, minced
⅓ cup chopped fresh parsley
1 egg
3 Cloves garlic, minced
1 teaspoon salt
¾ teaspoons freshly ground black pepper
⅓ cup panko bread crumbs
½ cup grated Parmesan cheese
Soup:
3 Tablespoons olive oil (good quality)
1 cup diced celery
1 cup diced carrots
1 cup minced yellow onion
1.5 cups acini de pepe pasta
8 oz fresh baby spinach
12 Cups chicken stock
salt & pepper to taste
Instructions
In a medium bowl, stir the minced onion, parsley, egg, garlic, salt and bread crumbs together. Add the Parmesan cheese, ground meat and pepper and combine, using your hands or a fork. Using about a heaping teaspoon portion, roll meatballs; this will yield about 40 meatballs. Set aside on a baking sheet. This can be done in advance and stored in the refrigerator.
In a large Dutch oven or soup pot over medium heat, heat the olive oil. Add the onion, carrots and celery and saute until the onion is transparent, about 7 minutes. Add the chicken stock and bring to a boil. Add the pasta and meatballs, return to a boil, and cook until the pasta is cooked al dente.
Taste the broth and adjust the seasoning to your liking with salt and pepper. Add the spinach and simmer for a couple of minutes more, until the spinach is just wilted but still a vibrant green.
Ladle into bowls and serve with a little extra grated Parmesan cheese, if desired.
Recipe source:  adapted combination of recipes on lemonjellycake.com and kitchenconfidante.com