Review of Park Hyatt, New York City
My just-for-fun review of the amazing Park Hyatt New York City hotel in Times Square, Manhattan.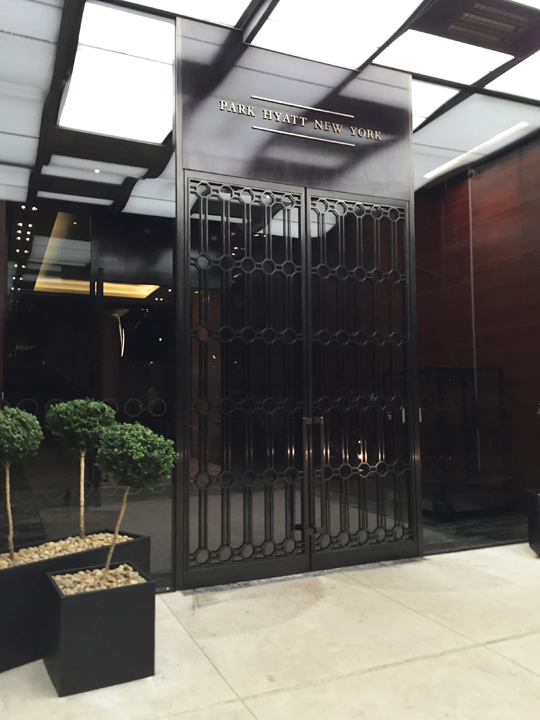 My husband and I like to make our way to the Big Apple once in a while since it's not terribly far and has so many things we love that draw us in.  Two of those things are New York Yankees/Mets baseball games (go Yankees!) or Broadway shows.  We love our baseball and we love our theater.
When we went last summer, we stayed at quite possibly the nicest hotel I've ever stayed at for one night while there with my family to see a Yankee game and hang out as a family.  It was a tiring weekend and may have been in the mid-90's for the entire time we were there (which in NYC equals a "feels like" temperature of 48582329 degrees), but this Park Hyatt was definitely the highlight of our trip.  We are long-time Hyatt Diamond members – we love our Hyatts!  No, this is NOT an ad, we are just lovers of Hyatt hotels and stay at one wherever we may be traveling to.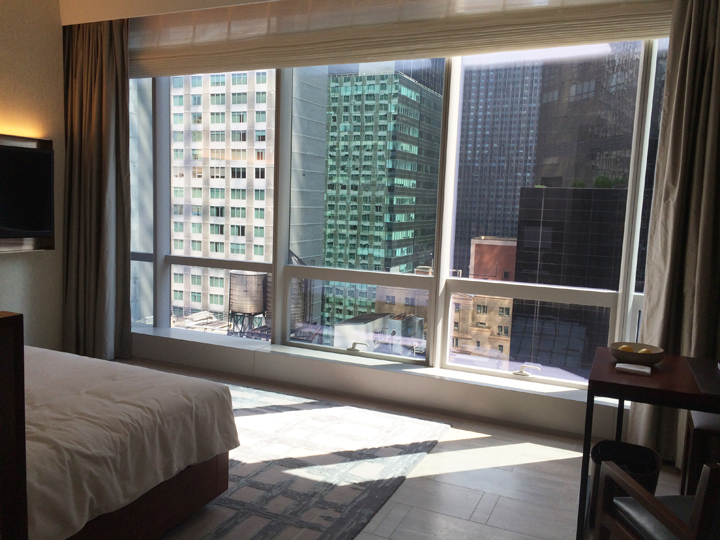 This hotel is in the perfect location that is in walking distance to Times Square…AKA walking distance to everything you want to do if you're a tourist in NYC.  The room we stayed in was unbelievable and the service was very good.  Upon arrival they ask your name and call it up to the reception desk – so fancy!  Our room keys were ready in no time and within 5 minutes of being in our room, our luggage had arrived.
This place is the definition of luxury and not your "every day" type of hotel (well, not for us, anyways) but we lived it up for that one night.  I felt like New York City royalty, for sure!  We were escorted to the room by an associate. The rooms are super spacious, impeccable, clean and have modern amenities (lights and drapes are all on wall control panels on either side of the bed which is so convenient).  The decor was simple, yet luxurious.  I got that feeling as if I was the first person staying in that room which is the sign of a great, clean hotel that is very detail-oriented.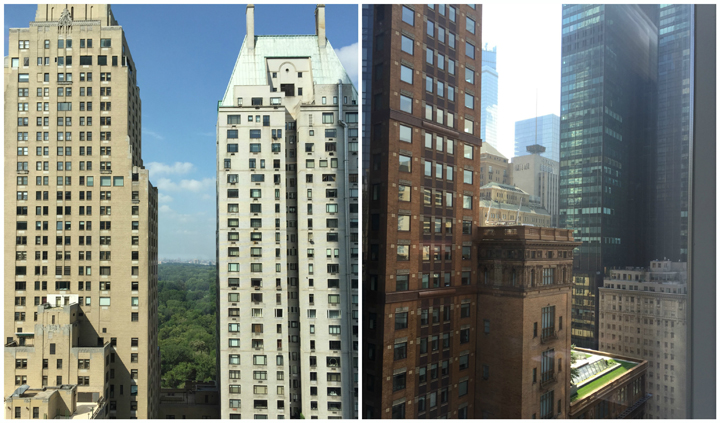 There are tablets in each room that are personalized to you, welcoming you by name.  How cool is that?!  There are several types of music already loaded that you can play while hanging out in the room.  You can really tell the attention to detail in this hotel just by looking at the design of the room and the amenities which far exceeded what I had originally anticipated prior to arriving at the Park Hyatt.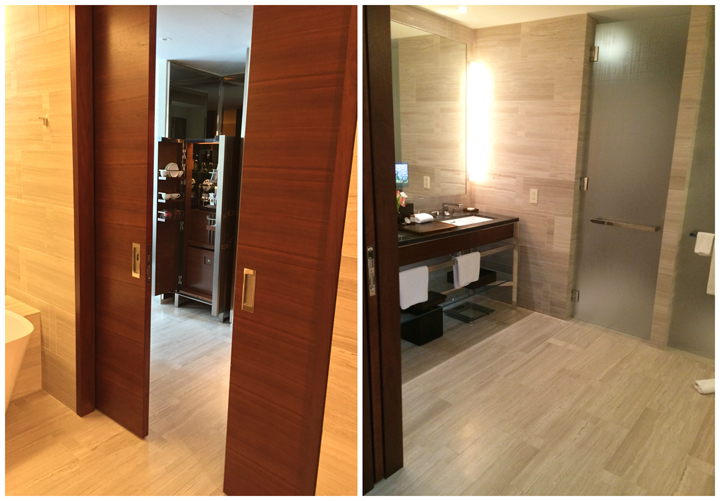 The mini bar is placed inside a huge armoire, fully stocked with liquor, wine, and a best of all, a Nespresso machine. I mean, even the mini bar was impressive!  I also have to make a point to talk about the bathroom.  I had serious bathroom envy!  It was amazing and had my favorite feature: the rain shower.  Just…to die for.  The bathroom is so large that it is almost the size of a New York City boutique hotel room in itself.  Even the free Le Labo beauty products they give you in the room are the best and smell incredible.  We brought them home, of course!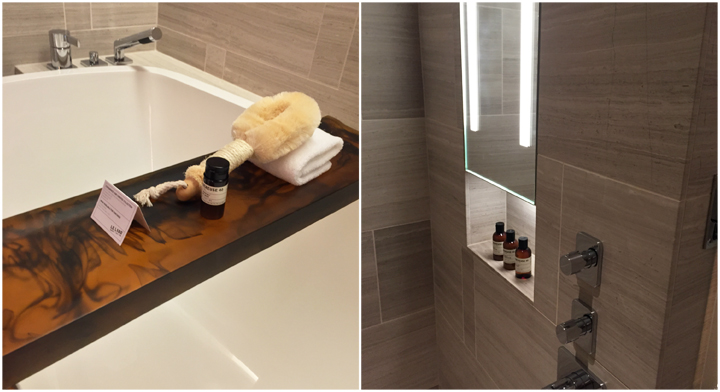 During our stay at Park Hyatt New York City , we made a couple of special requests and they fulfilled them beyond our expectations.  They also provide umbrellas for rainy days and complimentary chauffeur service (Mercedes) for close distance destination travels (within 12 blocks).  What other place does that?  My husband and I like to walk, but a lot of people I'm sure would love to take advantage of that perk.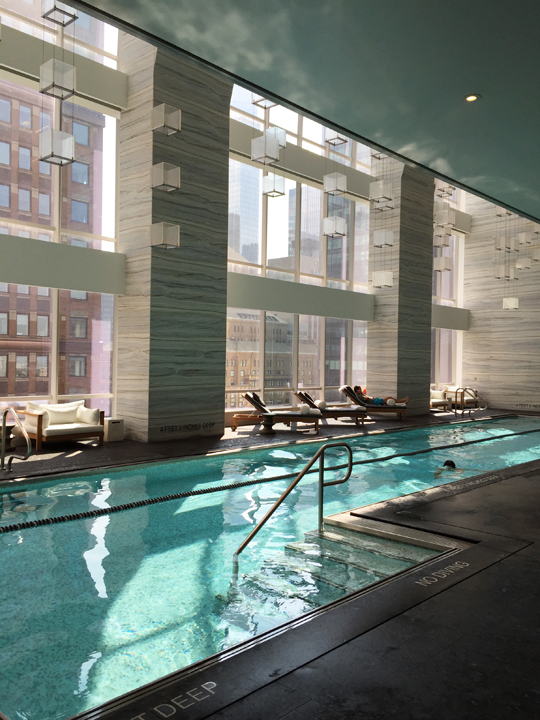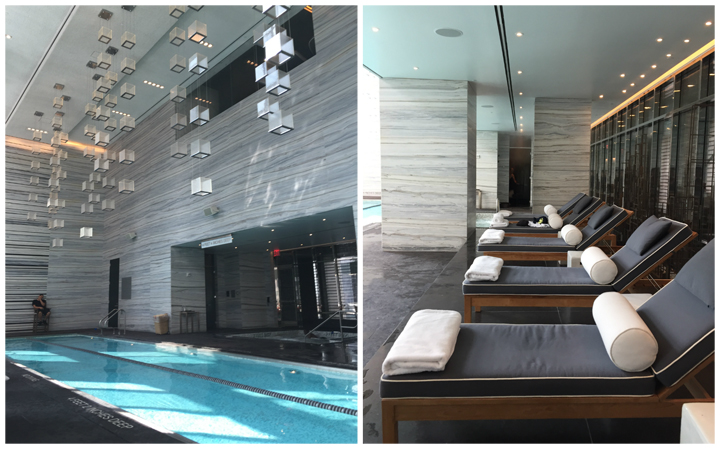 My favorite part about the Park Hyatt New York City was the pool on the 24th floor: swimming among the Midtown skyscrapers is an unbelievable experience and the entire pool area and spa are extremely impressive and bright.  The spa even had my favorite hair products (Oribe – truly the best) to freshen up after swimming or showering.  Nothing like a view of Central Park while drying and styling my hair!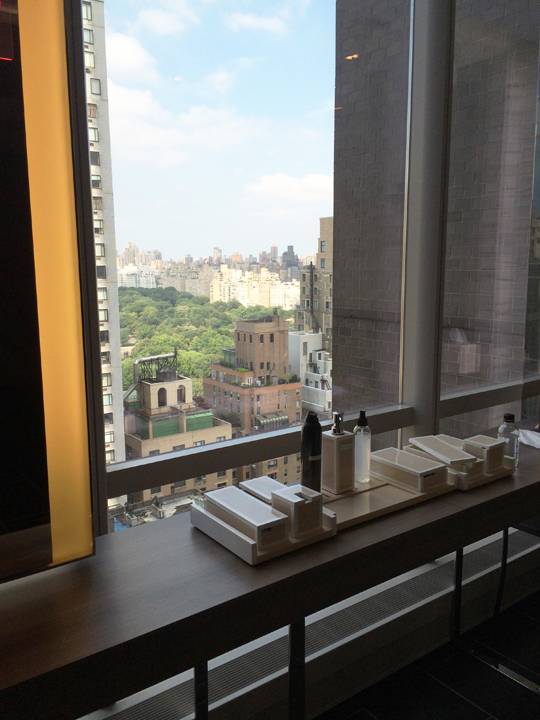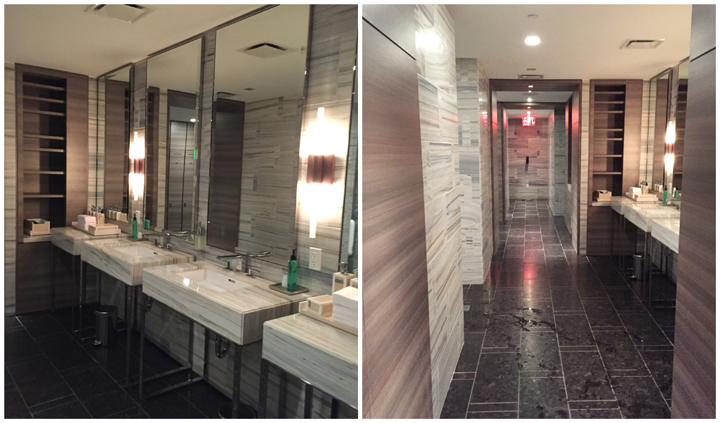 We enjoyed our complimentary diamond member breakfast at the Back Room Restaurant (57th Street Restaurant) where I had a meal that I still dream about to this day.  I ordered the egg dish with Lobster, egg white scramble, and avocado which was absolutely fantastic. The service was very attentive and treated us like royalty.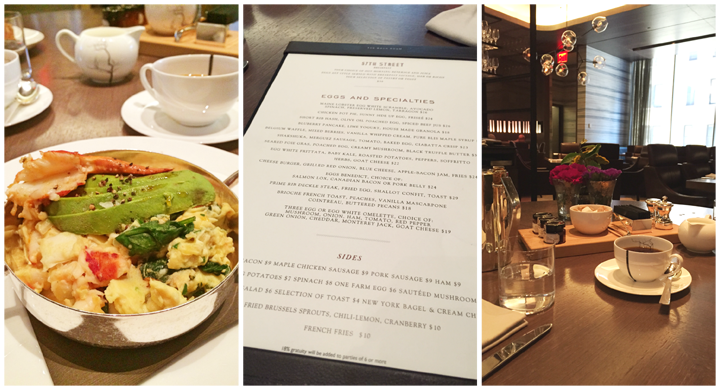 A cool thing I wanted to tell you about real quick (and again, just an FYI and nobody is paying me to say this):  Hyatt has a co-branded Visa credit card where you pay $75 for the annual fee (first year is free) and you get two free nights at ANY Hyatt (including Park Hyatts, like the one I am reviewing in this post) after you spend $1,000 within the first 3 months.  Between my husband and I, we did this easily as we put everything on our credit cards.  You then receive instant Platinum status, which means 15% bonus points, 3 Gold Passport points per dollar spent at Hyatt hotels, and 1 Gold Passport point per dollar spent on all other purchases.  Also, there are no foreign transaction fees which makes it super convenient for people who travel a lot.  Overall, we think the card is a pretty good deal for $75 because of the perks that come with it.  You can apply for it here if you're interested!
Our experience at the Park Hyatt New York City was simply amazing.  Everything there was just so indulgent and classy.  I highly recommend it to everyone who wishes to splurge for a night while in New York City.  You definitely get what you pay for with this hotel.  The only negative part about staying at this Park Hyatt was having to leave…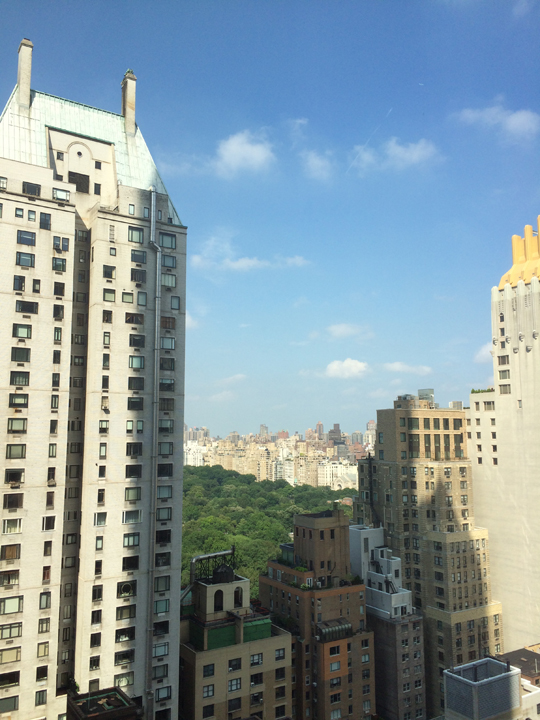 Park Hyatt New York City: 153 West 57th Street, New York City, NY 10019