Cinderella's Royal Table, Magic Kingdom Review
My review of Cinderella's Royal Table in Magic Kingdom will be sure to give you some insight and great tips for dining in Disney World!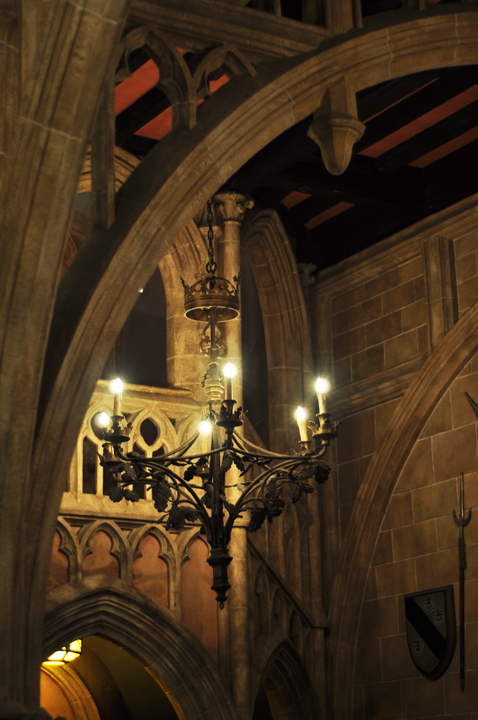 I have a strong feeling that anybody visiting Disney World's Magic Kingdom, whether they are 2 or 92 years old, has dreamed of seeing the inside of the majestic Cinderella's castle.  Dining at Cinderella's Royal Table is the only way to get full access to the castle and get the full royal residence experience.  Plus, you get to meet with Cinderella herself as well as all of her Princess friends.
We all know about my obsession with Disney world (just take a look at my logo at the top of my home page), and I've been meaning to share about my wonderful experience at Cinderella's Royal Table that I had a few years back.  Mr. Wishes surprised me and made reservations – I think the five year old deep down inside of me just about had a heart attack when I found out!
Dinner at Cinderella's Royal Table is the type of experience that Disney dreams are made of. As such, an advance dining reservation here continues to be a tough one to score. While it may be a little easier to get now that "Be Our Guest" restaurant is open and pulling lots of guests in, you should still plan to call 180 days out if you hope to secure a table.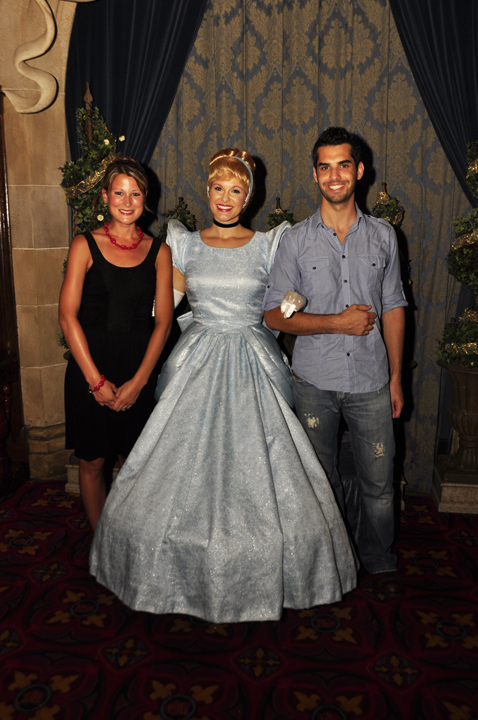 The restaurant entrance is located inside the castle walkway directly across from the Bibbidi Bobbidi Boutique. You have to check in at the hostess booth in front of the door to gain access to the restaurant.
Once you enter the castle, you are treated to a beautiful foyer complete with a knight in shining armor, tapestries, grand chandeliers, and stained glass windows.   Each party is treated to a photo op with Cinderella herself as part of their meal package before you ascend up the staircase (or elevator) to the Banquet Hall. And then comes the *gong*gong*gong* announcing the dining party that will be escorted into the dining area of the restaurant.
The romantic, red-carpeted spiral staircase inside Cinderella's Royal Table twists and winds around the elevator.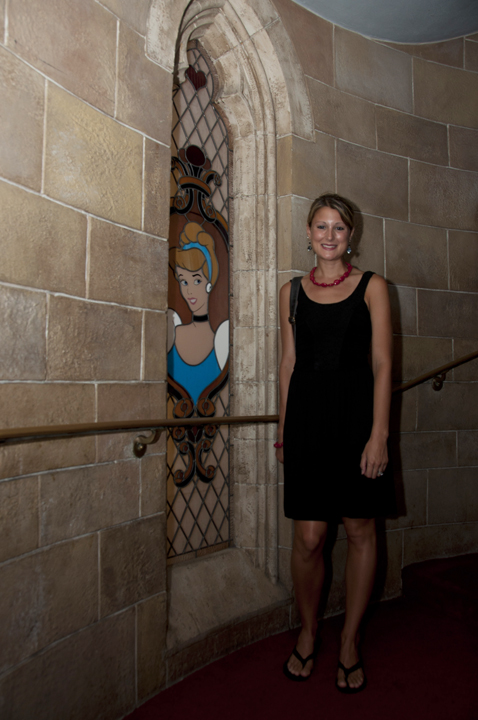 As you follow the royal red carpet up the staircase, pause for a moment to see the castle's namesake in a stained glass window.
Once in the dining area it will hit you how amazing it is to be eating in the castle! The dining area is awesome; dark crown molding, rich jewel tones, lanterns, tapestries, and princesses!  If you didn't know better, it would be very easy to think that you've stepped back in time and across thousands of miles to a European castle.  The stone Gothic archways and windows are just stunning and I loved looking at the neat banners, as well.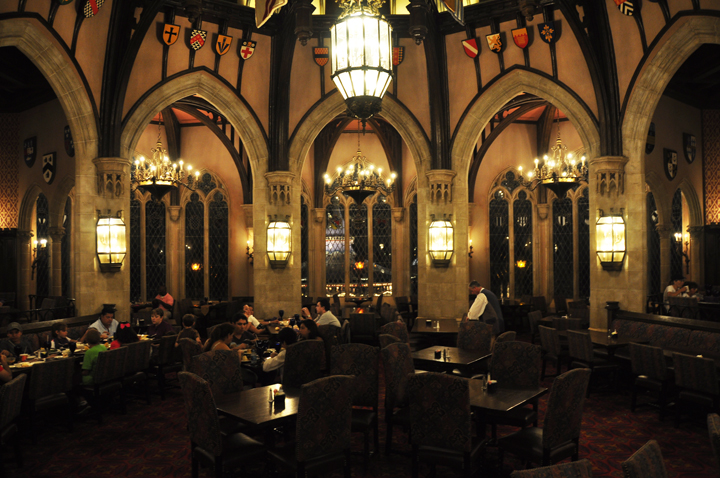 Seating throughout the dining room is cushy and comfortable. High-backed, heavy upholstered chairs feel luxurious as you pull up to dark stained wooden tables.  Tables to accommodate various numbers of guests are available, and there is also some mixed banquette and chair seating.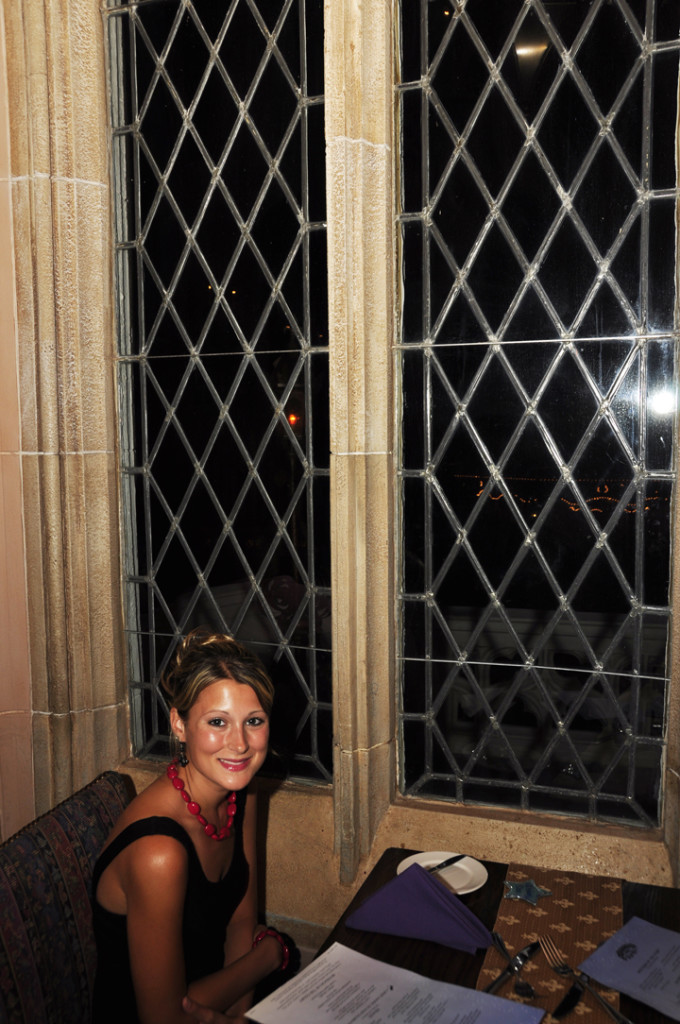 Leaded glass windows overlook Fantasyland (I had a great view), and there are a precious few tables situated by the windows. For the best view, be sure to request one of these tables.  We didn't request a certain table but just got lucky.
Throughout the meal, princesses (Ariel, Snow White, Belle, Sleeping Beauty, and Jasmine) are announced and grace the dining room with their presence for photo ops.  Cinderella doesn't come up to the dining room, so make sure you meet her downstairs beforehand.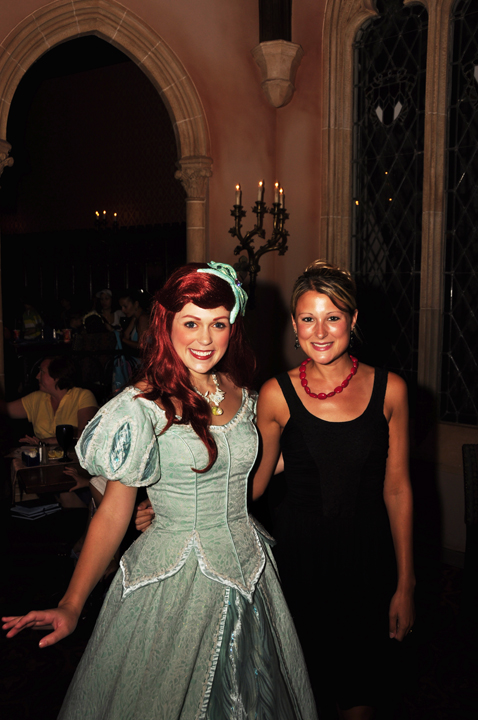 Throughout your meal, these Disney Princesses will visit your table, sign autographs, and take pictures with you. This is one of the biggest draws to Cinderella's Royal Table:  princesses coming right to you at your table, not the other way around.  Princesses will vary at each meal, so you never know who you'll be able to meet.  I got to meet all the "good" ones!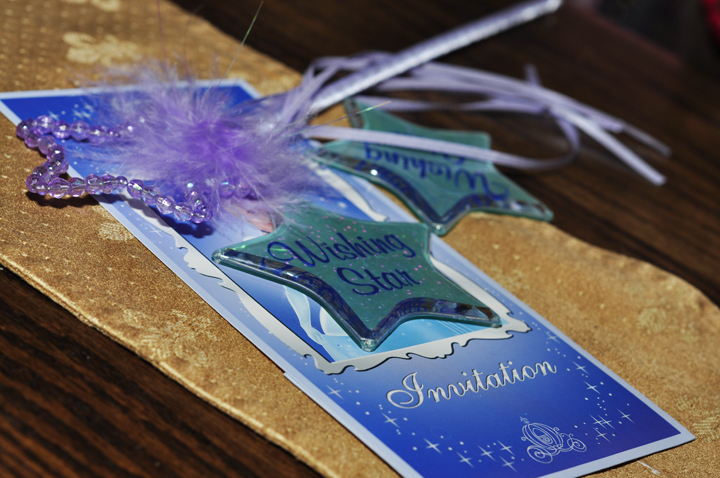 Guests also receive a magic wand (girls) and/or a sword (boys) and "wishing stars".  I still have mine to this day.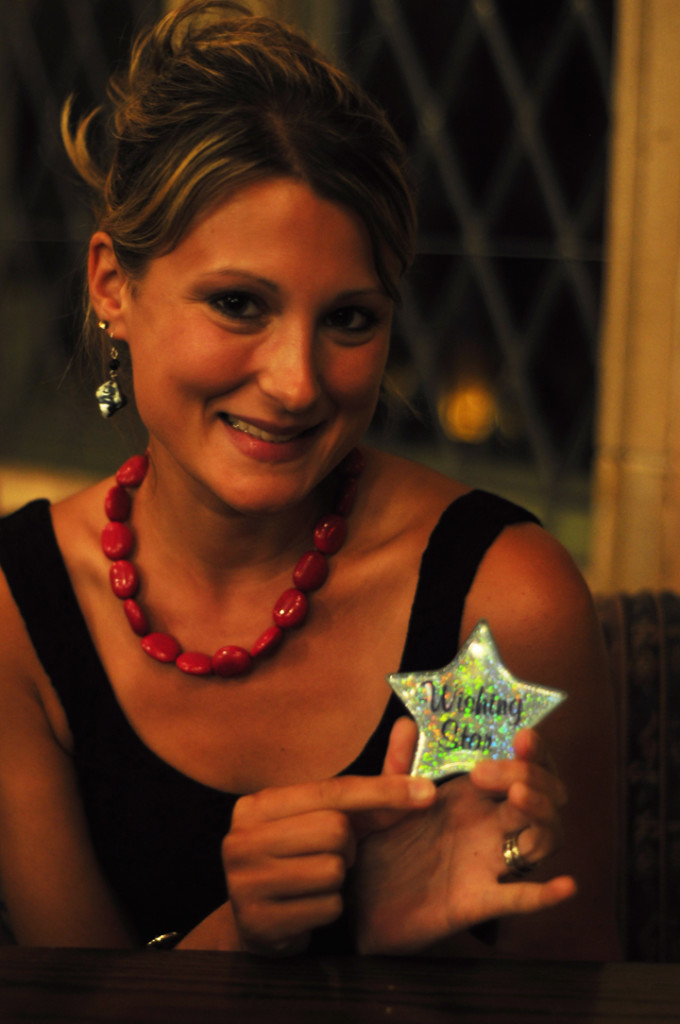 For dinner, you'll choose from a selection of items available for each course for a set price. Dinner includes three courses.  Standard, non-alcoholic beverages are included in the price as well.  Keep in mind that even though you can now order beer and wine at dinner within Beast's Castle at "Be Our Guest" Restaurant, Cinderella still presides over a dry dining room.
The servers treat you like a lord or lady (I'm not kidding; that's how they address you), and the menu has fun names, but the fine print reveals traditional entrees. Braised cobia, duck confit, and roasted beef tenderloin are just a sampling of the choices.
As for what's served, this is not your average theme park food. Dinner consists of a salad/appetizer, entree and dessert.  While I didn't think the food was outstanding, it was better than I had expected. You definitely pay for the experience as a whole, rather than solely based on the quality of the food.
The chefs at Cinderella's Royal Table seem to be interested in continuing to offer a good balance of common favorites and trendy ingredients.  I personally think this is a great balance to strive for, especially for guests who measure the value of the meal based solely on the quality of the food. That said, the portion sizes are pretty tiny but you can order as much food as you want included in the price.  I do wish they'd made that fact a little more obvious when we were there.  They definitely don't advertise it, but I guess I don't blame them!  I double checked with Disney World Dining reservations online and confirmed that it is indeed "all you can eat".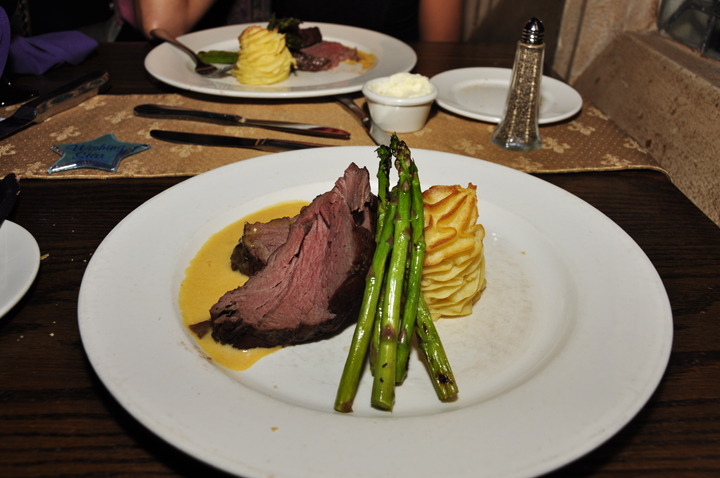 The best part of the whole night was that we had the latest slot for dinner reservations that you can get at Cinderella's Royal Table, so we weren't rushed at all.  By the time we left, Magic Kingdom was closed! We were the ONLY two people who weren't employees of WDW strolling through the park. Needless to say, we got a lot of great photo opportunities that most guests would never get as we were able to take our time, set up our camera and tripod, and get beautiful shots with no people in the background. I loved that nobody rushed us out at all and we were even told by security to take our time and they actually locked up the gates to Magic Kingdom behind us!  SO priceless!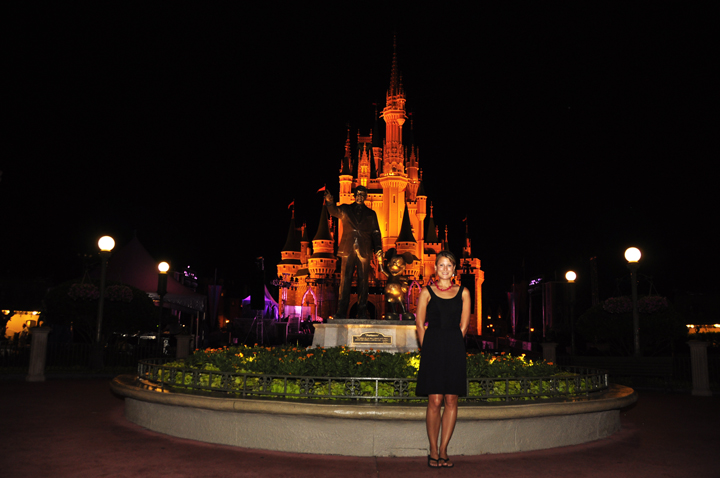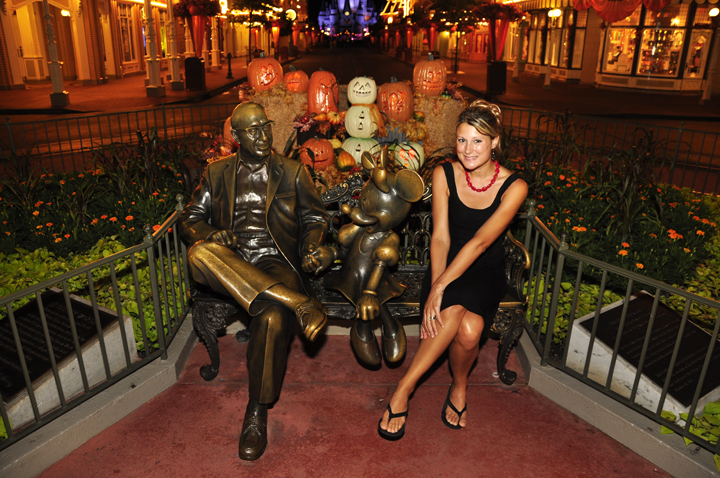 Overall, the big reason that dining at Cinderella's Royal Table is so expensive is the experience of eating within the castle.  That's the big draw here, and the one-on-one time with so many princesses is the icing on the cake. The price also represents some nice add-ons, like the photo package, which normally costs a significant amount extra.
I highly recommend trying it once if someone in your party (adult or child) loves the princesses. However, if you are only going for the food it's not the best Walt Disney World has to offer, in my honest opinion.  Just keep in mind that if you book dinner in the castle, you should consider it an experience, rather than just a meal.