BBQ Pulled Pork Nachos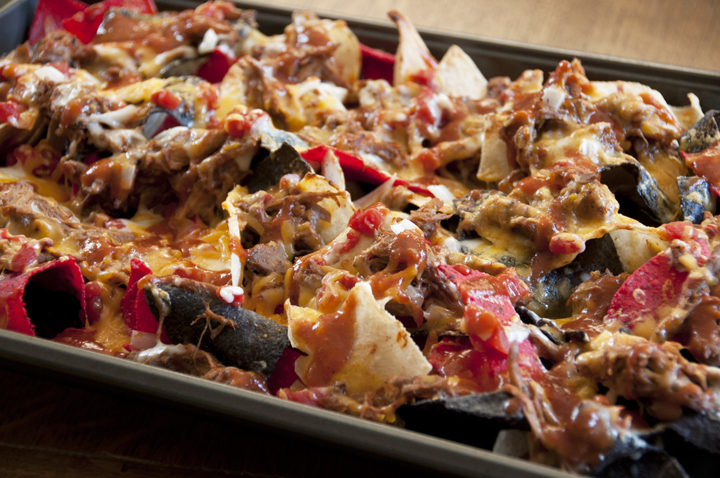 good quality tortilla chips (Tostitos scoops work well)
2 cups of leftover pulled pork (you can also use BBQ pulled chicken)
8-oz bag of cheddar cheese (any cheese will do and you can use as much as you'd like)
½ cup of your favorite barbecue sauce, or to taste, plus extra for drizzling on chips after assembling on tray
diced tomato
pickled jalapenos, optional (great for some heat!)
sour cream, salsa, guacamole, or extra BBQ sauce, for dipping
In a medium saucepan, reheat the pork with the BBQ sauce.
Preheat oven to 500 degrees.
Line a baking sheet with foil.
Place tortilla chips in a single layer (or close to it) on baking sheet.
Spread the saucy meat over and around the tortilla chips. Then liberally spread the cheese over the chips evenly to the rim – load it on and make sure you cover all of the chips!
Drizzle BBQ sauce over the top.
Top with jalapeno slices and diced tomatoes.
Toast in 500-degree oven JUST until cheese is melted completely (should toast quickly – you don't want to dry out the cheese or burn the chips on the edges) so keep an eye on them! Transfer nachos to a serving platter. Enjoy!