Banana Crumb Muffins
Banana Crumb Muffins recipe: make these for a breakfast dish, brunch dish to pass, Easter brunch recipe idea, dessert or just because! The crumb topping is amazing!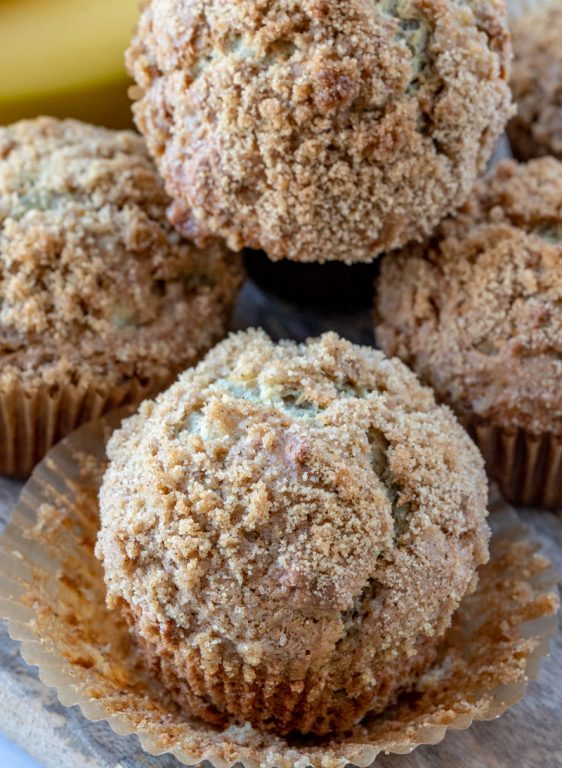 I rarely post muffin recipes and I'm not sure why. I mean, I love these Green Walnut Pistachio Muffins. They are one of my favorite things to bake because they give me and excuse to have dessert for breakfast. These banana crumb muffins have won my heart.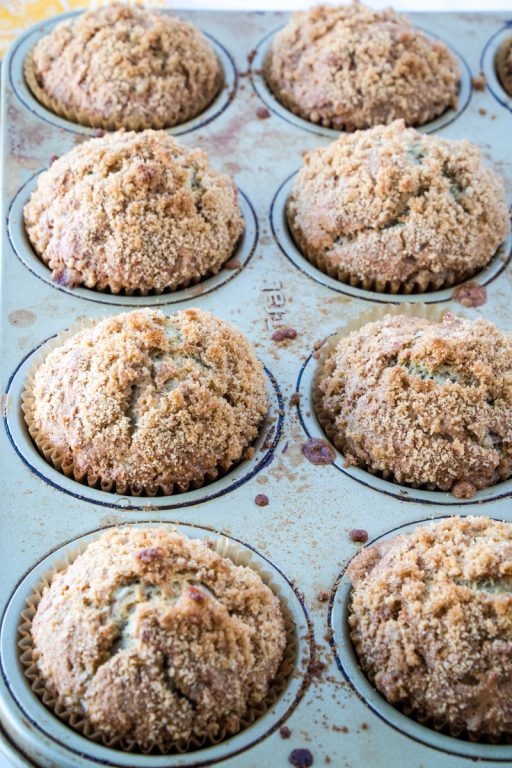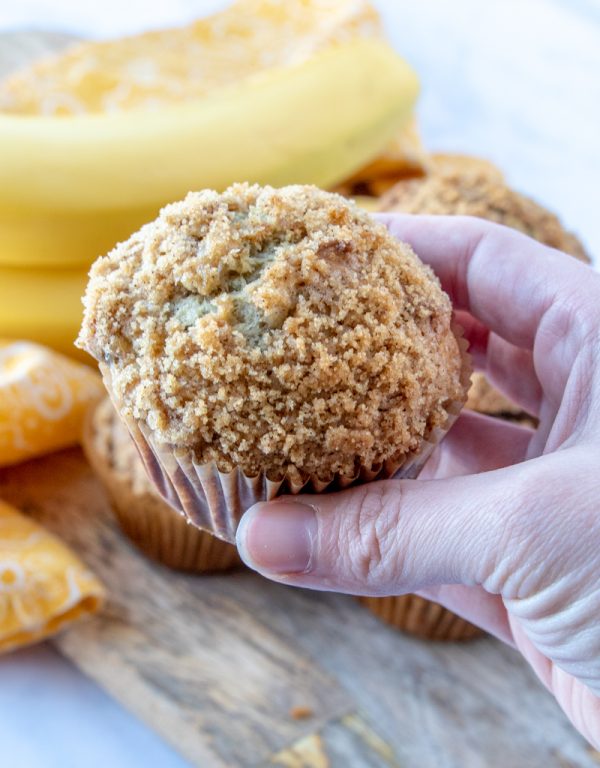 Give me a table full of danishes, croissants, and other breakfast sweets and I will 100% reach for the muffins before anything else.
Muffins need a delicious crumb topping in order to make them stand out above the rest. I very strongly believe this. The crumb topping on these banana crumb muffins came out absolutely perfect.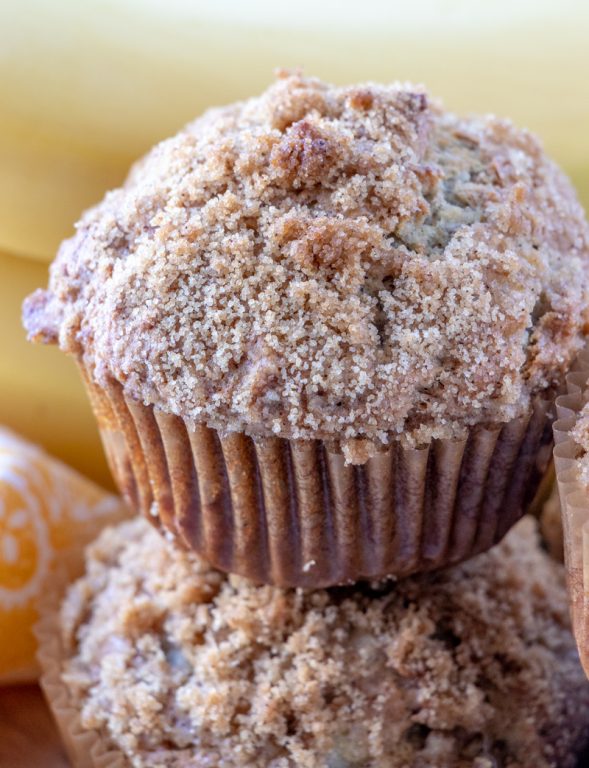 The muffins themselves are super moist, don't fall apart when you cut into them, and have just the right amount of banana flavor to them. I am calling these the perfect muffin because I speak the truth when it comes to muffins.
I think it is perfect timing to be sharing these banana crumb muffins because I'm sitting here longing for all things spring and warm weather. This is the first winter Mr. Wishes and I have not had a vacation of any sort and it definitely seemed LONG.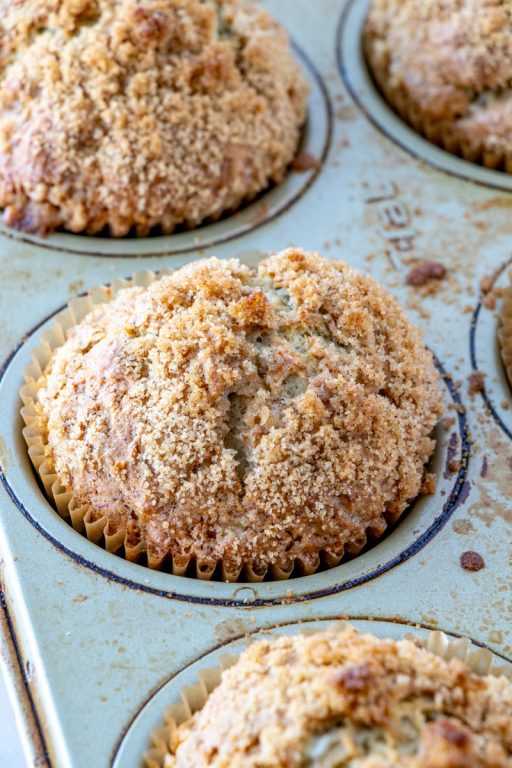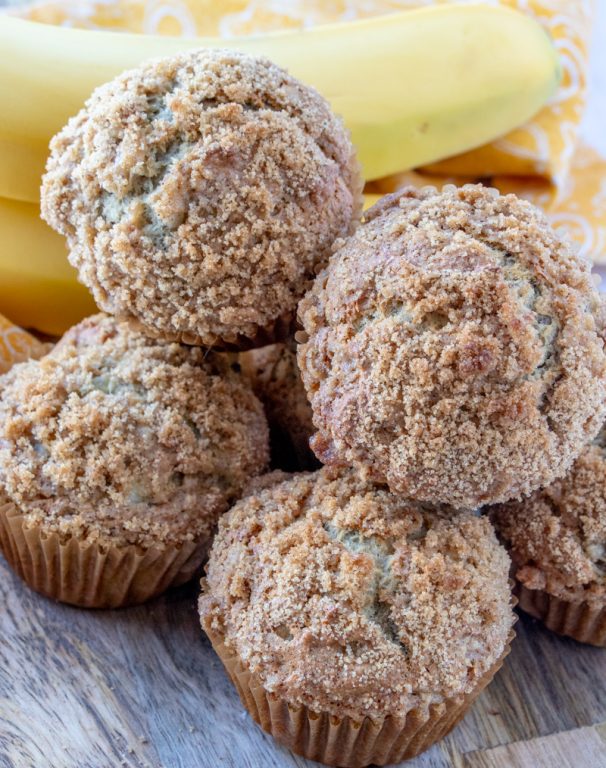 Spring makes me think Easter, brunches, and my loaded pancake muffins. These banana crumb muffins would be the best addition to your Easter brunch or just any weekend breakfast this spring.
Bring on the warmer weather, Mother Nature! I'm patiently (impatiently is more like it) waiting. Update: now that I'm finishing up this post (because nowadays it takes me two weeks to finish one post), it is going to be in the 60's this week! I am so excited and don't even care that I lost an hour of sleep this past weekend.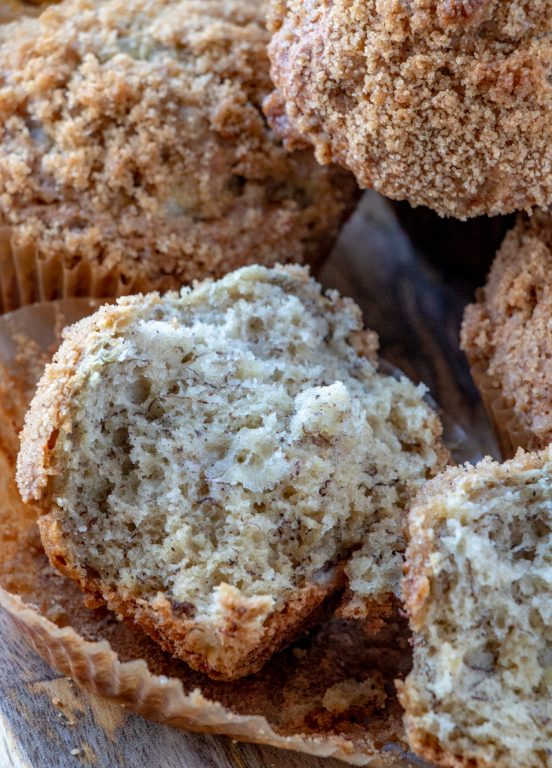 I never cared about daylight savings before because it never affected me. This time it hit me like a ton of bricks. I guess having a baby makes the world of difference! Her schedule is just a little bit off this week – fighting bed time and sleeping even later than she normally does.
Enjoy your new all-time favorite muffins! I can predict the future, in case you didn't know.
If you are looking for more of a savory muffin, try my Scrambled Egg Breakfast Muffins. Another breakfast muffin that I absolutely adore is this pumpkin chocolate chip muffins recipe.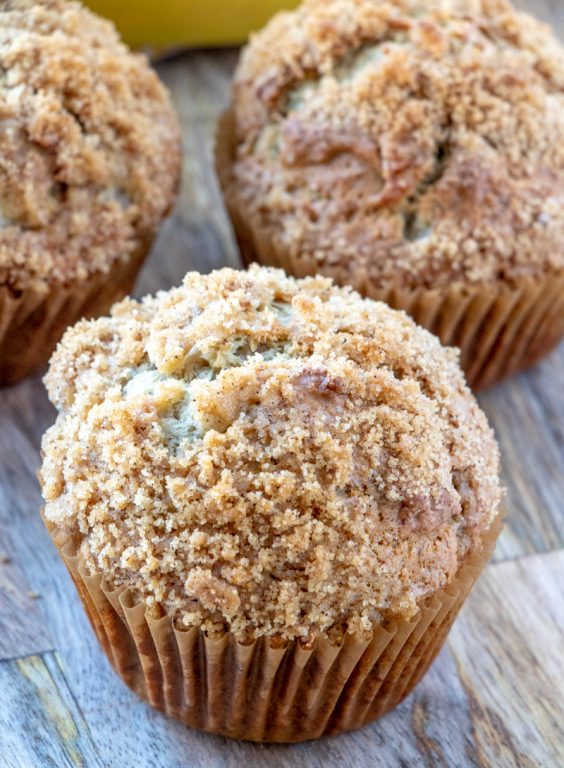 Check out my how-to video of me making the recipe for these easy Banana Crumb Muffins!
Banana Crumb Muffins
Prep time:
Cook time:
Total time:
Banana Crumb Muffins recipe: make these for a breakfast dish, brunch dish to pass, Easter brunch recipe idea, dessert or just because! The crumb topping is amazing!
Ingredients
1½ cups all-purpose flour
1 teaspoon baking soda
1 teaspoon baking powder
½ teaspoon salt
½ teaspoon cinnamon
3 ripe bananas, mashed
¾ cup white sugar
1 teaspoon vanilla
1 egg, beaten
⅓ cup butter, melted
Crumb Topping:
⅓ cup packed brown sugar
2 tablespoons all-purpose flour
¼ teaspoon ground cinnamon
1 tablespoon butter
Instructions
Preheat oven to 375 degrees F.
Lightly grease 10 muffin cups/tin, or line with muffin/cupcake paper liners
In a large mixing bowl, mix together 1½ cups flour, baking soda, baking powder, cinnamon and salt.
In another bowl, beat together ripe bananas, sugar, vanilla, beaten egg and melted butter.
Stir the banana mixture into the flour mixture just until moistened. Spoon batter into prepared muffin cups.
In a small bowl, mix together brown sugar, 2 tablespoons flour and cinnamon.
Cut in 1 tablespoon butter until mixture resembles coarse cornmeal.
Sprinkle topping over muffins.
Bake in preheated oven for 18 to 20 minutes, or until a toothpick inserted into center of a muffin comes out clean. Enjoy!

Recipe source: adapted from allrecipes.com