Banana Walnut Pancakes
This is a super easy Banana Walnut Pancakes recipe!  It contains whole wheat farina and makes for the perfect healthy breakfast.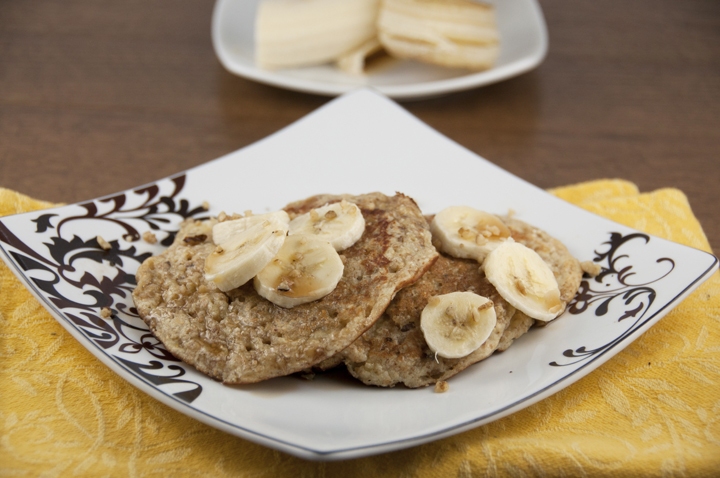 My husband is the biggest fan of breakfast food that I've ever met in my life.  He never gets sick of it, any day, any TIME of the day.  So needless to say, he was really happy when I whipped him up these banana walnut pancakes.
I literally just realized I forgot to make him scrambled eggs to go with them).  In my defense, Friday was one of those rare days where I spend many, many hours on making food for my blog…I seriously had about 3 or 4 different projects going on all at once.  Cupcakes, pancakes, lemon cookies, etc…..it was all happening on Friday afternoon.  Try to imagine what my kitchen looked like!  THAT was a fun mess to clean up.  Confession: there's still some dirty pans "soaking" and just waiting for me.
For healthy whole grains, you just can't beat Bob's Red Mill.  Once again, the very generous people over at Bob's Red Mill sent me an abundance of their delicious and healthy hot cereals to try out and review for all of you lovely readers.  They make wonderful food products for people who strive to eat better and live healthier.  At any given time in our home, we have had countless products from them ranging from their steel cut oats to their flours and cereal blends.  Bob's Red Mill makes wholesome, natural, and delicious food for everyone and you will love these hot cereals, especially on these cold Winter days!
Bob's Red Mill started as a family-owned company but recently became an employee-owned company because of Bob's dedication to his employees and his company. They have been offering real, natural, whole grain products for over 30 years.  You can feel good about serving their food to your family!  They do not use any GMOs (genetically modified organisms) in their products.  Also, for those who are gluten-free, Bob's offers a variety of gluten-free products.  Here is the recipe for delicious pancakes from a recipe on the back of their Whole Wheat Farina: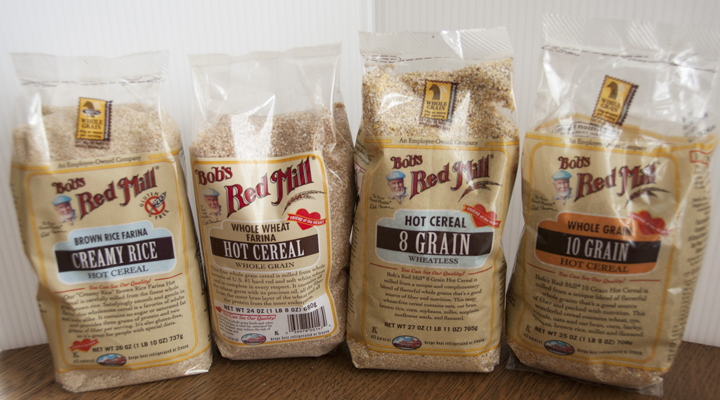 Banana Walnut Pancakes + a GIVEAWAY!
This is a super easy Banana Walnut Pancakes recipe! It contains whole wheat farina and makes for the perfect healthy breakfast.
Ingredients
½ cup Bob's Red Mill Whole Wheat Farina
½ cup White Flour
2 Tbsp Sugar
1 Tbsp Baking Powder
1 cup Milk
1 large Egg
2 Tbsp unsalted butter, melted
1 ripe medium Banana, mashed
¼ cup diced walnuts
Instructions
In a medium bowl, combine cereal, flour, sugar and baking powder; set aside.
In a small bowl, combine milk, egg, melted butter and mashed banana.
Stir wet ingredients into dry ingredients until just blended. (Batter will be slightly lumpy).
Let stand 10 minutes then stir in walnuts.
Heat a lightly greased griddle or skillet over medium-high heat.
Pour scant ⅓-cup batter onto the griddle or skillet for each pancake. Cook until bubbles form on the top, about 3 – 5 minutes, then flip and cook until done, about another 5 minutes.
Serve immediately, topped with sliced bananas and maple syrup.
Here are some other simple ways to enjoy their hot cereals and to make them even tastier:
Add a spoonful of any nut butter or an egg to your cereal to boost flavor and protein and give you a good start to your day and keep your stomach satisfied until lunchtime!
Add flaxseed meal, chia seed, hemp seed or pumpkin seed to increase your fiber and omega-3 intake which is good for your heart!
Add fresh, frozen or dried fruit to give these hot cereals a good flavor boost as well as adding vitamins and antioxidants.
Adding a sprinkle of cinnamon to your bowl of cereal for a big flavor boost.  I love adding cinnamon to hot drinks and hot cereal!