St. Patrick's Day is just around the corner and just in case you're looking for something to celebrate with, you have come to the right place.
I have never done much to celebrate St. Patrick's Day in the past, so this year I figured the least I could do was bake up a to-die-for dessert in honor of the day.  I wanted to make something green and green is what I got (I suppose I could have made some sort of salad, but what fun is that!?)
Mint and chocolate are meant to be together.  It is truly a match made in heaven.  If you love mint, love brownies, and love Oreos, you will LOVE the combo in this recipe!  I bet you can almost taste these now…
GO GREEN!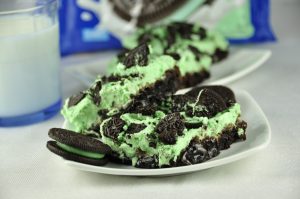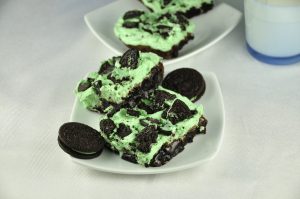 INGREDIENTS:
7 ounce jar of marshmallow fluff
8 drops+ green food coloring, or until desired shade of green is reached
1 box of brownie mix – make according to directions on the box
12 Mint Oreo Cookies + 18 Mint Oreo Cookies (an entire  package), crumbled by hand
3/4 cup white chocolate chips, melted
1 batch vanilla frosting ( ingredients are below in step 4)
DIRECTIONS:
Preheat oven to 350°F. Line a 9×13-inch pan with foil and spray it with cooking spray. In medium bowl, stir together marshmallow fluff and 4 drops of food coloring, or until light green color is achieved.
In a large bowl, prepare the brownie mix as directed on box, using water, oil, eggs, and then fold in 12 hand-crumbled Oreos.
Spread brownie batter in prepared pan. Drop about 1/2 cup of green marshmallow mixture onto brownie batter and reserve the remainder. Gently pull a table knife through the batter in S-shaped curves for a swirled design. Bake 23 to 25 minutes or until brownies are set, do not overbake. Cool completely or put the pan into the freezer for 10 minutes if you are in a hurry.
While brownies are cooling, make vanilla frosting by combining the following and beating until fluffy and set frosting aside once done.
1/2 cup butter or margarine, softened
3 to 4 cups powdered sugar
1 teaspoon vanilla extract
splash of milk, if necessary for consistency
In another small microwave-safe bowl, melt the white chocolate chips (microwave on high for 30 seconds; stir and microwave 30 seconds longer; stir until smooth, be careful not to scorch as white chocolate scorches easily
Add the melted white chocolate chips and the vanilla frosting to the reserved green marshmallow mixture. Stir in 4 drops or more of food coloring, or until light green color is achieved, and spread over cooled brownies.
Sprinkle with 18 hand-crumbled Oreos, slightly pressing them into the green mixture. Allow top layer to set fully before slicing and serving.
You can store these in the refrigerator in an airtight container if you prefer them chilled or freeze for up to 3 months.
Recipe source: adapted from www.loveveggiesandyoga.com
- Craving more?
Sign up for the Wishes & Dishes Newsletter
for a fresh serving of content delivered every week to your inbox! And stay in touch on
Facebook
,
Twitter
,
Pinterest
and
Instagram
for all of the latest updates!