Slow Cooker Mississippi Pot Roast is a comforting, tasty recipe made right in your crock pot.  The meat is so tender that it just falls apart!
I hope everyone had a great Easter!  What did you do? Ours was really nice.  We had brunch at my in-laws house which included amazing homemade Belgium waffles with fruit topping, baked french toast, and basically every other breakfast or lunch food you could possibly imagine.  It was quite the feast.  We had an Easter egg hunt for all the kids in their backyard after brunch where we hid 250 eggs full of candy, 2 of which were never found.  I guess we tried harder to make the hiding spots a little more challenging this year….perhaps a little TOO challenging.  Let's just say there was some tree climbing involved in the placement of these eggs and I think the adults had more fun hiding the eggs than the kids did hunting for them.  Hey, ya gotta make the kids work for the candy, right?!  We then went to my mom's place and had a delicious ham, sweet potatoes, and lots of other side dishes.  The carrot cake I made for dessert was a big hit so I'll be sharing that with you soon!
It doesn't happen often, but once in a while I get a craving for a good pot roast.  This Slow Cooker Mississippi Pot Roast is the easiest way to fix the most delicious chuck roast!  You will not be disappointed.  It was tender, juicy, and fell off the fork.  For even more flavor in this pot roast you could sear all the sides of the meat in a frying pan with some oil to get that caramelizing brown goodness before you add it to the slow cooker.  That step is really not necessary, though.
To sear, or NOT to sear?  That is the question!
Also, the peppers do not make this Slow Cooker Mississippi Pot Roast hot, it just makes it more flavorful.  This type of pepper is more vinegary than spicy.  I would not skip them because they really put this dish over the top.  I served this over baked parmesan risotto, but it would also be good over mashed potatoes or egg noodles.
Enjoy!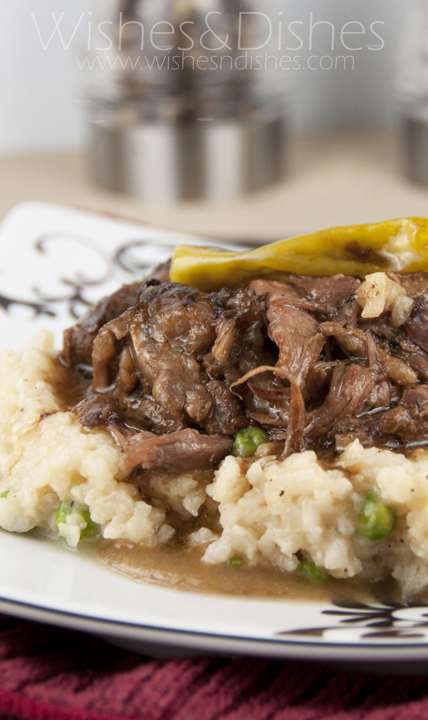 Slow Cooker Mississippi Pot Roast
Prep time:
Cook time:
Total time:
Slow Cooker Mississippi Pot Roast is a comforting, tasty recipe made right in your crock pot. The meat is so tender that it just falls apart!
Ingredients
3 lb pot roast (I used a Chuck Roast)
1 packet Ranch dressing mix
1 packet Au Jus mix
6 pepperoncini peppers (optional – but is the key "Mississippi" ingredient)
1 stick unsalted butter
Instructions
In a 5 or 6-quart slow cooker, place roast in slow cooker and sprinkle Ranch dressing mix and Au Jus mix on top.
Top with 1 stick of butter and the pepperoncini peppers (not the liquid...NO liquid gets added to the slow cooker). Cook in the slow cooker on low for 6 to 8 hours (mine was done in 5 because my slow cooker cooks hot).
Shred the meat and serve with the gravy/juice from slow cooker on top. If you prefer, put the drippings through a gravy separator to reduce the fat content.
Recipe source:  adapted from lseo.blogspot.com
- Craving more?
Sign up for the Wishes & Dishes Newsletter
for a fresh serving of content delivered every week to your inbox! And stay in touch on
Facebook
,
Twitter
,
Pinterest
and
Instagram
for all of the latest updates!