This recipe for peanut butter cup crunch brownie bars is amazing.  These bars are the perfect combination of crunchy peanuts, Reese's peanut butter cups and fudgy chocolate brownies and would be great to bring to a party for "fancied-up" brownies…..OR don't share and eat them all by yourself.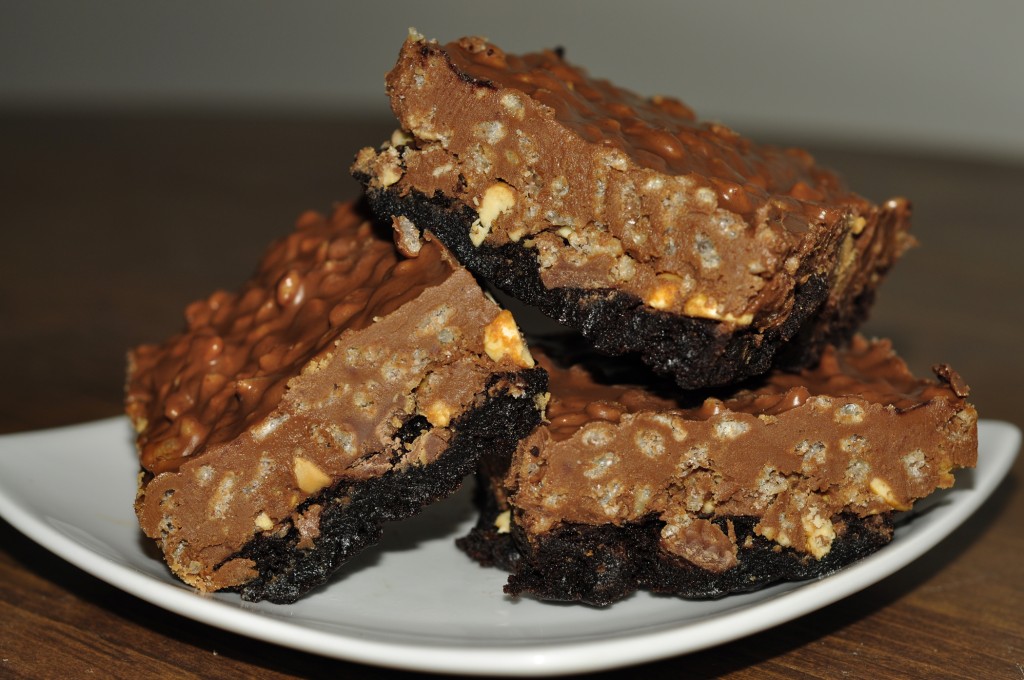 I say this all the time and I will say it again; there really is nothing better than any combination of peanut butter and chocolate.  These brownies are to die for.  Let me fill you in on a little tidbit of information; I used to hate chocolate! ::::gasp!::::.  Yes, you heard me right.  Those were dark days, indeed.  I would eat white chocolate and white chocolate only.  I always knew which Easter basket was mine during the annual hunt with my brothers on Easter morning because it was the only one with the big fat white chocolate bunny sitting in it.  I don't know when my taste buds changed, but I'm sure glad they did.  My waistline might have another opinion.
Things to know:
I used a dark chocolate brownie mix in this recipe but you can use whatever suits your fancy.
 A chewy, fudgy brownie is spot-on for the job, versus a cake-like brownie.
Use whatever you'd like, just make sure it's a recipe for a 9×13-inch baking dish (not an 8×8 or 9×9).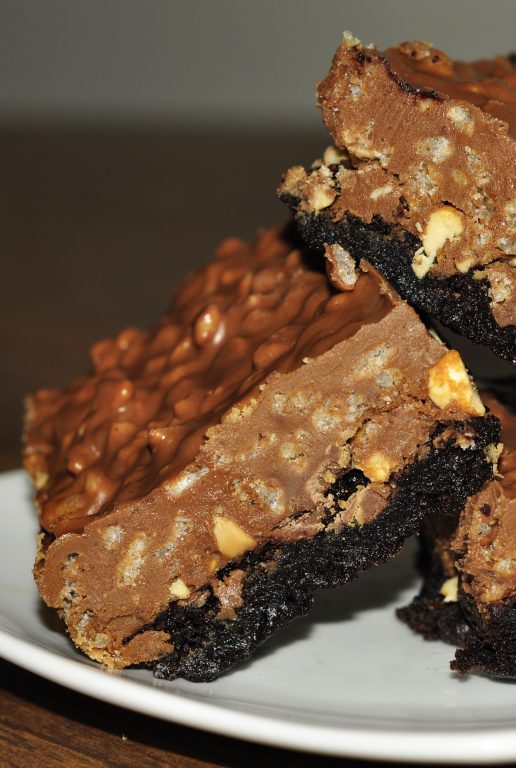 Peanut Butter Cup Crunch Brownie Bars
Serves:
15, depending on size
Peanut Butter Cup Crunch Brownie Bars dessert recipe: the perfect combination of crunchy peanuts, Reese's peanut butter cups and fudgy chocolate brownies.
Ingredients
1 batch of your favorite brownie recipe for a 9×13-inch pan (I used Pillsbury dark chocolate)
½ cup salted peanuts
8 Reese's peanut butter cups, chopped
1½ cups milk chocolate chip
1½ cups creamy peanut butter
½ tablespoon unsalted butter
1½ cups Rice Krispies cereal
Instructions
Prepare the brownies according to the directions and bake for about 5 minutes less than the
recipe states.
Remove from the oven and sprinkle the top with the peanuts and chopped peanut
butter cups.
Return to the oven and bake for 5 additional minutes.
While they are finishing baking, melt the chocolate chips, peanut butter and butter in a
medium saucepan over medium-low heat.
Stir in the cereal to evenly coat.
Remove the brownies from the oven and evenly pour the chocolate and peanut butter mixture
over top. Spread to cover evenly.
Refrigerate for 2 hours before cutting and serving.
Store in an airtight container in the refrigerator.
- Craving more?
Sign up for the Wishes & Dishes Newsletter
for a fresh serving of content delivered every week to your inbox! And stay in touch on
Facebook
,
Twitter
,
Pinterest
and
Instagram
for all of the latest updates!