"…Then the angel said to them, "Do not be afraid, for behold, I bring you good tidings of great joy which will be to all people. For there is born to you this day in the city of David a Savior, who is Christ the Lord." ~ Luke 2:10-11
It's that time of year again….Christmas is just 4 days away! That means last minute shopping to do for the special people on your list, last minute preparations you need to make for your Christmas get-togethers with your family, and last minute baking!.
I have a small confession. I love Christmas baking. And the rich foods Christmas brings….but, mostly the baked goods. I think it's probably pretty obvious by now that I absolutely love anything with the combination of chocolate and peanut butter. The super-rich flavor combination makes any dessert decadent.
Among my favorite Christmas-time cookies are Peanut Butter Blossoms (or, as I've always referred to them, "those peanut butter cookies with Hershey's Kisses on top"). I'd like to think of these as a fun and easy Christmas cookie. They show up every year, without fail, at every holiday party and on every cookie tray of mine. If there is anyone who tires of these cookies I'd love to find them.
From my family to yours, I wish you the Merriest of Christmases and a New Year filled with prosperity. Now get off this computer, bake these cookies, and spend some time with your family! God bless!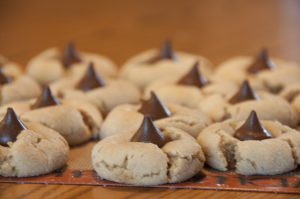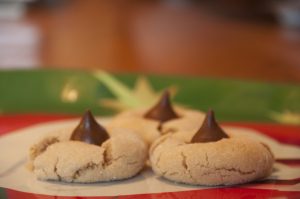 INGREDIENTS:  
(Makes about 4 dozen cookies)About 48 HERSHEY'S KISSES Milk Chocolates
1/2 cup  shortening
3/4 cup creamy peanut butter
1/3 cup  granulated sugar
1/3 cup packed light brown sugar
1 egg
2 tablespoons milk
1 teaspoon vanilla extract
1-1/2  cups all-purpose  flour
1 teaspoon baking soda
1/2 teaspoon salt
granulated sugar (to roll in)
PREPARATION:
Heat oven to 375°F.   Remove wrappers from chocolates at this point.
Beat shortening and peanut butter in large bowl until well blended.
Add 1/3 cup granulated sugar and brown sugar; beat until light and fluffy.
Add  egg, milk and vanilla; beat well.
Stir together flour, baking soda and  salt; gradually beat into peanut butter mixture.
Shape dough into 1-inch balls. Roll in granulated sugar; place on ungreased cookie sheet.
Bake  8 to 10 minutes or until lightly browned (check at minimum baking time).
Immediately press a chocolate  into center of each cookie; cookie will crack around edges.
Remove from  cookie sheet to wire rack. Cool completely.
Enjoy! 
- Craving more?
Sign up for the Wishes & Dishes Newsletter
for a fresh serving of content delivered every week to your inbox! And stay in touch on
Facebook
,
Twitter
,
Pinterest
and
Instagram
for all of the latest updates!