St. Patrick's day leprechaun bait chex party mix!  This would be a really great treat for teacher gifts/parties for your kids' school, party favors, a snack, or dessert!  It's so easy to make, kids can help, and it's super festive for St. Paddy's Day.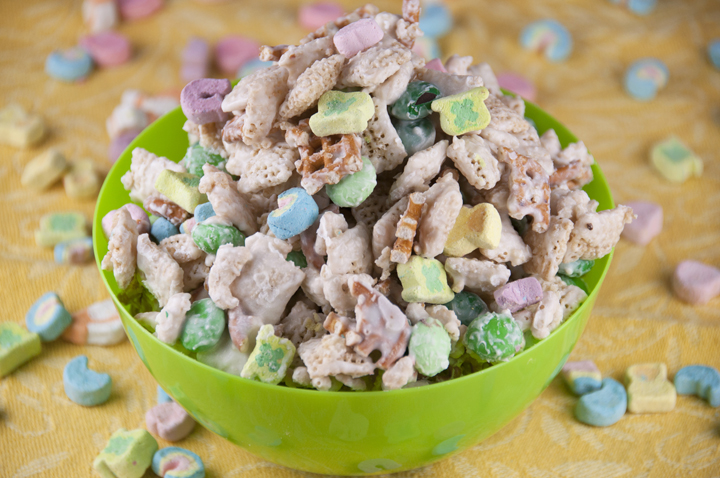 I think this is the most colorful recipe I've ever posted on my blog.  I just love the colors of this chex mix!  I wanted to share this with you all as a last minute snack idea to celebrate St. Patrick's Day.  Holiday foods are pretty much the best.  They are so fun!
  I can picture this yummy St. Patrick's day treat wrapped up in little cellophane bags to give away as gifts at a party. In our case, I just leave it out on my counter to enjoy every time Mr. Wishes or I pass through the kitchen.  This will NOT last long – I can guarantee that.  Enjoy and have a great weekend!  And if you need other ideas of what to make for St. Paddy's, I created a collection of my favorite green food earlier this week in this post about Green Recipes for St. Patrick's Day. You may also like this Shamrock Shake Dip!
If you love recipes with Lucky Charms cereal, you'll love this Lucky Charms Blizzard (a Dairy Queen inspired recipe). Enjoy!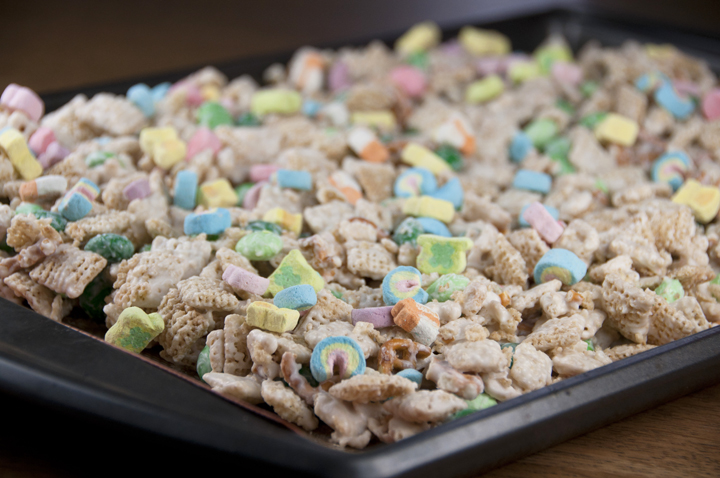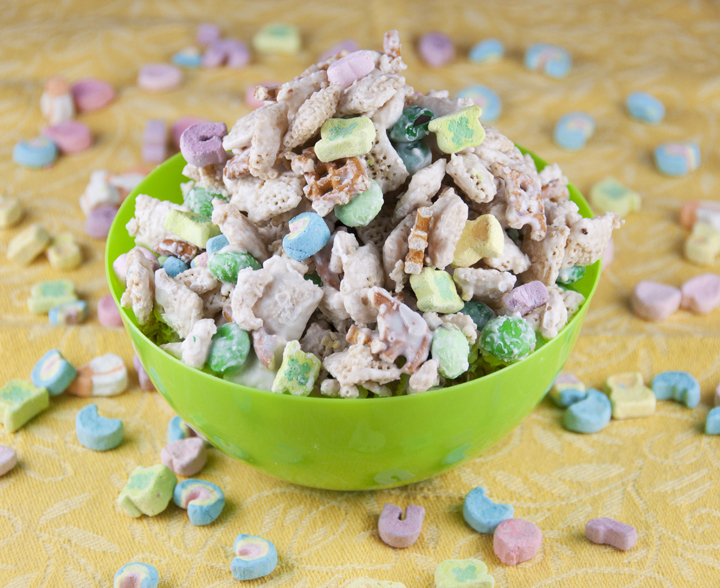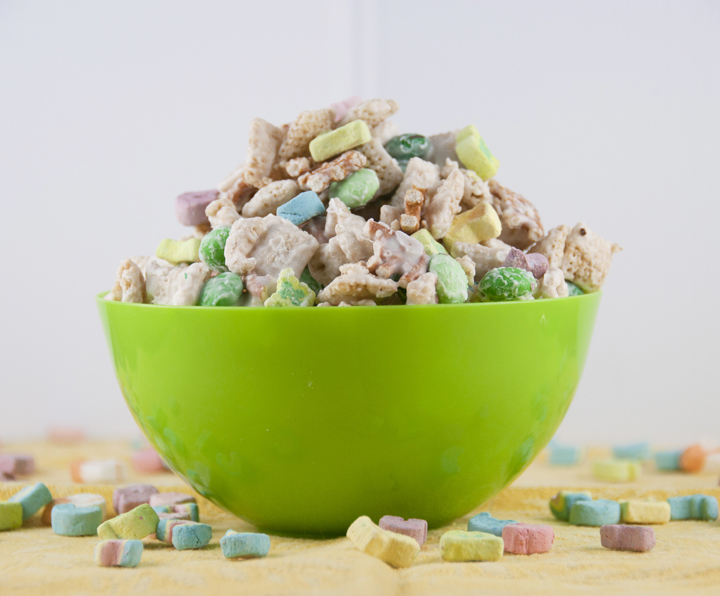 Leprechaun Bait
Ingredients
7 cups Rice Chex
1 cup Lucky Charms cereal
1 cup crushed pretzels
1 11.4-ounce bag dark chocolate mint M&Ms
1 11-ounce bag white chocolate chips
¾ cup of JUST the marshmallows from Lucky Charms box
Instructions
In a large bowl combine Rice Chex, 1 cup of Lucky Charms, pretzels and M&Ms.
In a heat-safe bowl, melt the chocolate chips in the microwave for 30 seconds on 50% power. Stir and repeat until the chips are completely melted.
Pour the melted white chocolate over the cereal mixture.
Stir carefully to combine, as to not crush the Rice Chex.
Stir until the mixture is completely coated with the white chocolate. Sprinkle with the ¾ cup of Lucky Charms marshmallows.
Pour mixture onto wax paper or parchment paper to dry and spread it out.
Allow to set until white chocolate has hardened (about 45 minutes) and then break up into pieces.
Store in an air-tight container.
- Craving more?
Sign up for the Wishes & Dishes Newsletter
for a fresh serving of content delivered every week to your inbox! And stay in touch on
Facebook
,
Twitter
,
Pinterest
and
Instagram
for all of the latest updates!