Tropical Leprechaun Drink
For those of you who don't like green beer, but want a great recipe for a green rum tropical drink for St. Patrick's Day this year, look no furthur!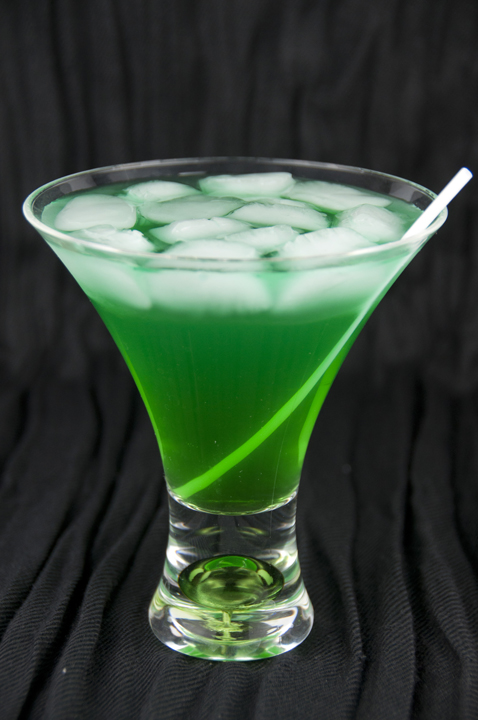 There is just something about green drinks – they are so pretty and they are my absolute favorite (hence, why I love this Shamrock Shake and this Lime Sherbet Punch) so much.  This cocktail recipe I'm sharing with you today is a great alcoholic tropical Leprechaun drink recipe for St. Patrick's Day!  This bad boy  is very sweet, but tastes great and not too over the top….but you have been warned about the sweetness in case that isn't your jam. As for me, this drink has my top three faves: Midori, Blue Curacao, and Coconut Rum.  Doesn't get much better than that in my book.
I have always had a special love for Midori and any drink containing it.  If you have never had it before, it's a Japanese melon-flavored liqueur and it's absolutely to die for (Midori in Japanese means "green").
I hope you enjoy this over the holiday, serve it up to your favorite friends if you're having a party, and have a safe and fun St. Patrick's day weekend 🙂  But not too much fun, of course.
P.s.  This would go great with some Leprechaun Bait!  Just saying….
Tropical Leprechaun Drink
Ingredients
2 oz. Coconut Rum
½ oz. Blue Curacao Liqueur
¾ oz. Melon Liqueur (such as Midori)
Pineapple Juice
ice
Instructions
Fill a glass (preferably a rocks glass/short tumbler) full of ice.
Pour in the rum and Blue Curacao, then pour in the midori.
Top it off with pineapple juice.
Stir the top slightly, leaving the blue on the bottom of the glass (not required) – until the drink turns green. I just mixed mine all together. Enjoy!