Welcome to day ONE of my 2nd themed week I've had here on Wishes and Dishes.  These are cookies baked within another cookie – does it really get better than this, people?  A few months ago, I did a week of ALL Mexican food and all of you readers seemed to really enjoy it.  This week I'm doing all "kid" food!  I've taken my favorite foods I ate as a child and incorporated them into recipes and also made homemade versions of some classic favorites.  I saw these Keebler Frosted Animal Shortbread Cookies in the store and kept buying them over and over again with the intention of making some sort of awesome creation with them.  Well let's just say that about six bags later and I finally used them in a recipe without eating them all up first! ;)  Don't judge!
These cookies are one my favorites to ever come out of my kitchen and that's saying a lot.  The base is a sugar cookie, and the incorporation of the shortbread cookie and frosting inside the sugar cookie really makes the taste of these cookies so unique.  I was very proud of them and they were husband approved.   It also doesn't hurt that they are super pretty.  I bet these would even be great to bring to a baby shower (for a baby girl, of course) because of the pink.  Also – how perfect would these be for a Valentine's Day treat because of the color?
Note:  You can also use Mother's brand Circus Animal Cookies for this recipe – there is virtually no difference between them and the Keebler cookies that I used for this recipe.  Enjoy and make sure to stop back for my other childhood food favorites this week!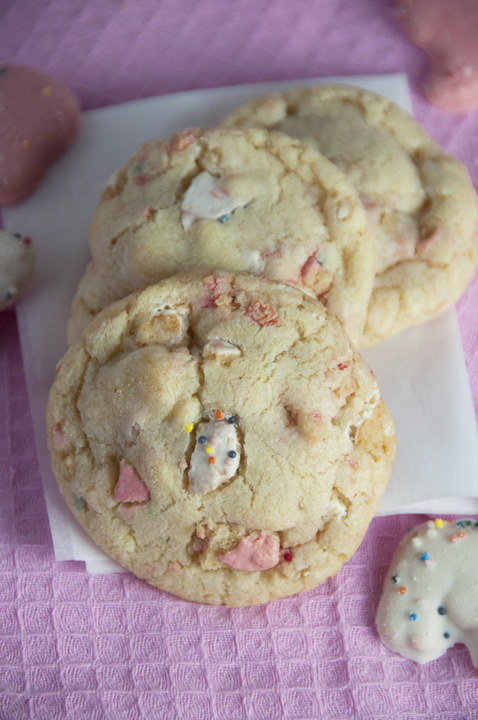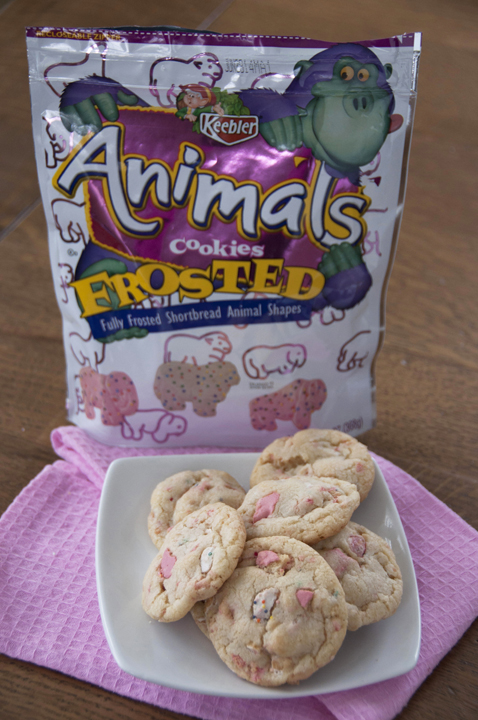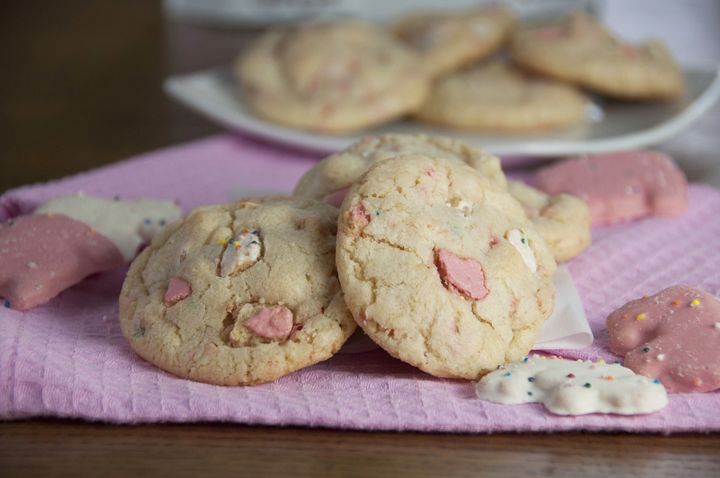 INGREDIENTS:
*makes about 2 dozen*
2 3/4 cups all-purpose flour
1 teaspoon baking soda
1/2 teaspoon baking powder
1 cup butter, softened
1 1/2 cups white sugar
1 egg
1 teaspoon vanilla extract
3-3 1/2 cups Keebler Frosted Animal Cookies, roughly crushed (measure AFTER crushing – I used 3.5 cups)*
*Make sure you leave some bigger chunks and not just all crumbs
DIRECTIONS:
Preheat oven to 375 degrees F (190 degrees C). In a small bowl, stir together flour, baking soda, and baking powder. Set aside.
In a large bowl, cream together the butter and sugar until smooth. Beat in egg and vanilla. Gradually blend in the dry ingredients. Stir in the animal cookie chunks/crumbs.  Roll rounded heaping tablespoonfuls of dough into balls, and place onto ungreased cookie sheets.
Bake 8 to 10 minutes in the preheated oven, or until golden. Let stand on cookie sheet two minutes before removing to cool on wire racks.
- Craving more?
Sign up for the Wishes & Dishes Newsletter
for a fresh serving of content delivered every week to your inbox! And stay in touch on
Facebook
,
Twitter
,
Pinterest
and
Instagram
for all of the latest updates!