Cocoa Pebbles Ice Cream Cake is a quick and easy dessert recipe incorporating your favorite kid cereal with vanilla ice cream and melted white chocolate.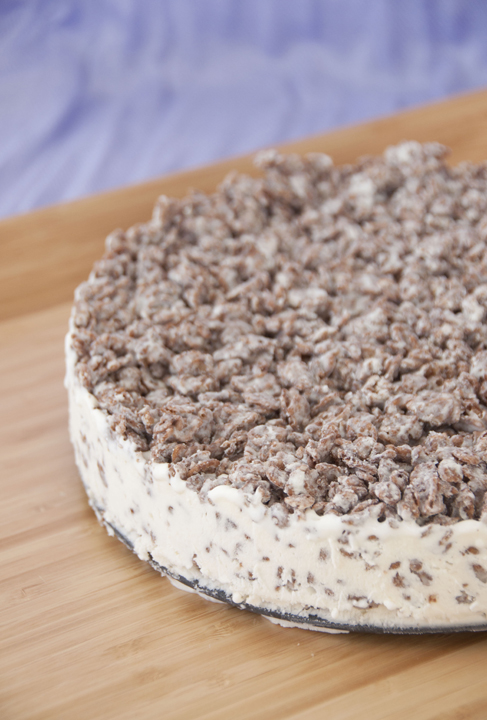 Welcome to yet another day of Ice Cream Week 2014 (and the final day for me)!  I've done other themed weeks before here on Wishes and Dishes, but this has to be my favorite of all time!  If you have been following along all week you know that this year's big ice cream week event is hosted by Kim of Cravings of a Lunatic and Susan of The Girl in the Little Red Kitchen.  Myself along with 24 other food bloggers came together to bring you all creative ice cream recipes galore.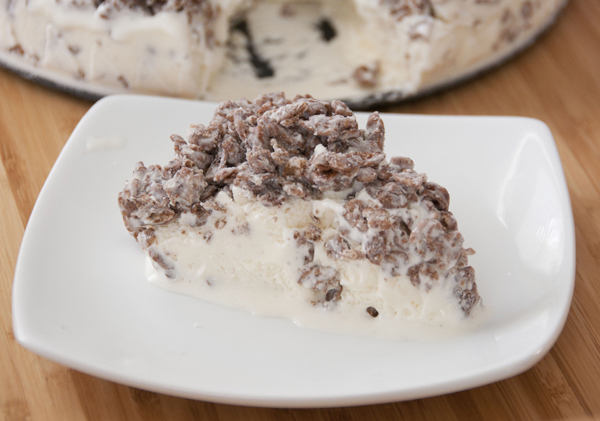 I think you will agree that this ice cream cake is super fun being that is is made with a beloved kids' cereal, Cocoa Pebbles, that we have more than likely been addicted to at one point or another in our lives….childhood or adulthood….for me, it's the both  I got the idea from my friend Tonia at The Gunny Sack who made a Fruity Pebbles version of this cake. It's really easy to put together and makes for a fun conversation starter at parties when people shout out ,"Are these Cocoa Pebbles??!! Awesome!"  Yes, that happened at the birthday party I brought this to.  And it was an adult that was overly excited about it.  Anyway, everyone wants to be the person at a party who brings the dessert that is the topic of conservation and is the most "interesting" food at the table.  Therefore, you should really try this!  You need a springform pan to make it, but if you don't have one I'm sure you can use another pan that is deep enough, but the presentation won't be as pretty.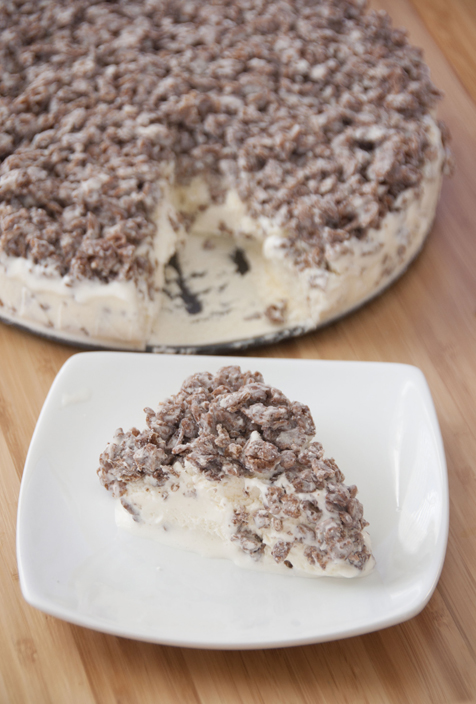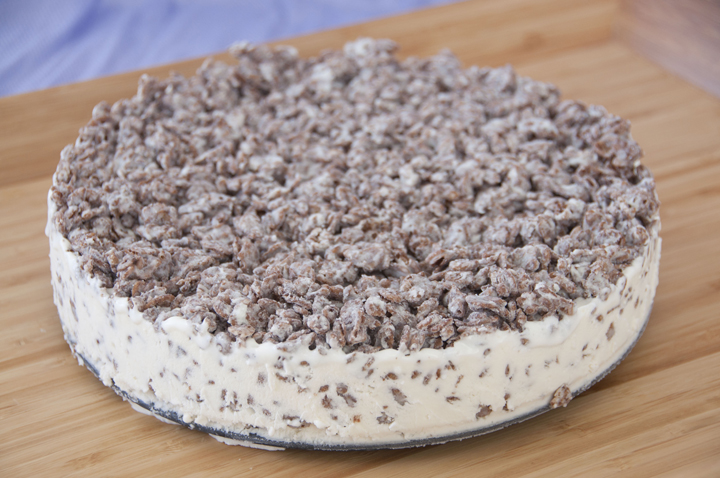 Cocoa Pebbles Ice Cream Cake
Cocoa Pebbles Ice Cream Cake is a quick and easy dessert recipe incorporating your favorite kid cereal with vanilla ice cream and melted white chocolate.
Ingredients
4 cups Cocoa Pebbles cereal
1½ cups white chocolate chips
2 tablespoons shortening
½ gallon good quality vanilla ice cream
Instructions
Place your carton of ice cream in the fridge to soften.
Pour Cocoa Pebbles into a large bowl.
Melt white chocolate chips and shortening in the microwave in a microwave safe bowl. Pour the melted chocolate over the cereal and stir until it is evenly coated.
Pour the coated cereal onto a piece of parchment paper or silicone baking mat placed on a baking sheet.
Allow the white chocolate coating to harden and then break the cereal into bite sized pieces (just use your hands).
In a large bowl, mix half a gallon of softened vanilla ice cream with 2 cups of the crunchy cereal pieces. Work quickly as the ice cream will melt too much.
Spread into a 9-inch springform pan before the ice cream melts.
Top with the remaining crunchy cereal pieces and press it into the top of the ice cream cake.
Cover the springform pan and place the ice cream cake in the freezer for 4-6 hours or overnight to harden. When ready to serve, remove from freezer, slide a knife around the edges of the cake while it is still inside the pan (don't skip this step) and then remove the sides of the pan.
Dip a knife in hot water, quickly dry it off and use the hot knife to cut the ice cream cake cake. Re-dip and dry off again as needed.
Recipe source:  adapted from thegunnysack.com

- Craving more?
Sign up for the Wishes & Dishes Newsletter
for a fresh serving of content delivered every week to your inbox! And stay in touch on
Facebook
,
Twitter
,
Pinterest
and
Instagram
for all of the latest updates!