Cocoa Pebbles Ice Cream Cake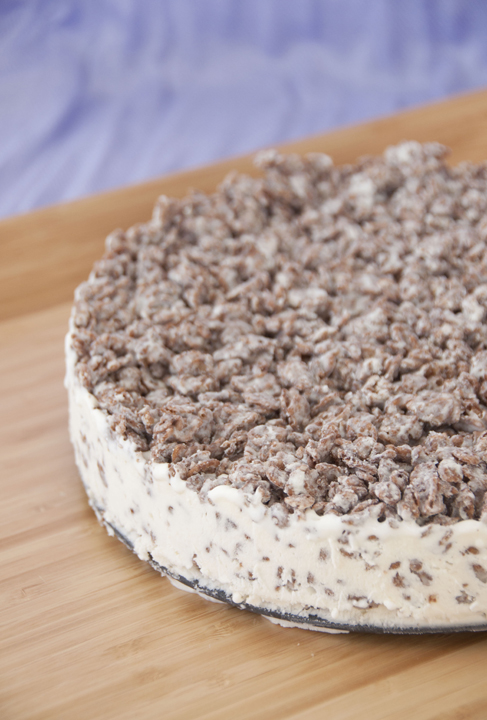 4 cups Cocoa Pebbles cereal
1½ cups white chocolate chips
2 tablespoons shortening
½ gallon good quality vanilla ice cream
Place your carton of ice cream in the fridge to soften.
Pour Cocoa Pebbles into a large bowl.
Melt white chocolate chips and shortening in the microwave in a microwave safe bowl. Pour the melted chocolate over the cereal and stir until it is evenly coated.
Pour the coated cereal onto a piece of parchment paper or silicone baking mat placed on a baking sheet.
Allow the white chocolate coating to harden and then break the cereal into bite sized pieces (just use your hands).
In a large bowl, mix half a gallon of softened vanilla ice cream with 2 cups of the crunchy cereal pieces. Work quickly as the ice cream will melt too much.
Spread into a 9-inch springform pan before the ice cream melts.
Top with the remaining crunchy cereal pieces and press it into the top of the ice cream cake.
Cover the springform pan and place the ice cream cake in the freezer for 4-6 hours or overnight to harden. When ready to serve, remove from freezer, slide a knife around the edges of the cake while it is still inside the pan (don't skip this step) and then remove the sides of the pan.
Dip a knife in hot water, quickly dry it off and use the hot knife to cut the ice cream cake cake. Re-dip and dry off again as needed.
Recipe by
Wishes and Dishes
at https://wishesndishes.com/cocoa-pebbles-ice-cream-cake/