This is the best recipe for guacamole that I have tried so far!  Very easy to make and great flavor with a little bit of a kick.  Make extra for a popular party appetizer!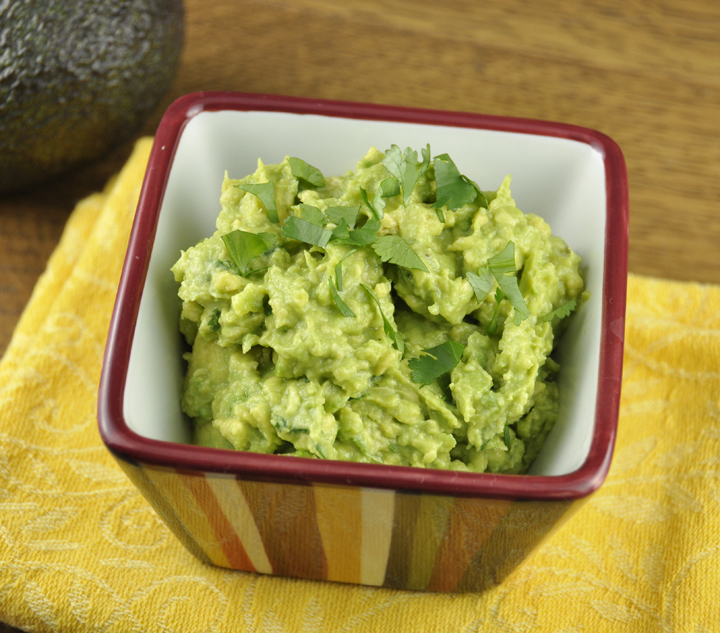 Mr. Wishes and I are guacamole ADDICTS.  Fresh avocados are one of my favorite things in the world – so full of flavor, even on their own.  I think I crave homemade guacamole more than any other snack food.  I have these moments periodically where I just need some fresh guacamole in my life and nothing else will do.  Of course, those times are when I'm sitting in my pajamas at home and have no avocados in the house, but there have been times when I made a special trip to the grocery store just to get some.  Normally, I never make my guacamole the same way twice, but last time I made it I used this method and actually wrote it down for once.  You will love this classic guacamole recipe!  It is so easy to make and has great flavor.  I have used both white onion and red onion in guacamole before and find that I prefer the red onion.
Note:  Tossing the avocados in the lime juice really keeps the finished product from turning brown.
OK, now is officially one of those times that I'm craving guacamole….welp, I'm off to the store now! 😉
Classic Guacamole
This is the best recipe for guacamole that I have tried so far! Very easy to make, great flavor with a little bit of a kick, and a popular party appetizer!
Ingredients
4 Haas avocados, halved, seeded and peeled
1 lime, juiced
½ teaspoon kosher salt
½ teaspoon ground cumin, optional (for a kick)
½ teaspoon cayenne, optional (for a kick)
½ medium red onion, diced
½ jalapeno pepper, seeded and minced
2 Roma tomatoes, seeded and diced (can leave out, sometimes I do)
2 tablespoon chopped cilantro
2 cloves garlic, minced
Instructions
In a large bowl place the scooped avocado pulp and lime juice, toss to coat.
Drain, and reserve the lime juice, after all of the avocados have been coated.
Using a potato masher or fork add the salt, cumin, and cayenne and mash.
Fold in the onions, jalapeno, tomatoes, cilantro, and garlic.
Add 1 tablespoon of the reserved lime juice. L
Let sit at room temperature for 1 hour for flavors to marry and then serve.
Putting the pit in a bowl and covering it with guacamole keeps it from oxidizing - press plastic wrap onto top of guacamole until ready to serve.
- Craving more?
Sign up for the Wishes & Dishes Newsletter
for a fresh serving of content delivered every week to your inbox! And stay in touch on
Facebook
,
Twitter
,
Pinterest
and
Instagram
for all of the latest updates!