Fiesta 7 Layer Dip
The creation of this Fiesta 7 Layer Dip appetizer recipe and shop has been compensated by Collective Bias, Inc. and its advertiser. All opinions are mine alone. #JustAddRotel #CollectiveBias
This dip has so many colorful layers of deliciousness. Refried beans, guacamole, sour cream, cheese, tomatoes, olives and green onion make for the perfect party or game day appetizer.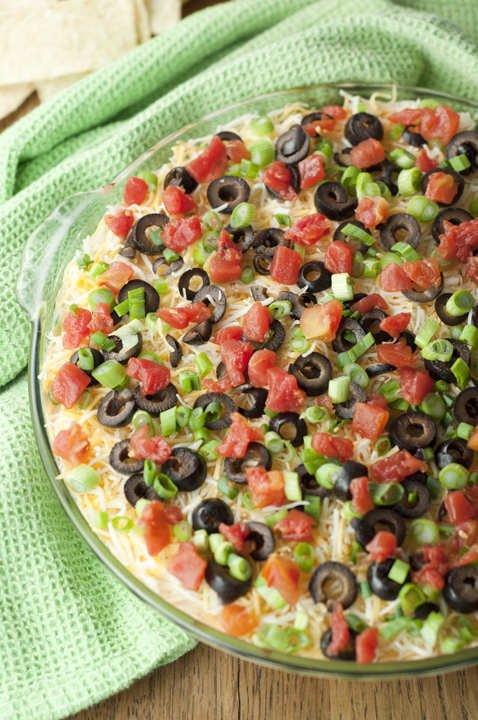 Ahhh the infamous 7 layer dip.  This stuff is always the first thing to disappear at parties, have you ever noticed that?  People tend to dive into it within a millisecond of it being set out on the table.  I'm a fan of dips in general, but this one has a special place in my heart.  I love Mexican food and this dip has everything I love rolled into one snack.  It's perfect for devouring with all of your friends and family while watching the basketball tournament games on T.V.  Speaking of basketball…do you fill out a bracket?  I have to say, I have never done one but I did grow up watching a lot of the games with my dad and brothers.  Ultimately, I'm all about the snack food when it comes to most sports…you know…the important stuff.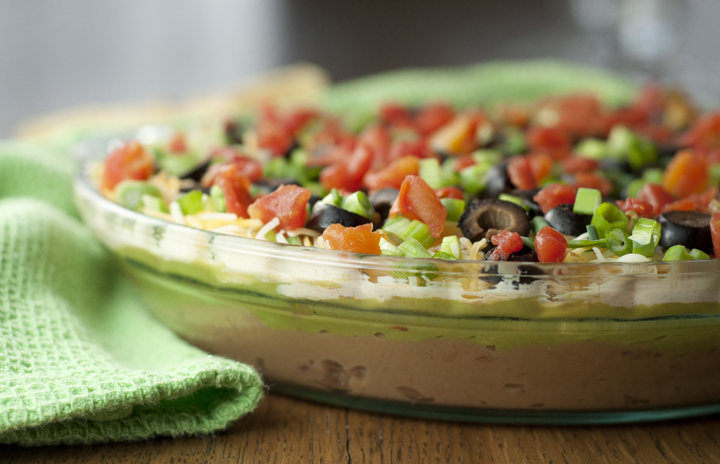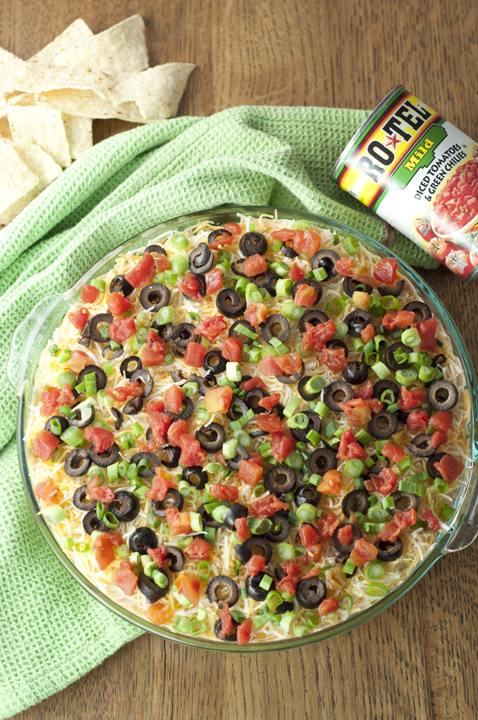 I was in a dip kind of mood and picked up a can of this Ro*Tel goodness while doing my spontaneous shopping at Walmart. You know the kind of shopping where you go in the store for one thing and come out with a whole cart full? Yeah, that kind of shopping trip.
I decided to jazz up the refried bean layer when making the Fiesta 7 Layer Dip by adding in half a can of drained Ro*Tel tomatoes.  This was a great decision because it added so much to that particular layer.  I find that when this dip sits out at parties for hours upon hours it sometimes can get a little dry.  The Ro*Tel solved that problem! Boom.  It also inevitably enhanced the flavor and texture of the bean layer.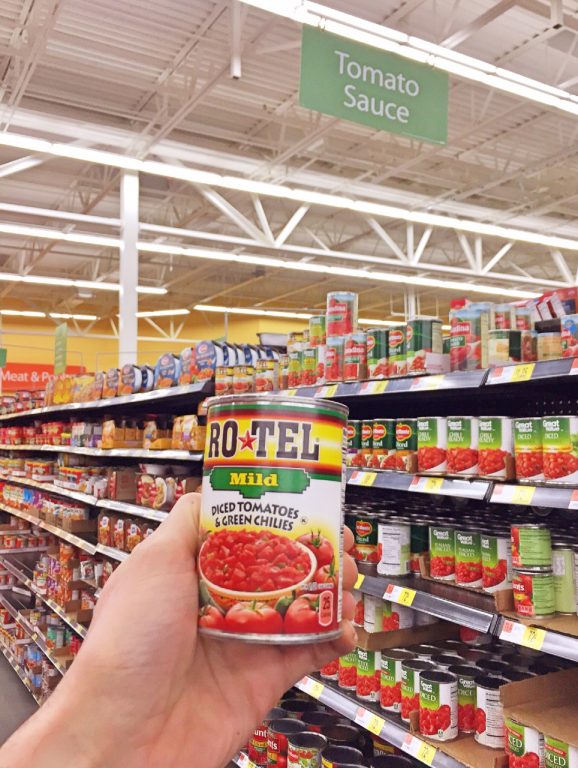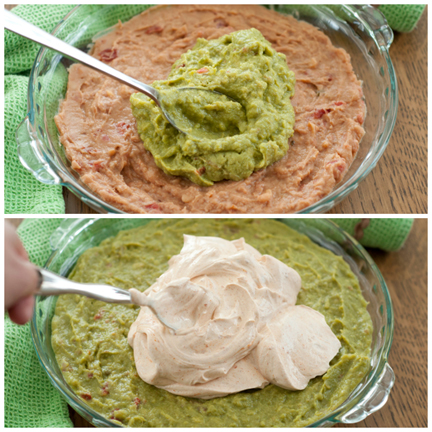 This dip is perfect for entertaining at any time of the year: picnics, pot lucks, Cinco de Mayo and especially game day!  Trust me on this one – Fiesta 7 layer dip is an amazing thing that you just need to try.  Oh, and there is a coupon for the Ro*Tel that I almost forgot to tell you about.  This Ro*Tel coupon deal ends really soon (as in April 6th – while supplies last!) so download it  and use it at your nearest Walmart today!
So, do you have a favorite game day recipe using Ro*Tel? Do "tell"! 🙂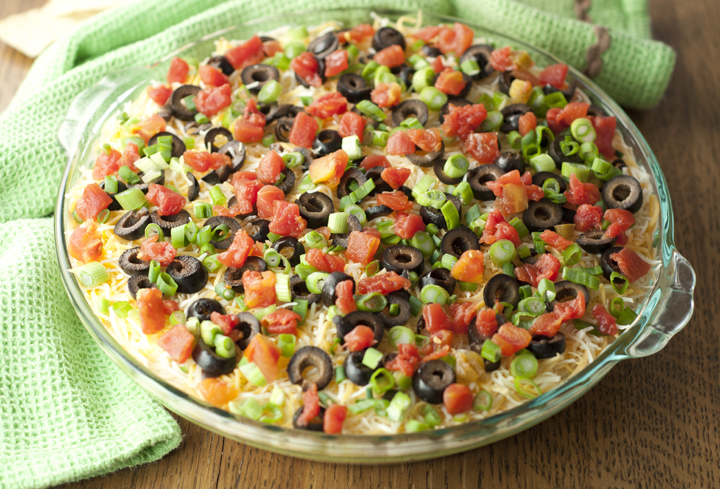 Fiesta 7 Layer Dip
Prep time:
Cook time:
Total time:
This dip has so many colorful layers of deliciousness. Refried beans, guacamole, sour cream, cheese, and more make the perfect party or game day appetizer.
Ingredients
1 (10 ounce) can Ro*Tel Diced Tomatoes & Green Chilies, drained (I used mild)
1 (16 ounce) can Refried Beans
1 (12 ounce) container refrigerated guacamole or homemade (2 mashed avocados)
1 (16 ounce) container sour cream
1 (1¼ ounce) package taco seasoning mix
1 cup shredded Mexican cheese blend
1 (2¼ ounce) can sliced ripe olives, drained
1⁄3 cup sliced green onion
tortilla chips, for dipping
Instructions
Reserve ½ cup drained tomatoes; set aside. Blend remaining tomatoes with beans in medium bowl.
Spread bean mixture in 8x8-inch glass baking dish or a 9 inch round casserole dish/pie dish.
Top with guacamole.
Blend together sour cream and taco seasoning mix in small bowl. Spread over guacamole.
Top evenly with layers of cheese, olives, green onions and reserved tomatoes.
Chill 2 hours prior to serving to give flavors a chance to develop.
Serve with tortilla chips. Devour.