White Queso Dip
White Queso Dip a creamy cheese dip is the perfect, easy appetizer recipe that contains just 5 ingredients and is ready in 10 minutes!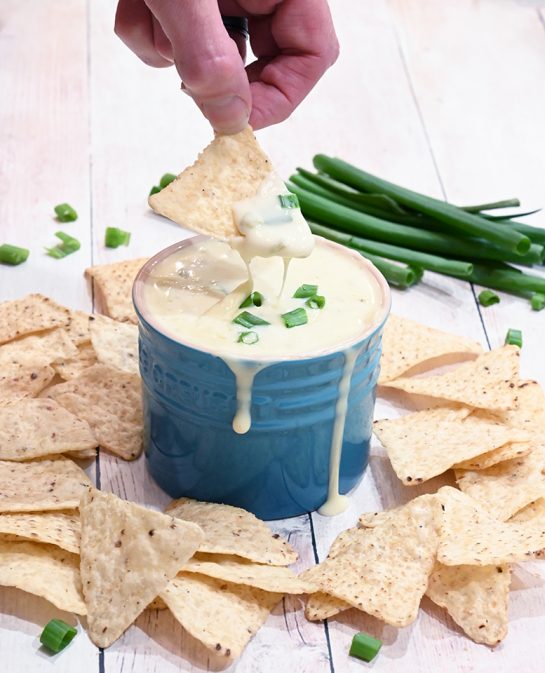 I had a whole blog post for this white queso dip written and it completely erased itself. That's how my week is going. I hope yours is going better!
It feels awkward to be business as usual here on Wishes and Dishes with all that is going on with the Coronavirus, but I also don't want to leave you all without new recipes in a time when you may need them the most.
If you're looking for a lot of easy dinner ideas for your family, I have tons of them on my blog. I have been mostly relying lately on my skillet dinner recipes. Less dishes to wash and I'm a happy camper.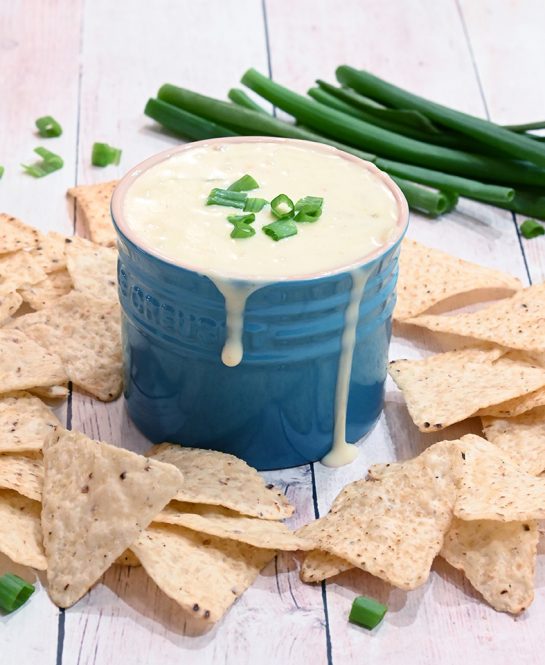 My family and I are hanging out here quarantining ourselves, trying not to go crazy and eating all the Bacon Cheeseburger Dip. Mr. Wishes is working from home as of last Wednesday and so far it's going pretty well as long as Eliza doesn't decide to start screaming when he's on a conference call. (That happened more than once so far). Hey, he couldn't ask for better new co-workers than Eliza and I, right?
I have been trying to get Eliza out for a walk every day or at least go for a drive so she feels like she didn't lose her entire social life. The other day she actually got her pretend purse, credit card and phone and walked over the door and banged on it while saying, "OUT!!"
I have made several other queso dips using Mexican cheese or cheddar like in this Philly Cheesesteak Dip or this Crock Pot Chili Queso Dip. This white Queso dip with JUST white American cheese was perfection.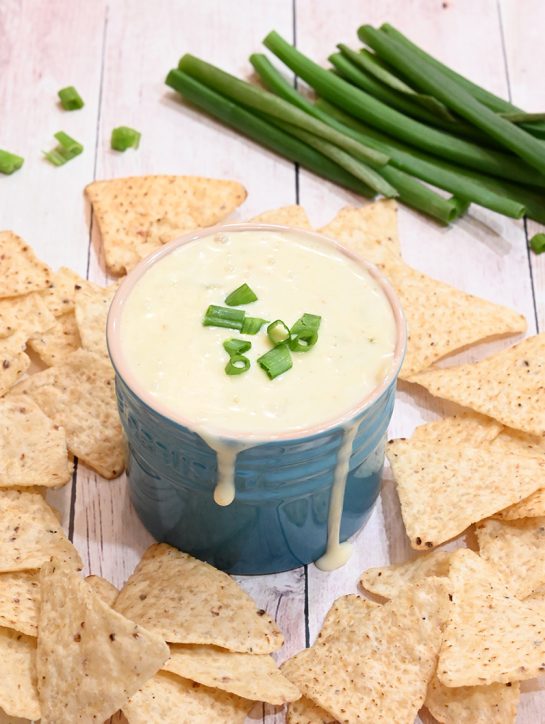 This is pretty much spot-on if you happen to love the cheesy dipping sauce recipes at your closest Mexican joint. It has amazing flavor and just the right about of heat and zest from the green chilies.
Feel free to add chopped jalapenos (canned and diced or fresh) instead of chilies if that's more your thang! I happen to LOVE jalapenos in just about anything.
You can even use a crock pot or fondue pot to keep it warm during your gathering. This particular white Queso thickens up quickly when it starts to cool, so it wouldn't be a bad idea to keep extra heavy cream on hand so that you can add a bit more (warmed up) as it cools.
I hope you're all staying healthy and sane. Sending a virtual hug and some cheesy dip to anyone who may need it today!
More of my favorite cheese dip recipes you need to try soon:
Toasted Almond Cheese Dip because Who doesn't love a hot, creamy cheese dip topped with crunchy sliced almonds?
Creamy Bacon and Cheese Dip – everything is better with bacon!
Hot Corn and Cheese Dip – this one is healthier and one of Mr. Wishes' favorite warm dips!
Chili Cheese Dog Wreath Dip – if you're looking for a show-stopper, this one is it! It's a combination of chili dip and pigs in a blanket and great for game day!
Philly Cheesesteak Dip – this dip will blow your mind and your taste buds!

White Queso Dip
Prep time:
Cook time:
Total time:
White Queso Dip a creamy cheese dip is the perfect, easy appetizer recipe that contains just 5 ingredients and is ready in 10 minutes!
Ingredients
1 pound white American cheese
1 cup heavy cream
1 4 oz can diced green chilies, undrained
½ teaspoon garlic powder
¼ teaspoon cumin
Pinch of salt and pepper, to taste
Instructions
Add all the ingredients except salt and pepper to a medium saucepan and cook over medium heat. Stir occasionally until cheese is melted and creamy.
Season with salt and pepper, to taste.
Keep warm or pour into desired serving dish and serve immediately.
Enjoy!