Creamy Bacon and Cheese Dip
Creamy Bacon and Cheese Dip loaded with bacon is the perfect, cheesy appetizer recipe for any party, game day or  an easy super bowl party appetizer!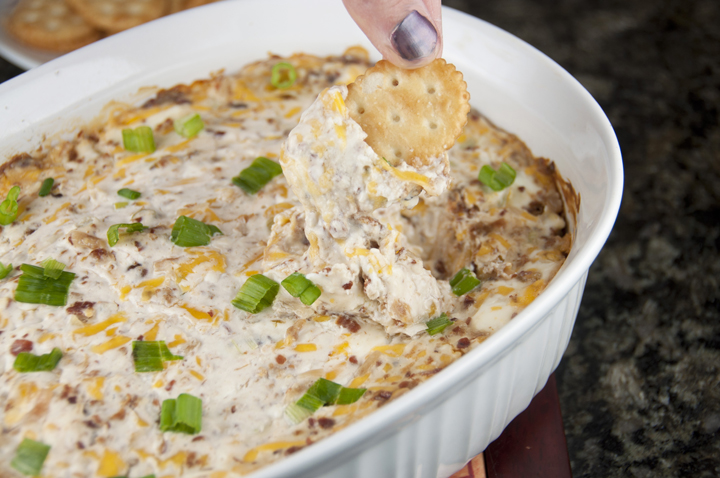 Cheesy, creamy, comforting Super Bowl appetizer foods are the one thing that never ever get old to me.  I could seriously live off of hot dips like this bacon and cheese dip if I had to, especially cheese dips.  How about you?
I made this creamy bacon and cheese dip on Tuesday for the kick-off of our church life group that Mr. Wishes and I belong to.  Everyone loved it and asked for the recipe!
I have to admit that I was a little surprised because I never anticipate that the super easy or simple recipes I make will get the rave reviews, but sometimes recipes of that nature are really the best tasting and the most popular at parties.
If you love bacon and cheese you must also try my Bacon Cheeseburger Dip! You will see why this one was so likable if you make it!  I think it went perfectly with the Keebler Townhouse crackers as they had a little buttery flavor to them that paired very well with the dip, but you can serve it with any crackers, chips, veggies, etc.
If you're looking for a cheesy dip that will be the winning appetizer at any party, try this vegetarian Beer Cheese Fondue Dip. This dip is addicting! I also found this Chorizo Con Queso Dip from my friend Toni. Have a wonderful weekend, Groundhog Day, and Super Bowl Sunday!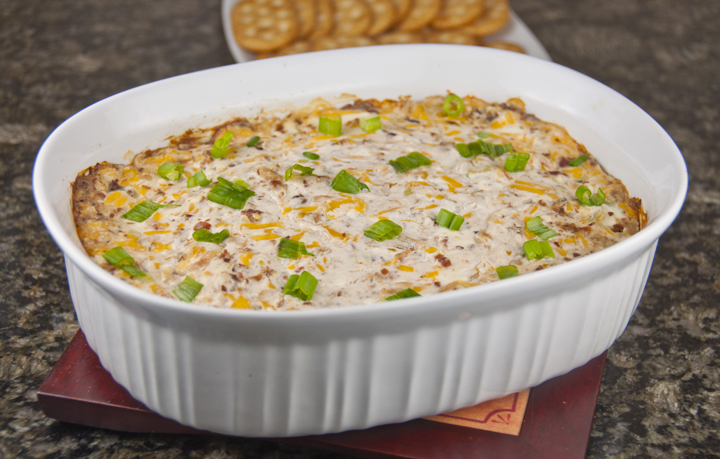 Creamy Bacon and Cheese Dip
Prep time:
Cook time:
Total time:
Creamy Bacon and Cheese Dip is the perfect, cheesy appetizer recipe for game day or any party - especially for the Super Bowl!
Ingredients
16 ounces sour cream
8 ounces cream cheese, softened
2 cups shredded Sharp Cheddar cheese
1 3 oz. jar Bacon Bits (I used Hormel 100% Bacon Bits)
1 cup green onions, chopped (use the white parts for dip and the green for topping right before serving)
1 envelope dry onion soup mix
crackers or assorted vegetables, for dipping
Instructions
Preheat oven to 400°F.
In a mixing bowl, stir together sour cream and cream cheese.
Fold in shredded cheese, bacon bits, green onions and onion soup mix.
Pour into a 1.5 or 2-quart ungreased baking dish.
Cover and bake in oven for 25 to 30 minutes or until hot and bubbly.
Once out of the oven, sprinkle some of the green onion on top for a nice presentation!
Serve with crackers and/or assorted fresh vegetables.