Chocolate Cherry Ice Cream
Rich and incredibly decadent, this Chocolate Cherry Ice Cream recipe is the perfect sweet treat to cool you down this summer!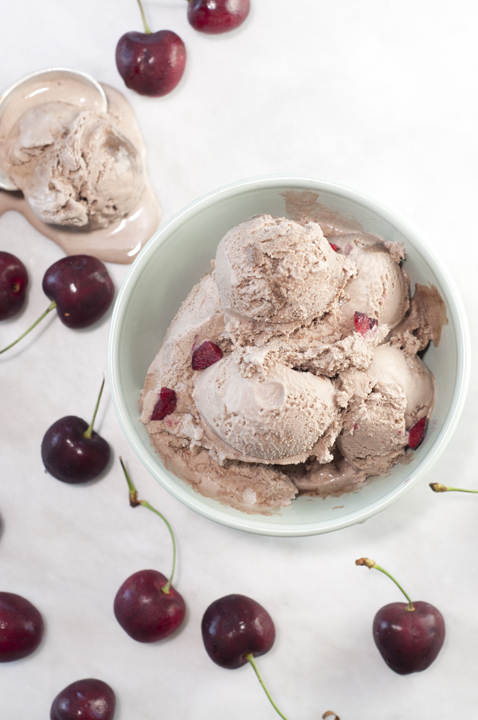 Who doesn't love the combination of cherry and chocolate? Admittedly, I'm not a huge fan of chocolate or cherry alone, but add them together like in this Chocolate Cherry Ice Cream and I can't resist.
My hubby is ALL about cherries so I made this for him one day spontaneously.  Rich, chocolatey ice cream with the added bonus of seasonal tasty cherries.  The cherries are just perfect this time of the year so I highly encourage making this Chocolate Cherry Ice Cream soon!

I'm so glad you're here! Follow along on Pinterest for more inspiration! 
It takes a bit of a time investment to make this Chocolate Cherry Ice Cream but the end result is rather impressive.  Next time I have chocolate lovers over my house this is being made again so that it can TRULY be appreciated (unlike my non-loving chocolate self).  It is the perfect treat for your summer barbecues and parties.
Other homemade ice cream recipes on Wishes and Dishes for you to enjoy:
Chocolate Cherry Ice Cream
Prep time:
Cook time:
Total time:
Rich and incredibly decadent, this Chocolate Cherry Ice Cream recipe is the perfect sweet treat to cool you down this summer!
Ingredients
1⅓ cups halved pitted cherries (about 13 ounces whole cherries)
½ cup plus 2 tablespoons sugar
½ cup dark rum (or you can use water)
1½ cups whole milk
4 large egg yolks
3 ounces semisweet chocolate, chopped
1 ounce unsweetened chocolate, chopped
1 tablespoon unsalted butter
¾ cup heavy cream
1½ teaspoons vanilla extract
Instructions
Put the cherries, 2 tablespoons sugar and the rum in a medium saucepan and cook over medium-high heat until syrupy, about 15-20 minutes. Remove from the heat and let cool, then refrigerate until very cold, 2-3 hours.
In the meantime, heat the milk and the remaining ½ cup sugar in a saucepan over medium-low heat, whisking so the sugar dissolves.
Whisk the egg yolks in a small bowl.
Gradually whisk about ½ cup of the warm milk mixture into the eggs, then whisk the egg mixture into the saucepan. Cook and stir constantly, until the mixture coats the back of a spoon and registers 168 degrees F on a candy thermometer, about 15 minutes.
Remove from heat; add the semisweet and unsweetened chocolate and the butter and set aside until the chocolate melts, about 5 minutes.
Transfer the chocolate mixture to a blender and puree until smooth. Pour into a large bowl and stir in the heavy cream and vanilla. Refrigerate until chilled, 2-3 hours or overnight.
Churn the chilled chocolate mixture in an ice cream maker.
Strain the cherry mixture while reserving the syrup. When the ice cream is very thick, add the cherries and continue churning until incorporated. Transfer to a freezer-safe container.
Drizzle in the reserved cherry syrup and swirl with a spoon. Cover and freeze until firm, at least 4 hours.
Recipe source:  Food Network Kitchen