Turkey Cake Pops
Turkey Cake Pops are so fun to make and festive for fall! The entire family will enjoy these turkey pops for an easy Thanksgiving dessert recipe.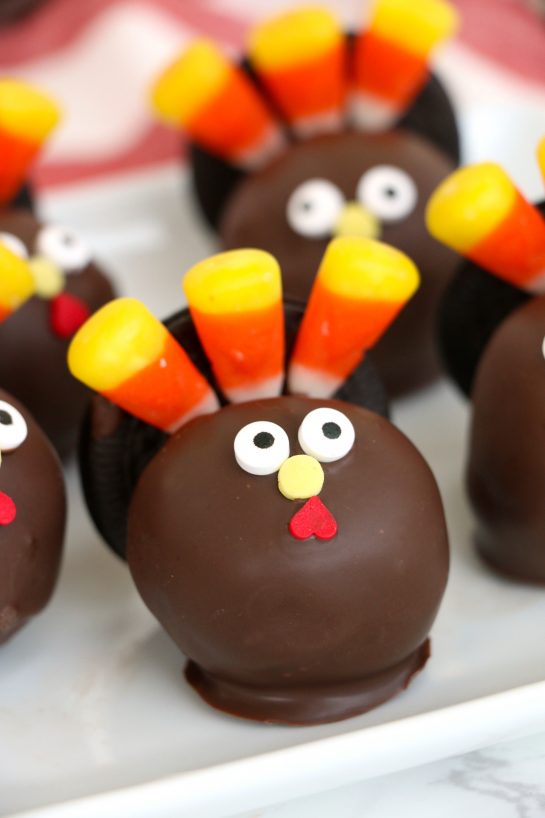 These Turkey Cake pops are so fun to make, impossibly cute, and even more fun to eat. These adorable chocolate-covered turkey cake pops do not disappoint in taste or looks. They are so tasty and really simple to make with kids.
I love me some Thanksgiving recipes. There's lots of ground to cover in the making of these little desserts so let's pop right to it. (Sorry, that joke was nerdy and bad.)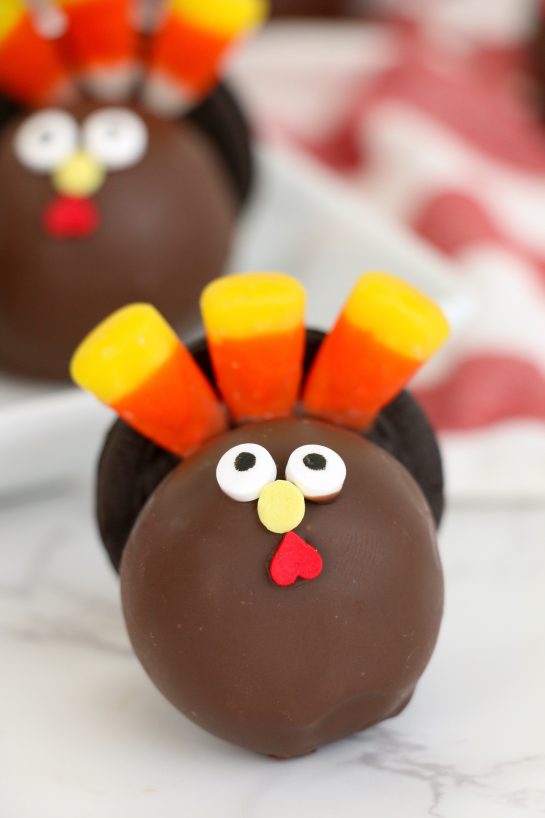 These little turkeys are easy to make and only take a few special ingredients to transform a chocolate-covered cake ball into a cute little sweet Thanksgiving turkey!
What is a Cake Pop you may ask? A cake pop is pretty much a baked cake that is crumbled into pieces, then it is mixed with frosting. The outer layer of the baked cake is discarded, and the soft part is used. After that, it is compressed into a little round cake ball.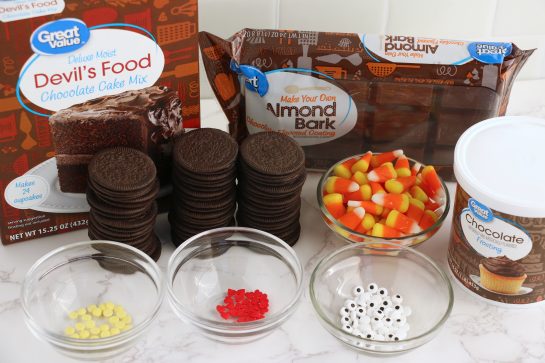 The cake balls are then placed on a stick and dipped in melted candy melts. In this case, we add candy and sprinkles on top while the chocolate is still melty. Sprinkles are absolutely necessary, of course. But you already knew that to be true.
To make these cutie patooties, you dip the cake pops in the melted chocolate candy melts. Then, it is time for all the candy. Yay for candy corn, candy eyes, and sprinkles! I love that they're so easy to make so you can just focus on the fun, "craft-y" parts with the kids.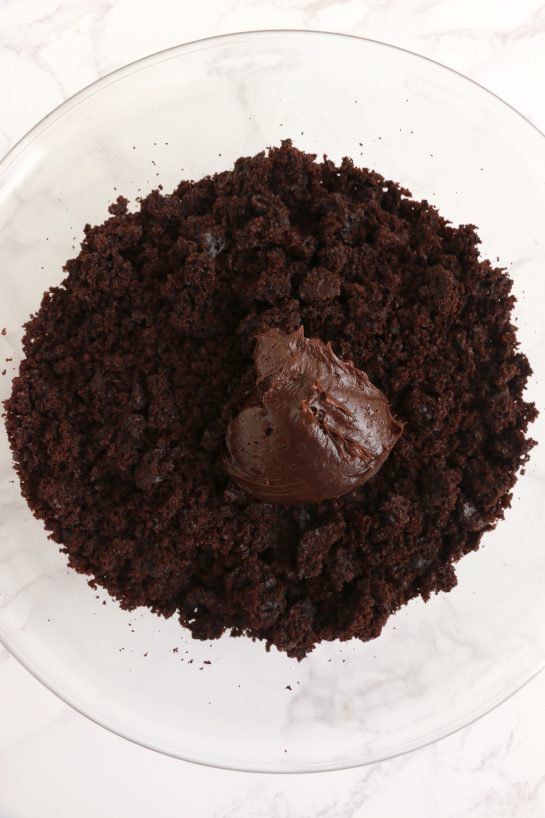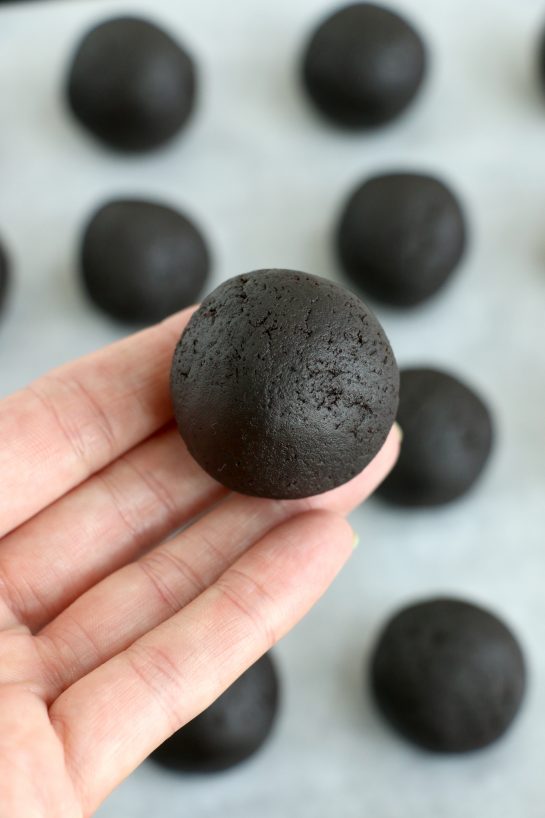 I think these turkey cake pops would be fun to serve after Thanksgiving meal and before the pie (hello, Old-Fashioned Coconut Cream Pie)! Now I'm thinking about pie recipes – darn it! These cuties are also perfect for letting the little kiddos help decorate and design while you get the finishing touches on the meal finished up.
These cake pops are a genius celebration-worthy treat to make ahead of time because they freeze beautifully. If you want to have dessert made ahead of time and take something off your plate, this is a brilliant idea.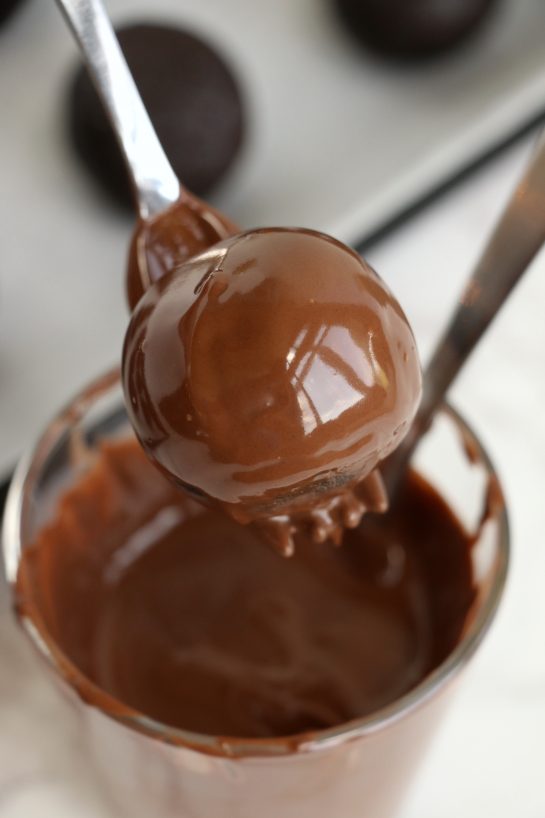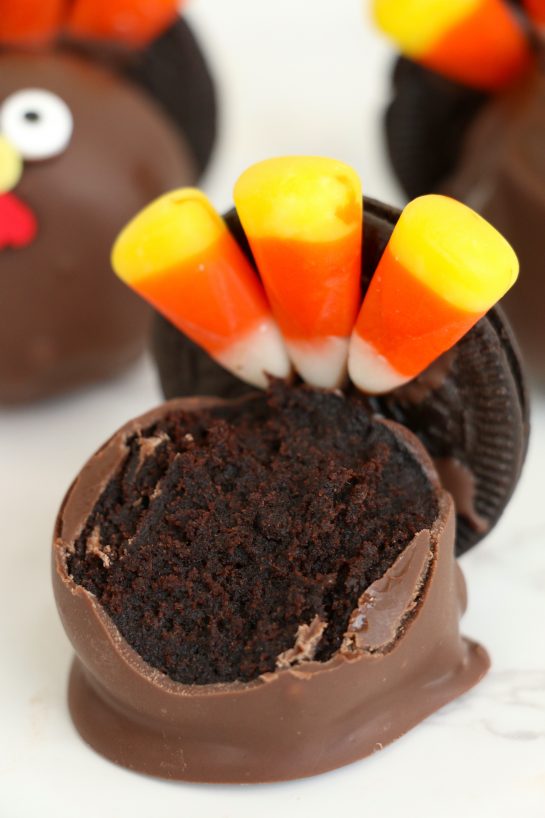 These are so pretty displayed on a cake pop stand and will be the star of the dessert table. Make this fun treat for Thanksgiving and see the fun reactions you get from everyone! These cute, bite-sized treats are the perfect addition to your holiday celebration and fun for kid of all ages. These will be on my Thanksgiving menu every year for SURE!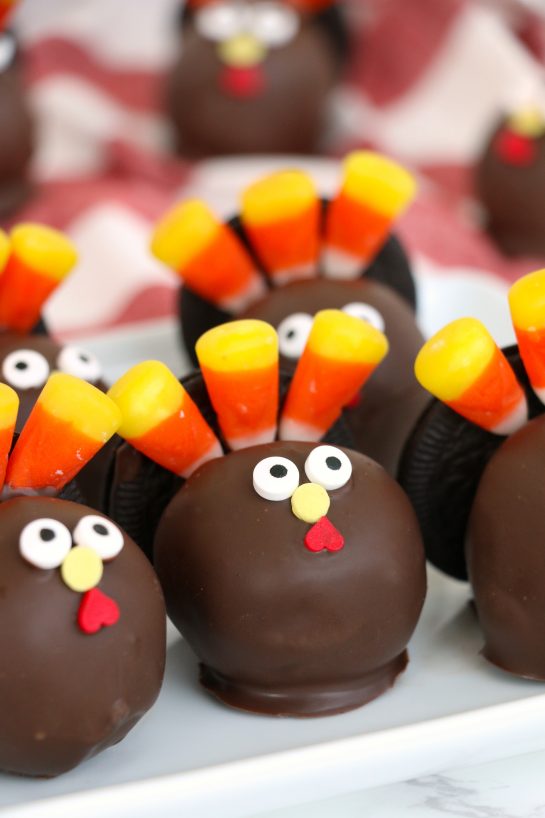 Here are some more Thanksgiving dessert recipes for you to enjoy:
Sweet Potato Pie: easy and delicious. Everyone will be impressed with this homemade and indulgent recipe for sweet potato pie.
Caramel Apple Pie: this one has a delightful topping! Caramel apple pie filling is easy to make and makes the perfect dessert for any season!
Double Layer Pumpkin Cheesecake: a fall classic, and great alternative to pumpkin pie, especially for those cheesecake fans out there! This is the perfect holiday dessert!
Mini Pecan Pumpkin Pies: all that is wonderful about the holidays rolled into one bite size treat! No need to choose between pumpkin pie or pecan pie anymore!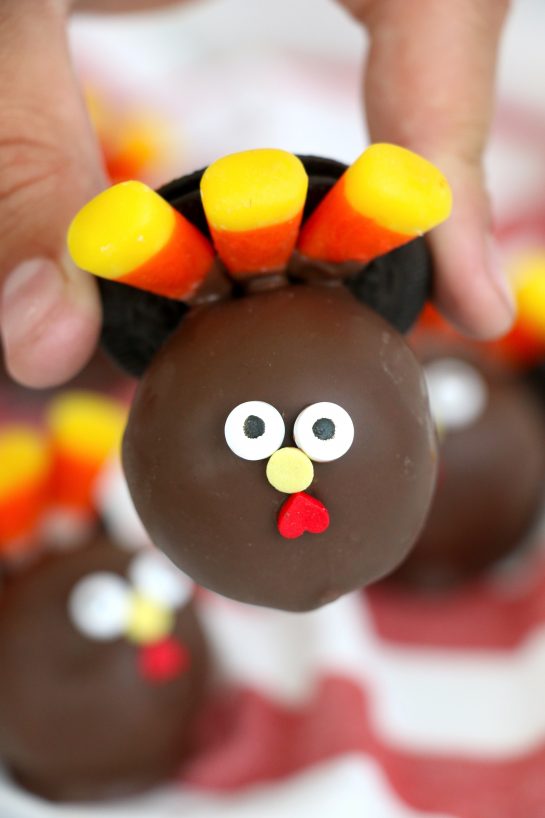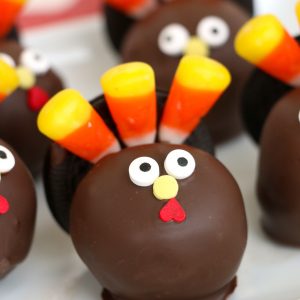 Turkey Cake Pops
Turkey Cake Pops are so fun to make and festive for fall! The entire family will enjoy these turkey pops for an easy Thanksgiving dessert recipe.
Ingredients
chocolate cake mix prepared according to instructions on box

3 tbsp white frosting

28 thin dark chocolate Oreos

28 yellow candy balls

for noses

28 heart sprinkles

for mouths
Instructions
Bake the chocolate cake according to directions on box. Allow cake to cool.

Transfer cake to a large mixing bowl; crumble with a fork.

Add frosting and work it into the cake crumbs with your fingers/hands until it forms a ball.

Roll dough into 1-inch balls with your hands and place them on a baking sheet lined with parchment paper.

Freeze balls for at least 1 hour.

Melt chocolate bark in a microwave-safe bowl or cup that cake balls can be dipped in.

Using two forks, dip each cake pop in melted chocolate, allowing excess chocolate to drip off. Place cake pops on a baking sheet lined with parchment paper to dry.

BEFORE chocolate hardens, place an Oreo on the backside to make the turkeys.

Carefully place the eyes, nose, and mouth in the correct place. Use tweezers if easier. IF the chocolate hardens too quickly, you can add a bit of melted chocolate on the back sides of the eyes, noses, and mouths to act as glue and stick them on.

Finally, dip the tips of each candy corn in melted chocolate and place three of them on each turkey to create the feathers. You may be required to hold them for a bit until the chocolate hardens.

Chill again before serving. Enjoy!