Gooey Perfect-Every-Time Brownies
This homemade recipe for rich, Gooey Perfect-Every-Time Brownies with pecans is my new go-to easy brownie recipe. These brownies are adaptable to any add-ins you choose and will be your new favorite brownie recipe.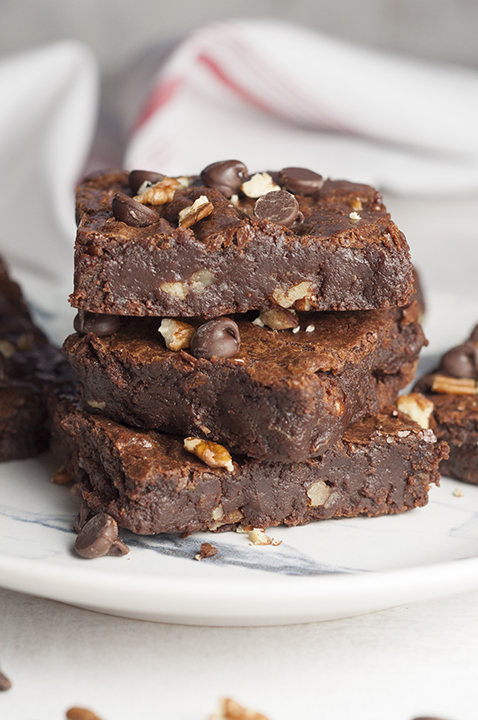 If these Perfect-Every-Time Brownies don't make you hopelessly desperate for chocolate right now, I don't know what will! My Peanut Butter Cookie Dough Brownies will always have a special place in my heart, but these bad boys have taken over. I received the Weekday Lunches and Breakfasts Cookbook by Mary Younkin a few weeks ago. Mary is a dear friend of mine that I have hung out with several times in person and her blog is Barefeet in the Kitchen.
Let me give you a little background of what's going on here. For a little over six weeks, Mr. Wishes and I have been renovating our kitchen. We knocked out the wall separating our kitchen and living room to open up the space and make our very small living room seem bigger. In the process, it has made our kitchen SO much brighter and I already love it even though it still has a long way to go.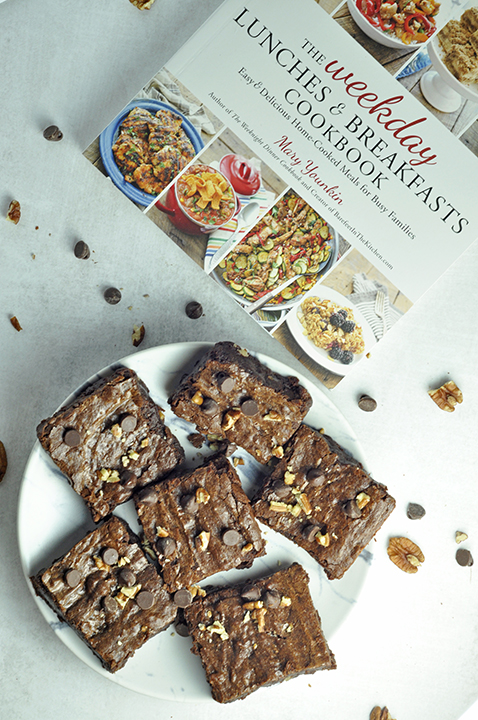 When I received Mary's cookbook in the mail, I completely zoned in on these Perfect-Every-Time Brownies. It had been a while since I was able to bake with my kitchen being all torn up and I was seriously obsessing over the photos of these brownies. I read the directions and realized I hardly needed any pans/bowls/utensils to make them and it was totally feasible. At the time, I had no countertop, no sink, everything was coated with dust in my kitchen, and all of my kitchen supplies were displaced all over my house. This is how delicious these brownies looked – I went great lengths to make them happen despite the huge inconvenience of my kitchen being in disarray.
I made the Perfect-Every-Time Brownies and it is just amazing what a homemade dessert can do for the soul after weeks of satisfying my pregnancy sweets cravings with store-bought desserts. It's the little things in life, right? I don't regret all of the extra hassle it took to make them and photograph them (not to mention that I had to wash my dishes in the bathroom sink afterward). They are worth every second and every bite! They are the fudgiest, gooiest brownies I have ever made in my entire life.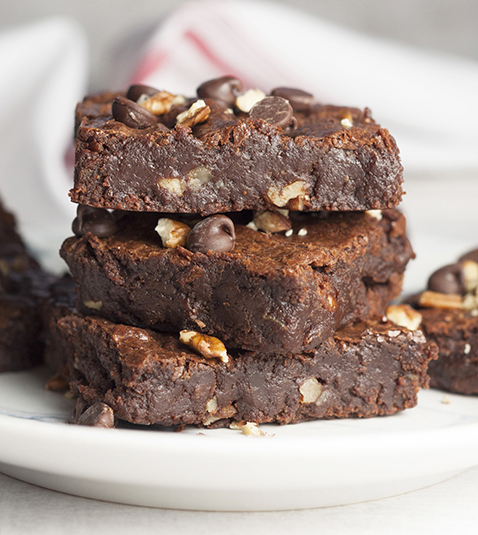 Mary has several other recipes that are on my list to try once my kitchen is back in it's normal state. I told her that I never in my life have found so many recipes in ONE cookbook that I immediately knew I wanted to try. Her recipes just speak my language.
We have been living off take-out, cereal, and pizza lately. I do make dinner on nights Mr. Wishes isn't making a mess in my kitchen (haha), but it's not as often as I would like these days. It's a period of time where I'm missing my kitchen like crazy but I know it will be worth it in the end when it's all done! He is working so hard to make sure things happen in a timely fashion and I know I haven't always made it easy on him with my impatience and occasional emotional meltdowns. I blame it all on the pregnancy hormones…
If you're in a brownie kind of mood, I also highly recommend my Buckeye Brownies (but only if you like peanut butter). If you don't like peanut butter, well, we can't be friends. You can also check out all of my chocolate recipes.

Perfect Every Time Brownies
Prep time:
Cook time:
Total time:
This homemade recipe for rich, Gooey Perfect-Every-Time Brownies with pecans is my new go-to easy brownie recipe. These brownies are adaptable to any add-ins you choose and will be your new favorite brownie recipe.
Ingredients
8 tablespoons unsalted butter
2 cups semisweet chocolate chips
1 cup light brown sugar, packed
1 tablespoon vanilla extract
4 large eggs
1 cup unbleached all-purpose flour
½ teaspoon kosher salt
½ cup additional semisweet chocolate chips &
1 cup chopped pecans (optional)
Instructions
Preheat oven to 325 degrees.
Grease a 13 by 9-inch baking pan well with cooking spray; line with parchment paper; set aside.
Melt the butter in a medium saucepan over medium-high heat. Add in the chocolate chips and stir until melted.
Remove from heat; add brown sugar and vanilla. Stir until mixture is smooth.
Whisk in eggs. Add the flour and salt. Stir until combined.
Stir in chopped pecans and extra chocolate chips (if adding, but I highly recommend it).
Pour into your well-greased/lined pan. Bake 30-34 minutes (mine were perfect at 30) or until toothpick inserted into the center comes out with moist crumbs.
Enjoy and store any leftovers in airtight container for 3-4 days!
A few more brownie recipes from my food blog friends:
Peanut Butter and Jelly Brownies from Shugary Sweets
Shortcut Turtle Brownies from Barbara Bakes
Nutella Cheesecake Swirl Brownies from Cupcakes & Kale Chips

Recipe source: The Weekday Lunches and Breakfasts Cookbook by Mary Younkin