The Best Summer Salad Recipes
The Best Summer Salad Recipes – including pasta, potato and fruit salads – are the perfect sides for grilling out, picnics and potlucks, or just every day!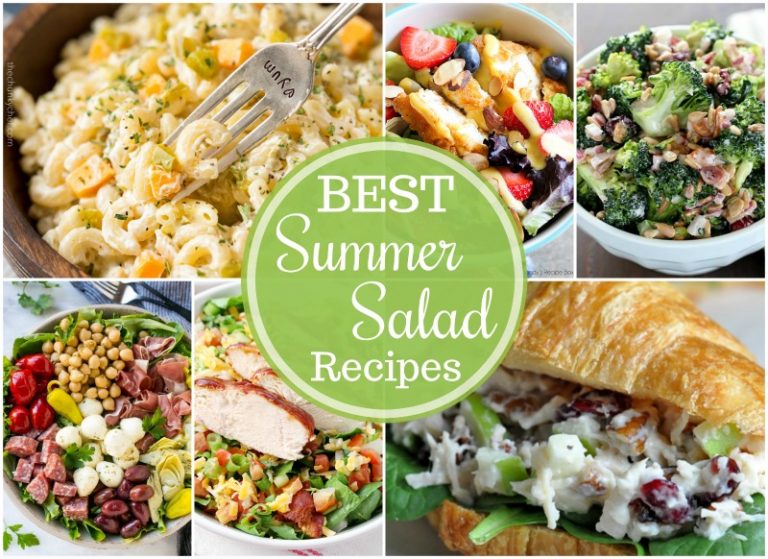 The best time of the year for salads is now upon us! I LOVE summer salads because I tend to eat a lot lighter when the weather warms up. Also, fresh fruit being at it's tastiest and cheapest does not hurt things at all. The best summer salad recipes are all here in one place for you today! Many of them are even gussied up with light proteins.
I'm so glad you're here! Follow along on Pinterest for more inspiration! 
Everyone wants to have the dish that really stands out at the backyard BBQ's you attend. Just looking at the colors in these salads makes me want to try each and every one of them. Summer salads are the best for keeping you from overheating on a hot summer day.
If you're still not finding something you're looking for in this list, try my Pecan Crunch Grape Salad recipe. It has been going viral this month and everyone seems to just LOVE it. More than once I came back from a good workout and was starving and just dug in to it with a fork and didn't even care. It really tastes that perfect.
Simple Wedge Salad with Homemade Blue Cheese
Avocado Chicken Salad Crostini
Jacked Up Monterey Chicken Salad
Jalapeno Popper Macaroni Salad
Pin these Best Summer Salad Recipes for easy access all summer!