Thai Chicken Quesadillas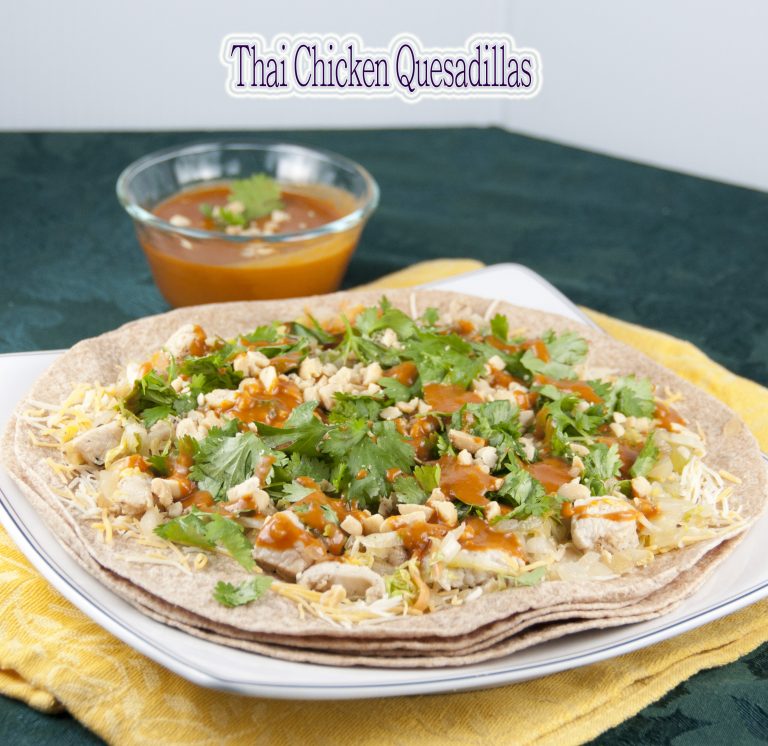 Recipe type:
Dinner, Lunch
1 boneless, skinless chicken breast, cut into cubes
¼ teaspoon salt
¼ teaspoon pepper
¼ teaspoon cumin
1½ tablespoons olive oil
½ sweet onion, diced
⅔ cups shredded napa cabbage
⅓ cup chopped carrots
1 garlic clove, minced
⅓ cup chopped peanuts
a big bunch of cilantro
1 cup freshly grated pepperjack cheese
4 whole wheat tortillas
½ cup sweet chili sauce
¼ cup rice vinegar
¼ cup canned coconut milk
3 tablespoons brown sugar
3 garlic cloves, pressed or finely minced
1 tablespoon creamy peanut butter
1 teaspoon-sized knob of ginger, grated (can also used ground ginger)
1 lime, juiced
½ tablespoon soy sauce
Combine chili sauce, vinegar, coconut milk, sugar, garlic, ginger, peanut butter, soy sauce and lime juice in a saucepan, whisking with a fork until combined. Heat over medium heat until mixture comes to a bubble, let boil for 1 minute then reduce to low and let simmer for another 2-3 minutes. Set aside and let cool.
Heat a large skillet oven medium-high heat and add olive oil. Season chicken with salt, pepper and cumin, then add to the skillet and cook until browned on all sides, about 5-6 minutes. Remove chicken and set on a place, then add remaining olive oil with onion, cabbage, carrots and garlic. Stir to coat and cook until slightly wilted but still crunchy, about 3-4 minutes. Remove and add to the plate with the chicken.
Using the same skillet (or an electric griddle), lay one tortilla down. To assemble the quesadillas, I like to take a bit of cheese to use as "glue" on each side. So add a layer of cheese, half of the chicken mixture, sprinkle with cilantro and peanuts, about 2-3 tablespoons of the thai sauce, then cover with a bit more cheese. Place the second tortilla on top and cook until browned and crisp, and cheese is melted. Flip and cool until golden on the other side. Repeat with the second quesadilla.
Put the remaining sauce in little bowls for dipping!