Strawberry-Filled Patriotic Cupcakes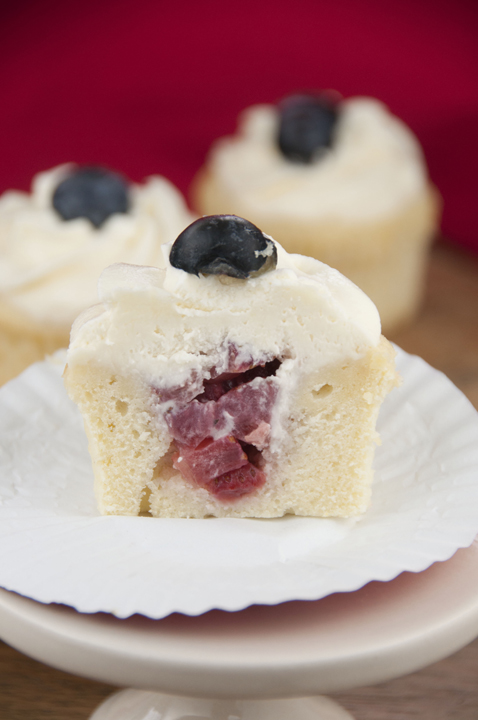 ½ pound (2 sticks) butter
2.5 cups sugar
1 cup sour cream
½ teaspoon baking soda
3 cups all-purpose flour
6 large eggs
1 teaspoon vanilla
¼ cup fresh lemon juice
1 tbsp lemon zest
blueberries, for topping
1 (8 ounce) package cream cheese, softened
½ cup white sugar
1 teaspoon vanilla extract
½ teaspoon almond extract
2 and ½ cups heavy cream
32 ounces of fresh strawberries (1 quart), washed, hulled and finely diced
¼ cup sugar (less if strawberries are already really sweet)
OR you can just use strawberry jelly or preserves
Sprinkle the sugar on strawberries and toss to coat; let sit at room temperature 30 minutes or so to macerate.
Preheat oven to 325F degrees. Line muffin pan with cupcake liners. Set aside.
In a large mixing bowl, cream the butter and sugar together.
Add the sour cream and mix until incorporated.
Sift the baking soda and flour together. Add this to the creamed mixture alternating with eggs, beating in each egg 1 at a time.
Add the vanilla, lemon juice and lemon zest and beat carefully until combined.
Divide batter among cupcake liners, filling about ⅔ full, and bake for 18-22 minutes or until a toothpick inserted in the center comes out clean (I always check early to make sure they don't over-bake).
Once cupcakes have completely cooled use a cupcake plunger, knife or spoon to scoop/carve out the interior of the cupcake from the top. (I found my cupcake plunger at TJ Maxx but they can be found online). The hole will be about ¾ inch deep - make sure you don't hit the bottom of the cupcake.
Use a spoon to fill each cupcake with strawberry mixture.
Use a pastry bag to pipe whipped cream frosting (directions below) on top of cupcake once they are filled with the strawberries. I iced with my Wilton 1M piping tip.
Garnish with a blueberry (or two) if desired.
Cover and store cupcakes in the refrigerator for up to 3 days. Whipped cream frosting and filling may be made 1 day in advance and stored in the refrigerator.
Combine the cream cheese, sugar, vanilla extract and almond extract in a large mixing bowl or the bowl of a stand mixer.
Fit the mixer with the whisk attachment and mix on medium speed until smooth.
While the mixture is still whipping, slowly pour in the heavy cream. Stop and scrape the bottom of the bowl a couple of times while you continue whipping until the cream can hold a STIFF peak.
Recipe by
Wishes and Dishes
at https://wishesndishes.com/strawberry-stuffed-cupcakes/