Creamy Sun-Dried Tomato, Roasted Red Pepper and Artichoke Pasta
So I just had one of the most interesting (a very good interesting) weekends I've ever had in my entire life.  It's been on my bucket list for years and years to go down to the small town of Punxsutawney, Pennsylvania for the Groundhog Day ceremony and events.  As some of you know, it's one of my absolute favorite days of the year and to be there celebrating it right there in Gobbler's Knob was such an incredible experience!  I'm going through all the pictures we took and will be sharing the details and photos of the adventure with you soon as I have lots to say!
We'll talk about last weekend first.  I went to the annual county executive ball here in Rochester with Mr. Wishes and some of his co-workers.  I get really excited whenever I get a chance to go to this as it's always a really good time and the food never disappoints.  I also love how they decorate the Convention Center for the ball…it's always so beautiful.  Let's be honest – the food really is the best part!  It was a completely different menu this year than they had last year and if I had to choose which I liked better I'm not sure I could. My top picks on the buffet this year were the Truffle Macaroni and Cheese Bake and the Tortellini in a Basil Cream Sauce.  I knew I had to try to recreate these dishes at home because they were that good.
I decided to try my hand at replicating the pasta in basil cream sauce first.  I skipped the tortellini and used tri-colored Farfalle instead.  This flavor combination was really great.  Plus, it had a lot of my favorite ingredients in one dish!  Sun-dried tomatoes and artichokes are a couple vegetables that I actually enjoy, especially when you pair them up with pasta and cover them in a good sauce.  I don't think I had ever cooked with sun-dried tomatoes before and I think I need to do that more often.  It was one of my favorite parts!  That and the different colors of the dish.  I think it tasted comparable to what I had at the Riverside Convention Center and I will definitely be making it again…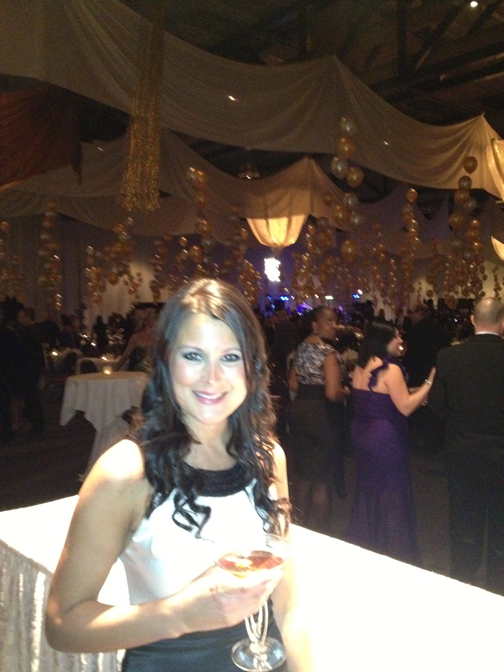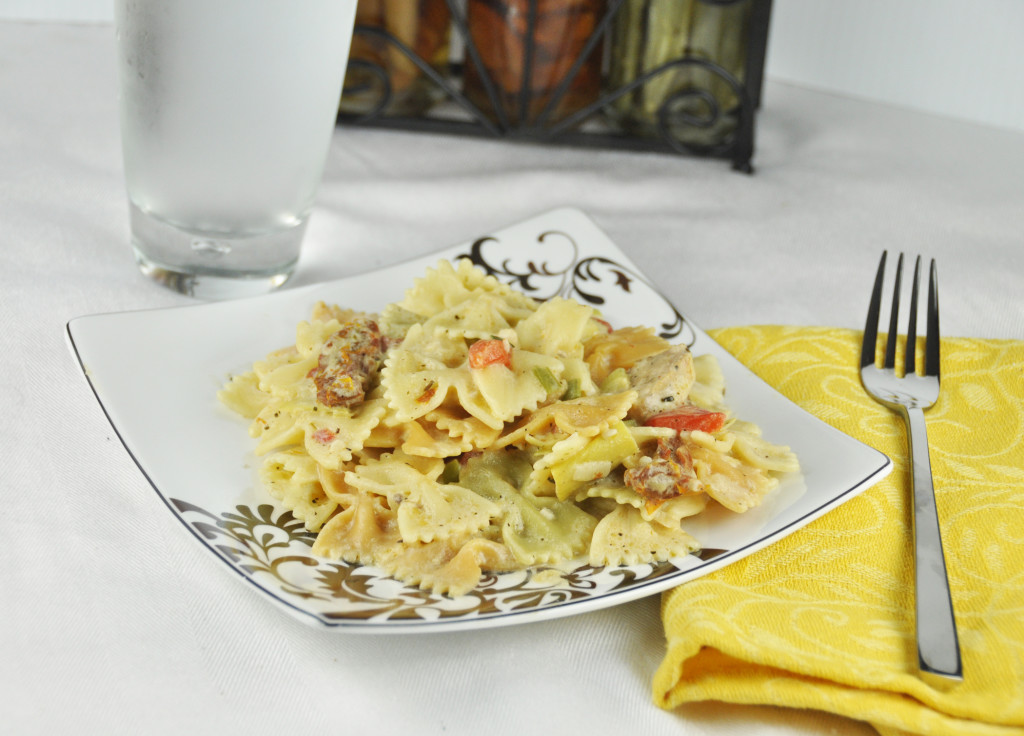 INGREDIENTS:
1 pound bow tie pasta (Farfalle)
1 tablespoon olive oil
4 garlic cloves, pressed
1/2 cup diced onion
1 cup sun-dried tomatoes packed in oil, drained and chopped
1 jar (7 ounces) roasted red peppers, drained and chopped
1/2 cup fresh basil, chopped (firmly packed)
5 green onions/scallions, sliced
1 can water-packed artichoke hearts, sliced
1/2 cup shredded Asiago cheese
1 and 1/2 cup whipping cream (can use half-and-half to lighten it up)
1/2 teaspoon red pepper flakes
1 cup reserved pasta water
DIRECTIONS:
Cook Bowties according to package directions.  Reserve 1 cup of the cooking water.
Heat oil in a large pan.  Add garlic and onion, cook until translucent.
Add tomatoes and roasted peppers.  Cook for 3 minutes; stir in red pepper flakes.  Add artichoke hearts and cook for 3 minutes.
Add whipping cream (or half and half) and Asiago cheese.  Allow to simmer until it starts to thicken.  Stir in basil and green onion.
Season with salt and pepper if desired.  Toss with bowties.  Add 1 cup reserved pasta water to make it saucier.