Chicken and Mushrooms in Balsamic Cream Sauce
It only takes 30 minutes to prepare this chicken dish with mushrooms, onions, and garlic in a light balsamic cream sauce.  Quick, easy and so good that it has made the regular dinner rotation in our house.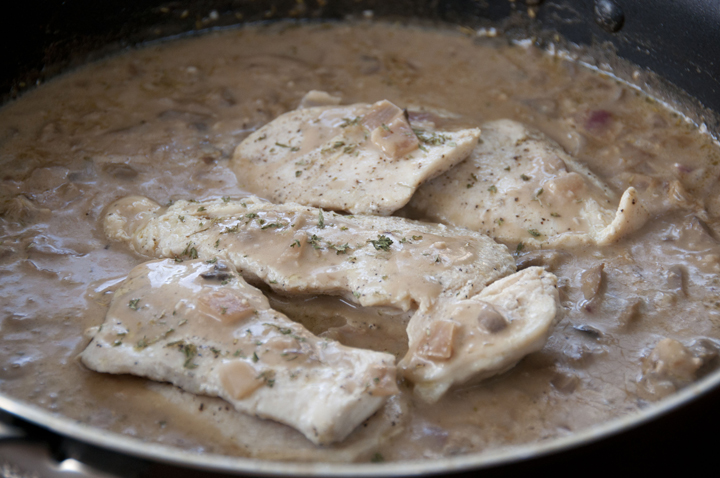 So I had a great time in NYC and Orlando last week and got back Sunday night.  As much as I love going away and all the fun things I get to do, there's nothing quite like home sweet home.  I'm getting back into my routine: cooking, cleaning, yard work and loving sleeping in my own bed.  What can I say – I'm weird!  I think Mr. Wishes and I are going to stay put for a while….of course every time I say that we end up on a last minute business trip or something.  We shall see where the wind takes us next 😉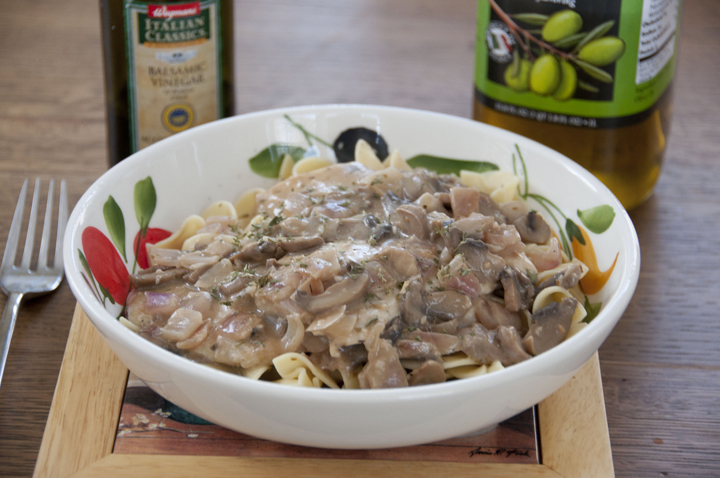 So, how good does this chicken dish look?  I think it goes without saying that this is one of my favorite dinners that I've made – I'm a sucker for a good cream sauce and loved the added touch of the balsamic.  I've made this several times and am always impressed by the complex taste of the cream sauce and the tender chicken and the short amount of time it takes to achieve that.  You don't have to hang out all day in the kitchen cooking away to get the perfect tasting meal.  This recipe is proof of that!  I hope you try this one out.  Have a great Wednesday!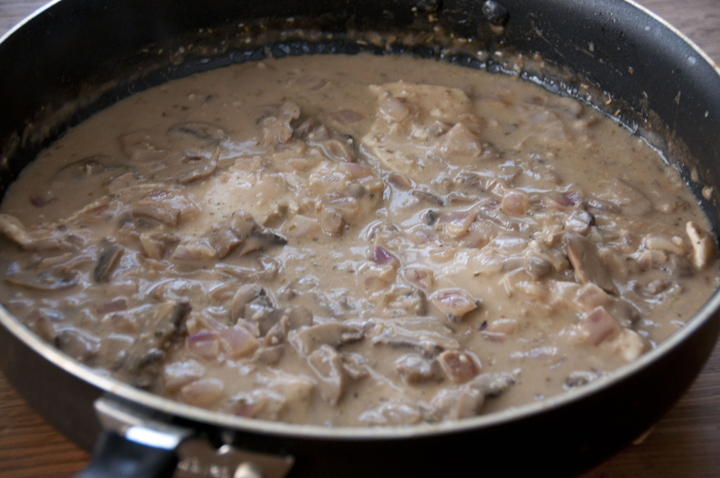 Chicken and Mushrooms in Balsamic Cream Sauce
Prep time:
Cook time:
Total time:
It only takes 30 minutes to prepare this Chicken and mushrooms in a light balsamic cream sauce with onions and garlic. Quick and easy.
Ingredients
½ pound pasta (regular or egg noodles)
2 tablespoons extra-virgin olive oil (about 2 turns of the pan)
4 boneless, skinless chicken breasts (or 2 large cut in half lengthwise)
Pepper
Salt
2 tablespoons unsalted butter
10 ounces white mushrooms, stems removed and sliced
3 cloves garlic, chopped
1 tablespoon thyme leaves, a couple of sprigs, chopped
2 large shallots, thinly sliced
1 teaspoon dried thyme
2 tablespoons all-purpose flour
1½ cups chicken stock
1 tablespoon balsamic vinegar
3 tablespoons heavy cream
¼ cup chopped fresh parsley, for garnish
Instructions
Heat a large pot of salted water to a boil and add pasta (or cook rice according to directions). Cook pasta to al dente.
Preheat a large nonstick skillet over medium-high heat and add extra-virgin olive oil, 2 turns of the pan. Season chicken liberally with salt and pepper and add to the hot skillet.
Cook the chicken for 5 to 6 minutes on each side or until cooked through. Remove the chicken from the pan and set aside, covered with foil to keep warm.
Return the skillet to the heat, turn heat down a bit, and add the butter. Once the butter melts add the mushrooms and brown stirring occasionally for about 4 to 5 minutes.
Once the mushrooms are brown, season with salt and pepper then add the garlic, thyme and shallots.
Cook stirring occasionally for about 2 minutes or until the shallots are translucent/wilted.
Sprinkle the flour into the pan and cook 2 minutes more.
Whisk in the stock, balsamic vinegar and the cream.
Turn the heat up to medium-high and simmer for about 2 minutes or until thickened.
Add the parsley and the chicken back to the skillet to heat up, about 2 or 3 more minutes.
To serve, scoop pasta or rice on dinner plates or bowls and top with a chicken breast and pour cream sauce over all.
Recipe source:  adapted from Rachael Ray, 30 Minute meals, Episode: Commuter Consolation.