Buttery Garlic Ranch Pretzels
Kid-friendly Buttery Garlic Ranch Pretzels are seasoned pretzels for game day, a party snack of after school snack for the family!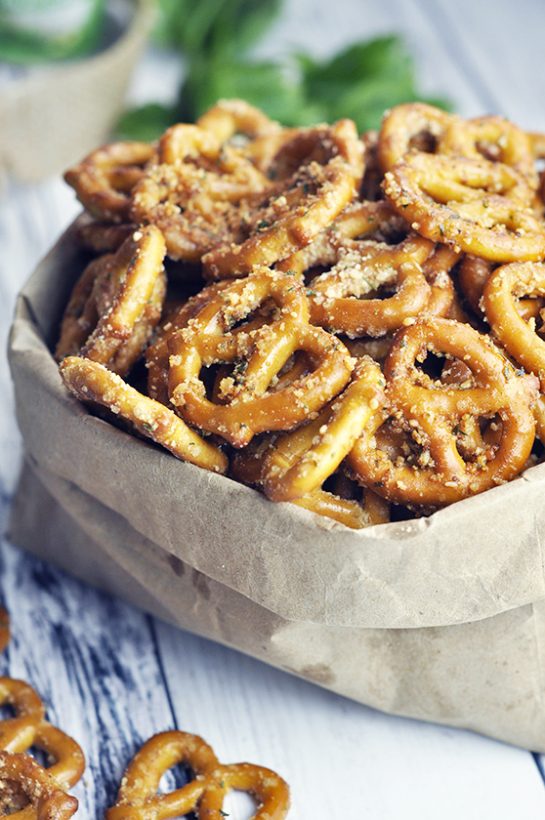 Today I am solving all of your fall snacking needs. I realize that these pretzels do not look like much. In fact, they look like… just pretzels. Plain old pretzels. But they totally are NOT plain old pretzels. You will not be able to stop snacking on these Buttery Garlic Ranch Pretzels.
I made these a while back but I thought it was good timing to share them now with football season starting. I love how easy these are to make and you just need a few ingredients. I love pretzels as a snack. Now, I don't go wild for them ALLLL the time as they tend to try out my mouth, but these seasoned pretzels I do love.
And let's be real – ranch and garlic flavor in this situation? It is the real deal-breaker. It MAKES the recipe (I'm kind of embarrassed to even call this a recipe because it is literally so easy to make.) I feel like people tend to forget about how easy party snack can be, though. Dip them in my honey mustard dipping sauce and you will take these to a whole new level.
My family is not really into football but I do like the snacks that come along with this time of year. I could make a meal out of dips, snacks, finger food, etc.These pretzels will leave you craving more and are super addicting. You can also use pretzel sticks if you would like!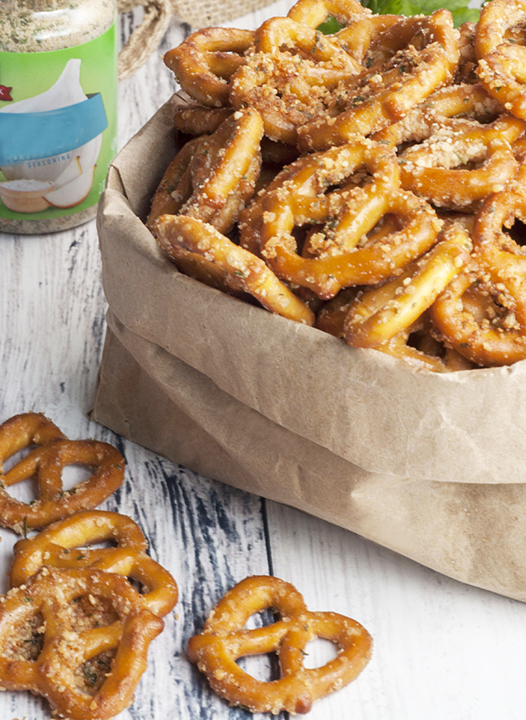 For a healthier snack with pretzels, try my Mason Jar Pretzel, Celery, Almond Butter Snack. You can use these garlic ranch seasoned pretzels in that snack for a twist! I also have a collection of Game Day Snacks you can peruse. Enjoy!

Buttery Garlic Ranch Pretzels
How to make kid-friendly Buttery Garlic Ranch Pretzels: seasoned pretzels for game day, a party,of after school snack for the family!
Ingredients
16 ounces pretzels (small or sticks)
5 ounces vegetable or canola oil
1 ounce ranch dip mix (package)
2 teaspoons garlic powder
Instructions
Pour pretzels into large mixing bowl.
Toss pretzels with oil until coated. Sprinkle the dip mix and garlic powder over the pretzels.
Toss again until all the ingredients are distributed evenly over all the pretzels. Spend a couple minutes doing this to be sure everything is evenly distributed.
Transfer onto large cookie sheet to let dry (2-3 hours). Once dry, store in airtight container. Enjoy!