Slow Cooker Buttery Garlic Mashed Potatoes + GIVEAWAY!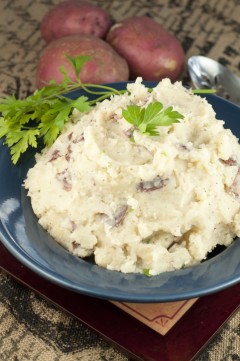 2 pounds red potatoes, washed and chopped into chunks (leave the peels on)
5 tablespoons butter
½ cup sour cream
2 tablespoons minced garlic
2 tablespoon finely chopped fresh parsley (can use 2 teaspoons of dried)
1 teaspoon dried or fresh basil
¼ teaspoon dried oregano
2 teaspoons salt
1 teaspoon pepper
¼ cup whole milk or half and half (add a little more to your taste)
Add the chopped potatoes to a well-greased slow cooker.
Cover and cook on high for 2-3 hours or on low or 5-6 hours on low. My slow cooker cooks FAST so keep an eye on them if yours does the same.
When potatoes are cooked (meaning they are fork-tender), add all of the remaining ingredients. Make sure the butter melts nice and evenly.
Use a hand mixer or a potato masher to mash the potatoes (the masher will result in more "lumpy" potatoes, so it's all a matter of preference). Serve immediately or turn slow cooker to "warm" setting until ready to eat.
Recipe by
Wishes and Dishes
at https://wishesndishes.com/slow-cooker-buttery-garlic-mashed-potatoes/