Robin Egg Easter Bark + VIDEO
No-Bake Robin Egg Easter Bark show stopping beautiful blue Easter Bark (with HOW TO VIDEO!). Super simple and easy to make, topped with chocolate candy eggs is the cutest dessert for Easter!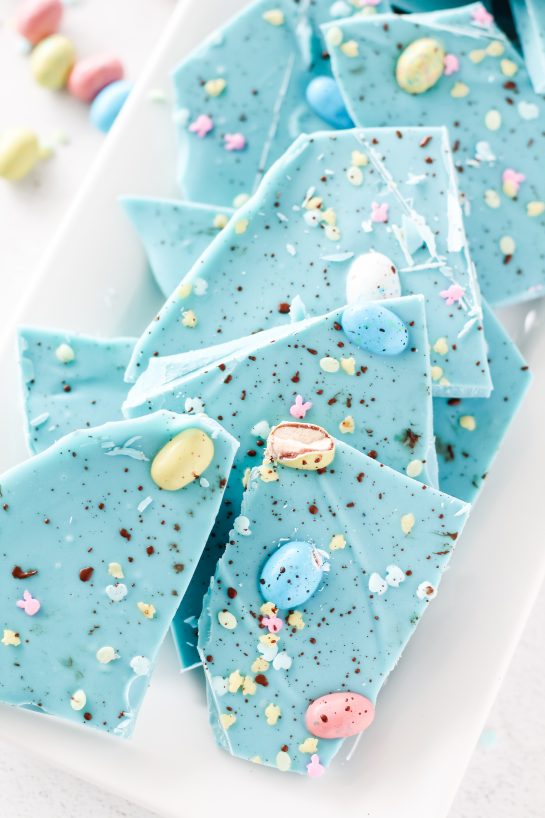 This super pretty Robin Egg Easter Bark is an easy recipe to make with kids of any age and is fun for all holidays. Also, this Easter bark recipe is a great way to incorporate seasonal candy into your Easter dessert recipe, like in my Salted Caramel Easter Popcorn.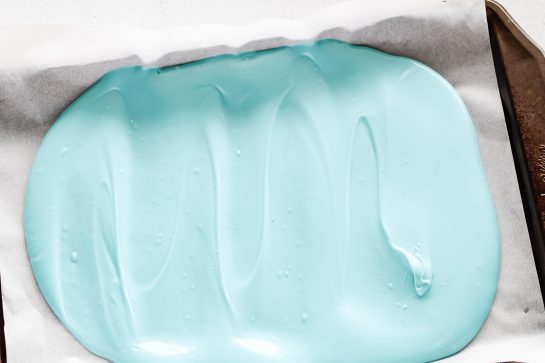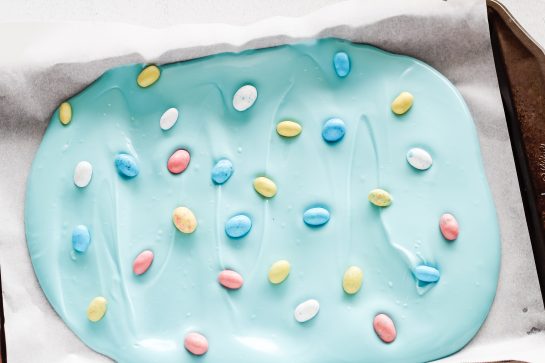 I really love Easter and I have always been a fan of living it up when it comes to the holidays. It's all the good things of a celebration (time with loved ones, delicious food, and celebrating the resurrection of Christ). Easter is a great holiday because it comes without any of the pressures of buying and wrapping presents.
The Robin Egg Easter Bark is so easy, I feel a little stupid even writing out a recipe for it, like I did with my Easter Charcuterie Board. I mean you could totally just watch the video and know exactly how to make it or look at the pictures. Basically, you melt chocolate, chill, and decorate with candy. That's it, you are done. It takes approximately zero effort, which I love, 100% self-control not to eat every single last piece of it. And don't do what I did please: pick off all the robin eggs candy and leave the rest for someone else.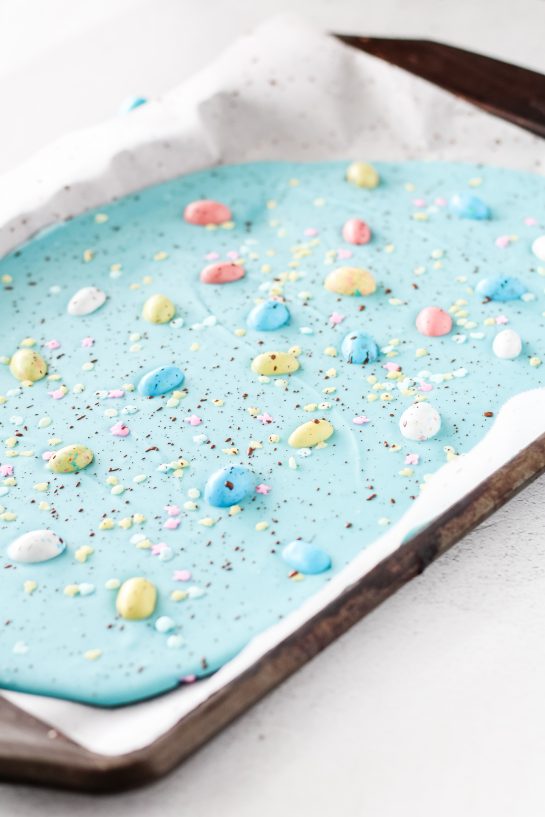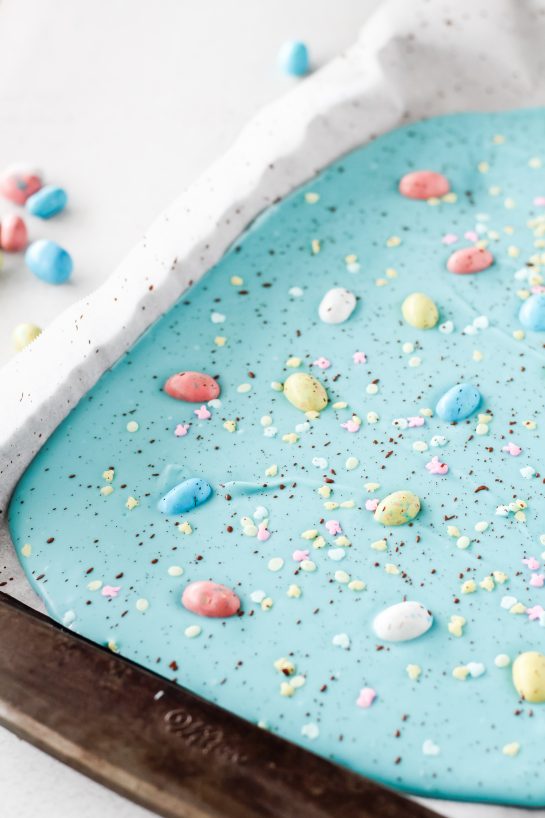 My daughter loves baking anything, but mostly making chocolate bark and Chocolate Peanut Butter Eggs. I mean, who can resist the combination of chocolate with crunchy candies and pretty Spring sprinkles? So, chocolate bark is a perfect way to use up leftover holiday candy too!
This time of the year, you can easily find the Robin eggs chocolate candy eggs right at the store in the candy section. I picked up one of the colorful spring sprinkle mixes that comes with 6 different varieties, but you can use anything you can easily find. I love the melted chocolate sprinkled on there for that speckled look!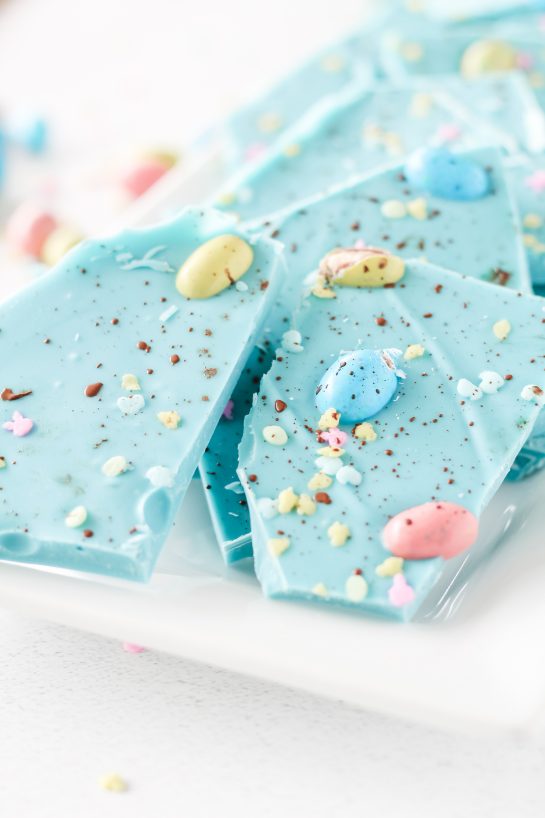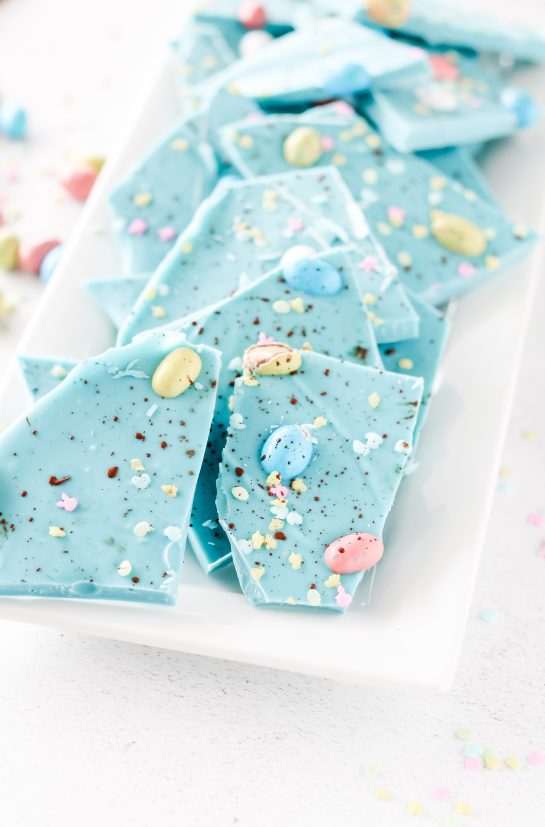 This delicious recipe for Robin Egg Easter Bark takes only a few minutes to prepare…ten to be exact. I love it even more than my Easy Bunny Bark, which says a lot. You can chop it up into squares and place in Easter baskets for the kids in your life or put out for Easter brunch or Easter dessert! I love doing that with my Easter Bunny Tail Chex Mix. This bark would even be super cute for a baby boy baby shower!
Feel free to package it up and take to neighbors and friends, especially if I'm your neighbor or friend. There really is no right or wrong way to make this Robin Egg Easter Bark. Get creative with it and have fun!
Tips for making this Robin Egg Easter Bark:
You can buy Candy Melts easily on eBay or Amazon or your local grocery store
Be very careful to melt all of the blue candy melts very slowly, in a bowl resting over a pan of just bubbling water is using a double broiler.
Make sure that the pan is not touching the water when you do the double broiler method.
If the candy melts are too thick, add a few drops of cooking vegetable or canola oil to thin them a little.
If you're going to be making batches of this, it's worth buying the very good quality chocolate in bulk. It really seems to make a difference.
Be sure to pour onto baking parchment so that the bark peels off easily instead of sticking.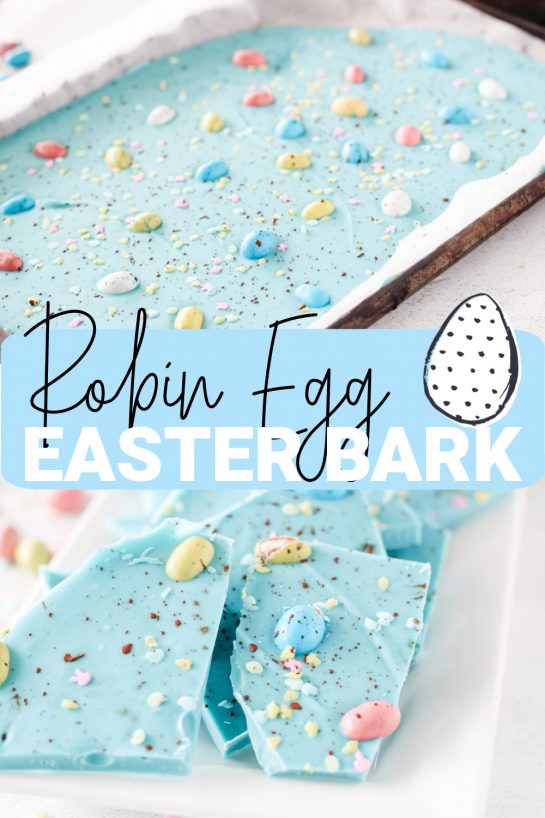 Check out my how-to video in this post of me making the recipe for this Robin Egg Easter Bark!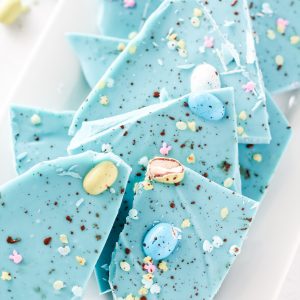 Robin Egg Easter Bark
No-Bake Robin Egg Easter Bark show stopping beautiful blue Easter Bark (with HOW TO VIDEO!). Super simple and easy to make, topped with chocolate candy eggs is the cutest dessert for Easter!
Ingredients
2

lbs.

of Baby Blue Melting Chocolate

Robin Egg Candy

Easter Sprinkles

2

tablespoons

of Cocoa Powder

Water

Basting Brush
Instructions
Start by melting down your chocolate using a double broiler or microwave.

Pour melted chocolate onto a baking sheet, lined with parchment paper.

Place in the freezer for 10 minutes.

Place 2 tablespoons of cocoa into a bowl and add water until it is the consistency of paint.

Using a basting brush flick mixture onto frozen chocolate.

Break up and enjoy!