Soft Brown Sugar Cookies with Browned Butter Frosting
Soft Brown Sugar Cookies with Browned Butter Frosting
Yes, I'm still here.  Life has been very outlandish lately.  I am down here in bright, sunny Miami once again!  Mr. Wishes has been summoned down here again for work and I am definitely enjoying the temporary relocation!  The only negative aspect of living down here is not having free reign to internet anytime that I want.  So thank you for your patience as I have been a major blog slacker lately.
 Trust me when I say that this recipe was worth your wait.  Do you want to make the softest cookies in the world?  Well look no further – I have here a recipe for brown sugar cookies topped with delicious browned butter frosting that will blow your socks off.  I definitely think the sour cream is the trick to the softness of these cookies.  They have a very cake-like texture that closely resemble the softness of the pumpkin butterscotch cookies I made last fall, which I loved!
Do yourself a favor and make these for your family…or your friends…or just make them for someone.  I could seriously eat the entire batch by myself.
Soft Brown Sugar Cookies with Browned Butter Frosting…I'm sure of these are the key to a happy life.  And cheers to you for following along with this old blog, despite my severe slacking.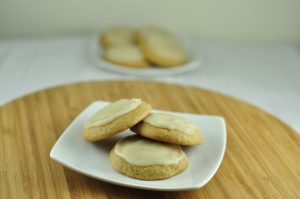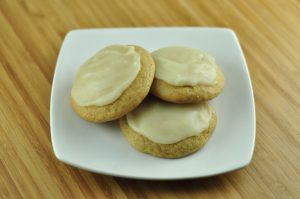 INGREDIENTS:
2/3 cup butter, softened
1 and1/2 cup brown sugar, packed
2 eggs
1 teaspoon vanilla extract
2 and 1/2 cup all-purpose flour
1/2 teaspoon baking powder
1 teaspoon baking soda
1/2 teaspoon salt
1 cup sour cream
 DIRECTIONS:
Blend together butter and brown sugar.
Add eggs, one at a time; blend well.
Add vanilla; beat until light.
In a separate bowl, stir together flour, baking powder, baking soda and salt.
Add flour mixture to butter mixture alternately with sour cream; mix well.
Drop by rounded tablespoonfuls onto non-stick or lightly greased baking sheets.  Bake at 350 degrees for 8 minutes.
Remove to a wire rack; cool.  Frost with Browned Butter Frosting (directions below).  Makes about 2 dozen.
Browned Butter Frosting:
1/4 cup butter
1 and1/2 cup powdered sugar
2 tablespoons milk
Melt butter in a saucepan over medium heat until it turns golden.  Watch carefully as this will happen quickly. Remove from heat.
Stir in powdered sugar and enough milk to make a nice spreading consistency.