Red Jacket Juice Review + GIVEAWAY!! (winners announced)
Recently, I was lucky enough to have the best bottled juice I've ever had delivered right to my door.  I now have a chance to review their wonderful juices!  They came shipped to me on ice to maintain the ultimate freshness and full flavor and were perfectly chilled when I opened the box.
Red Jacket has created an entire line of amazing tasting juices including strawberry apple, fuji apple, raspberry apple, grape apple, tart cherry stomp, apricot stomp, Joe's summer blend, apple cider, and even spiced cider.  The best part for me is that their company is close to my home town of Rochester, New York.  Yes, that's right – Red Jacket juices are 100% fruit, cold-pressed, unfiltered, all natural, and made right in Geneva, New York!   It's always a great thing to support a local company!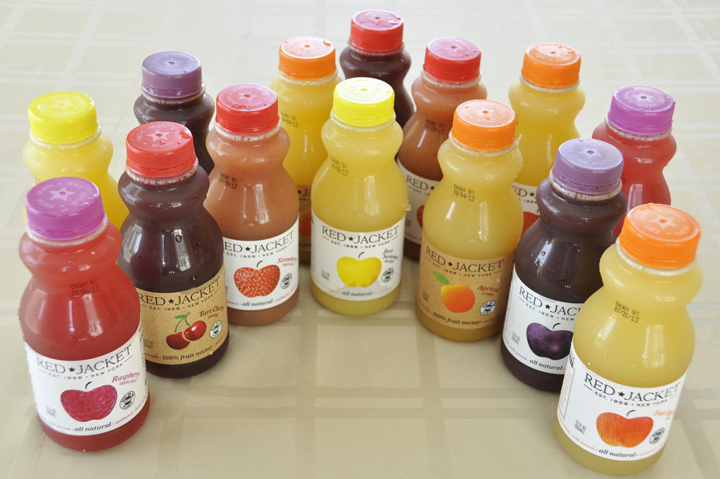 Red Jacket Orchard and juice company is a second and third generation family-owned farm located in Geneva, NY.  For over 50 years, the Nicholson family has been devoted in developing the most delicious fruits from Red Jacket Orchards in New York's beautiful Finger Lakes Region.  These fruits are pressed right from the orchard using methods that grasp the fruits true essence, flavor and quality.
A few months back, I discovered Red Jacket while shopping at our local grocery store, Wegmans, and have been hooked ever since.  In a recent attempt to eat healthier, my husband and I religiously have a stock of this juice in our refrigerator. Each and every juice variety that I have tried is fantastic, but my absolute favorites and the ones that stand out the most to me are the concord grape apple (ingredients list: concord grapes, apples, vitamin C) and strawberry apple (ingredients list: apples, strawberries, vitamin C).  The grape apple has the amazing and delicious taste of grape that I love.  I'd recommend this to any grape lovers out there!  The strawberry apple tastes just like fresh, sweet strawberries with a little bit of an apple taste.  I've never experienced such a fresh taste in a fruit juice before. It's as close to eating the whole fruit as you can get!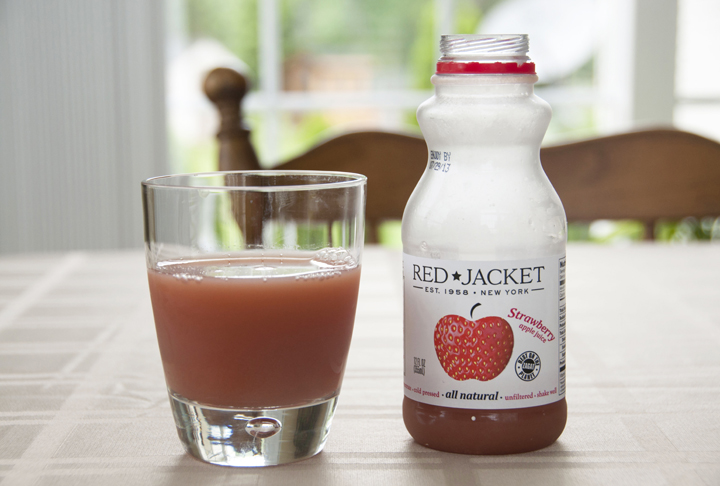 The thing that I know you'll love the most about Red Jacket juices are the ingredient lists.  On all of the ingredient labels it just names the fruits that are in the juice plus the vitamin C (as you can see in the above paragraph)….just the way it should be!  There are no additives which causes the true flavors to stand out.  The other brands of juices that I've tried have all kinds of ingredients that I don't recognize and can't even pronounce and I don't know about you, but I'm not a fan of that.  My standpoint is that if it's not in a cooler with a short shelf life, then it's pretty safe to say it is inferior to Red Jacket.
Trust me when I say that these juices are utterly delicious and something truly worth buying! The 12 ounce bottles that I received are perfect for travel, to pack in your lunch for work, or to give to your kids in their lunches.  Red Jacket juices are also sold in 32 ounce bottles.  There is nothing like a nice, refreshing bottle of Red Jacket juice to better your day 🙂
Look for Red Jacket Orchards brand in your nearby store or request that they purchase them! As of now, they are sold at these local retailers:
Whole Foods Markets
Shop Rite
Wegmans
Tops
Price Chopper
and more!
If you want to know where to find them, check out their store locator.  You can also buy their juice on their site or on Amazon
if you can't find them in a store near you!
Here are some more fun facts about Red Jacket Juices:
• They are 100% fruit juices made simply by pressing whole fruit (never from concentrate; no sugar, water, color, or flavoring added.)
• They are pressed at the orchard using traditional rack and cloth pressing techniques that have been used for the past 50 years (this is what produces such amazing flavor!)
• They are an excellent source of fiber, vitamin C and antioxidants.
• They are flash pasteurized to minimize negative effect on flavor and nutritional content from heat.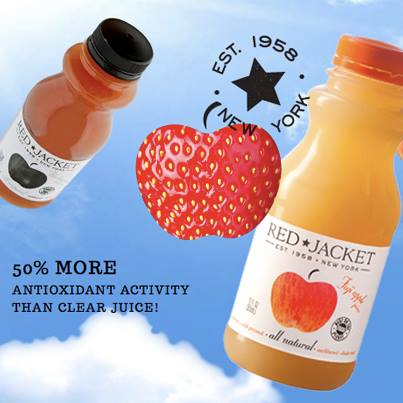 GIVEAWAY DETAILS
UPDATE: The 4 winners of the Red Jacket juice are:
#10 – Marie @ Little Kitchie:  "I follow you on Pinterest!"

#13 – Erica E.:  "They all sound delicious.  I'm sure I would like all of them but I would try the raspberry apple first."
#78 – John@kitchenriffs: "Generous giveaway! And great sound juice. Thanks for taking the time to research and review this for us!"
#107 – Crystal Miller:  "I have not tried red jacket juice yet AND would love to!"
                                            Congratulations, winners!  Be sure to reply to the email you've been sent, and your box of juice will be shipped out to you directly from Red Jacket!  Thank you to everyone who entered.
Thanks to Red Jacket, FOUR lucky Wishes and Dishes readers will win a 6-pack variety of 12 oz. Red Jacket juices (worth $17.99) and have the juice delivered right to their door!  Many thanks to Red Jacket for providing the review and generous giveaway product. Giveaway is open to U.S. readers who are age 18+ only.
HOW TO ENTER THE CONTEST

To enter to win, simply leave a comment on this post and answer the following question:
"Which Red Jacket juice flavor would you try first?"
You can receive up to FIVE additional entries to win by doing the following:
1.  Subscribe to Wishes and Dishes by email (enter your email address in the box at the top right hand side of my page). Come back and let me know you've subscribed in an additional comment on this post.
2.  Become a fan of Red Jacket Orchards on Facebook.  Come back and let me know you became a fan in an additional comment on this post.
3.  Become a fan of Wishes and Dishes on Facebook. Come back and let me know you became a fan in an additional comment on this post.
4.  Follow Wishes and Dishes on Pinterest. Come back and let me know you became a fan in an additional comment on this post.
5.  Follow @wishesndishes on Twitter. Come back and let me know you've followed in an additional comment on this post.
Deadline:  Monday, July 15, 2013 at 11:59pm EST.
Winner:  The winners will be chosen at random using Random.org and announced at the top of this post.  I will email the winners and if they do not respond within 48 hours, another winner will be selected.
Disclaimer:  I was sent a variety of juices from Red Jacket Orchards to try.  Giveaway provided by Red Jacket.  I was not compensated for this post and all thoughts and opinions are my 100% my own.