Pumpkin Patch Dirt Cups
Adorable Pumpkin Patch Dirt Cups are such a cute, kid-friendly dessert recipe for fall, Thanksgiving and Halloween parties!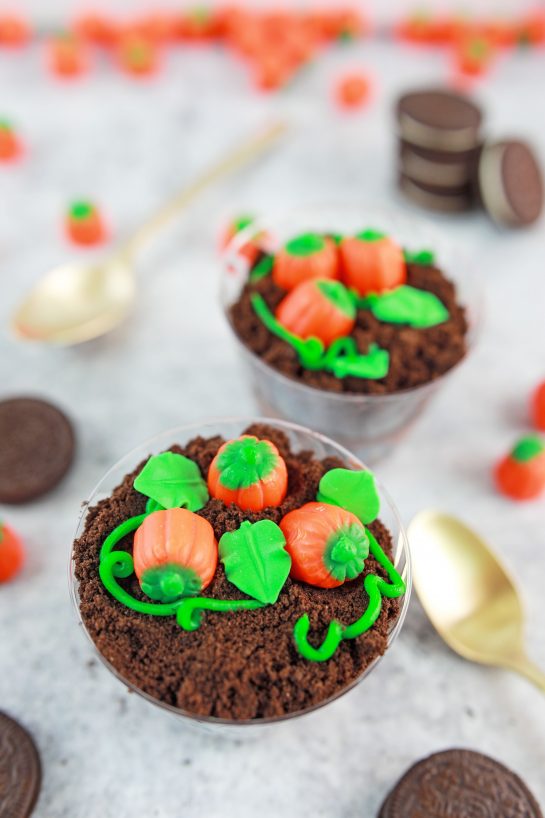 Are you throwing a Halloween party this year or just celebrating at home with the family? If you are doing either, then these easy Pumpkin Patch Dirt Cups should be on your TO DO list! I love me some Halloween recipes!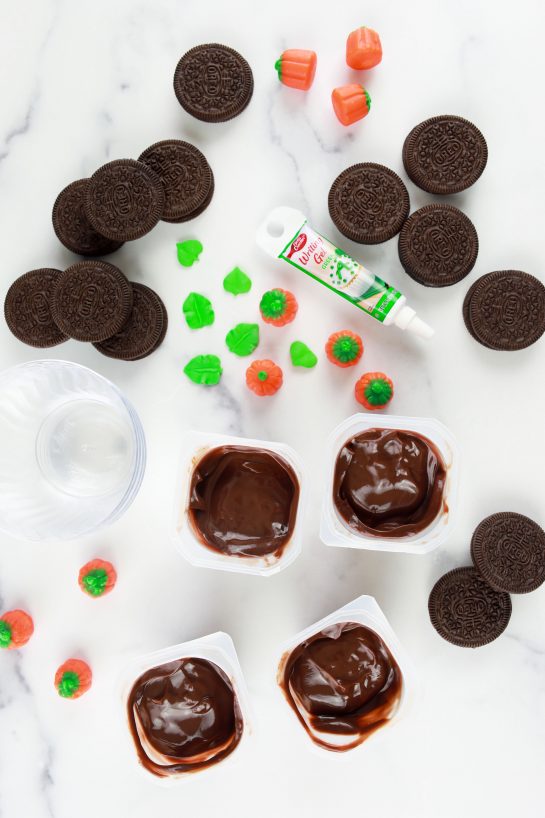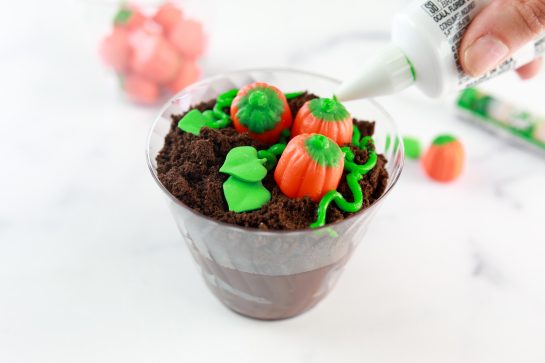 Today has already been much cooler and to celebrate the fall-ish weather we are having, I bring you a classic Halloween dessert. These super adorable Pumpkin Patch Pudding Dirt Cups are such a fun fall activity to do with the whole family! I love love LOVE them for a party.
This easy recipe perfect to whip up while watching Hocus Pocus or your favorite Halloween movie and cuddling on the couch! Full disclosure: I've never actually seen that movie. Is it scary? Anyway, they are simple to make and taste delicious for a fall dessert.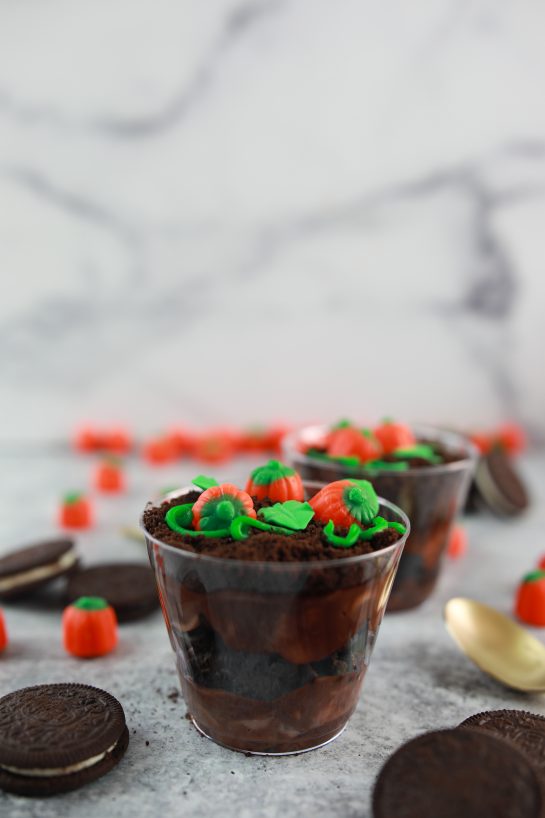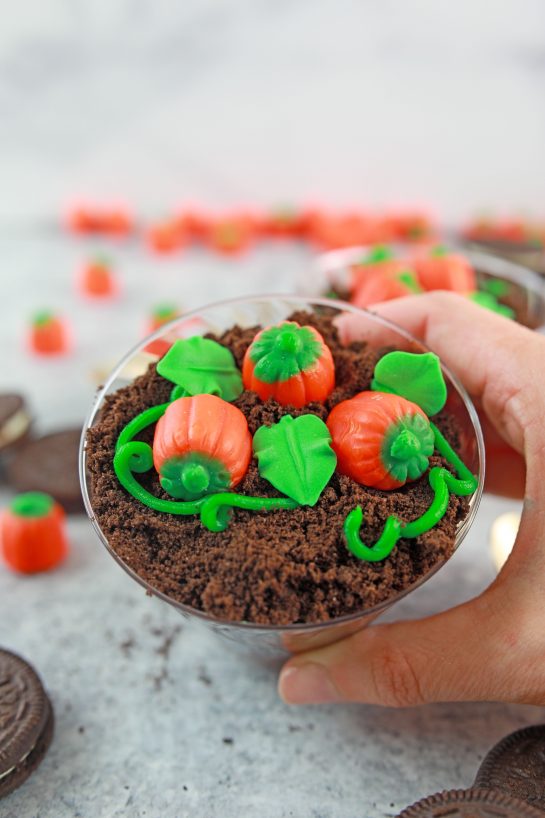 In the spirit of the fall and Halloween season, I wanted to celebrate with festive fall dirt cups that didn't involve worms. I think I would like Halloween a lot better if it didn't involve worms or spiders! Why does everything have to be decorated with BUGS?! I mean, my Halloween Chocolate Pretzel Spider Webs are super cute, but still.
I almost apologized for saying I hate bugs. But! At this point, I don't even care. Ghosts I can totally handle (hello, Halloween Boo Meringues.)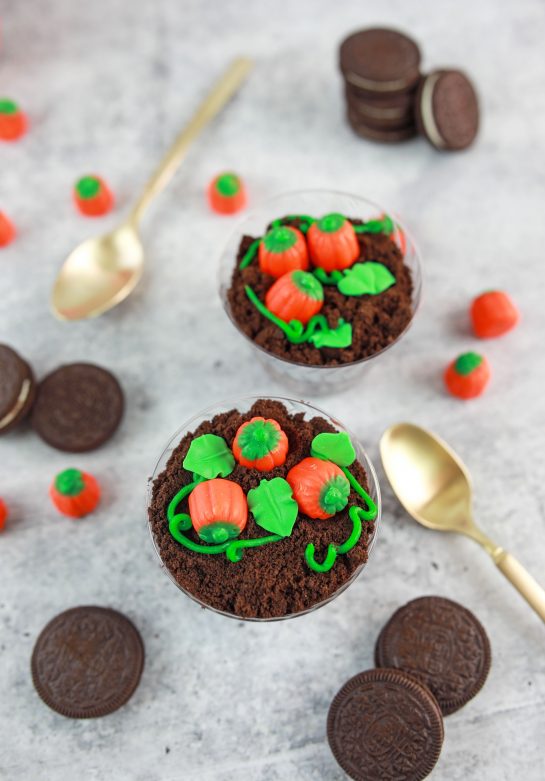 This pumpkin patch pudding dessert is perfect for what I wanted. These would even be cute for Thanksgiving, because, pumpkins. Make the "dirt" Oreo crumbs (a.k.a. the black soil) out of Oreo cookies. I use a food processor and it takes seconds and you get nice fine crumbs. If you don't have a food processor, just simply place them in a zip-lock bag and smash them with a rolling pin or meat tenderizer.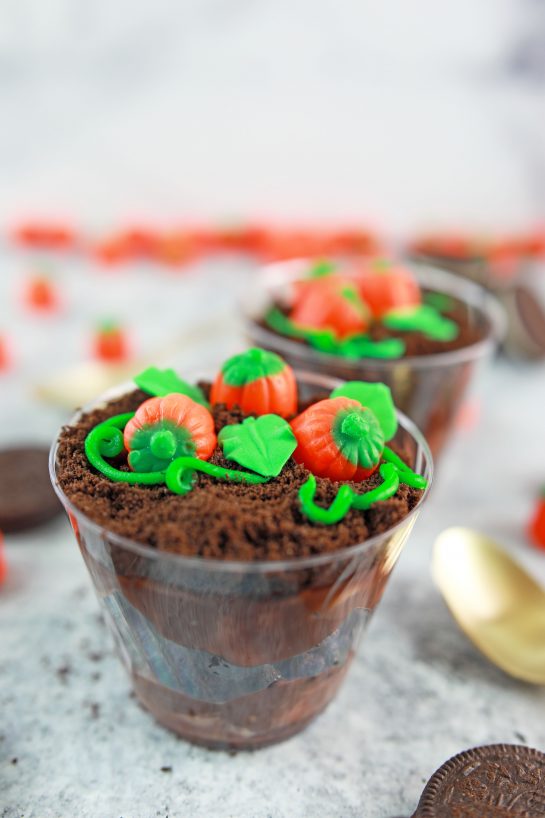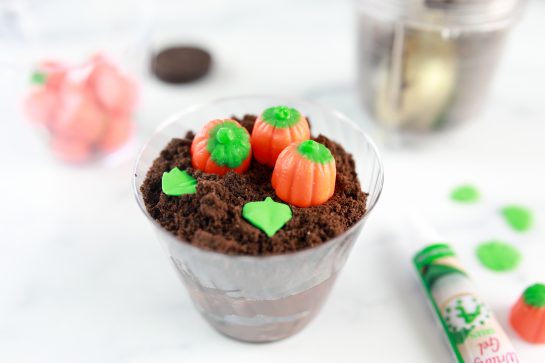 Pumpkin patch dirt cups are so easy, so they are the perfect fall treat to involve kids in and to send with them to school as a fun classroom snack that all the kids will be impressed by. You can easily make these gluten-free, as well. We also love this my Sweet & Salty Halloween Chex Mix if you need a good snack for a party.
Keep these cute little Halloween desserts in the fridge before serving. Happy Halloween!
Pumpkin Patch Dirt Cups
Adorable Pumpkin Patch Dirt Cups are such a cute, kid-friendly recipe for fall, Thanksgiving and Halloween parties!
Ingredients
Chocolate pudding cups

Oreo cookies

Pumpkin Candies

I found these in bulk candy section

Green decorator icing

Green Candy Leaves

store bought or make your own with decorator frosting

(amounts will vary depending on how many you'd like to make)
Instructions
Place Oreos in a Ziploc bag and crush to the size of small crumbs using a food processor or a ziploc bag with a rolling pin.

Place a layer on the bottom of your cup.

Next, place a layer of chocolate pudding.

Repeat this process until you reach the top of the cup, ending in a layer of oreos for the "dirt".

Place your candy pumpkins on the top and decorate with leaves and use the green decorator icing to create vines to connect the leaves and pumpkins.

Enjoy!