Potato, Apple and Sausage Bake and GIVEAWAY!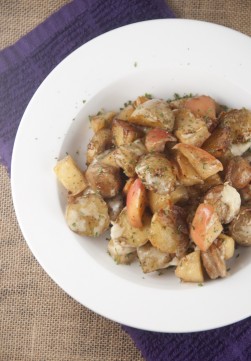 1½ pounds small potatoes (I used red) cut into 1-inch chunks (about 6 cups)
1 tablespoon extra-virgin olive oil
1 teaspoon kosher salt
½ teaspoon freshly ground pepper
4 fully-cooked chicken sausage links, sliced (12-ounces)
2 golden delicious or Gala apples,cored and cut into 1–inch chunks (leave peels on)
2 tablespoons Dijon mustard
2 tablespoons honey
1 tablespoon red wine vinegar
4 ounces Cabot Alpine Cheddar or Cabot Seriously Sharp Cheddar shredded (about 1 cup)
Parsley for garnish
Preheat oven to 450°F.
Toss potatoes, oil, salt and pepper in a large bowl until coated. Spread out in a large heavy roasting pan. Roast 20 minutes, stirring once or twice. While potatoes roast, stir sausage, apples, mustard, honey and vinegar together in the bowl.
Reduce oven temperature to 375°F. Remove roasting pan from the oven. Scrape potatoes up from the pan with a spatula.
Add sausage, apples and the mustard mixture to the potatoes and toss to combine.
Return to the oven and bake, stirring once or twice until the potatoes and apples are tender and the glaze is caramelized, 30 to 35 minutes.
Scrape potato mixture into the center of the roasting pan. Top with cheese and return to the oven only until melted, 2 to 3 minutes.
Sprinkle with parsley. Enjoy!
Recipe by
Wishes and Dishes
at https://wishesndishes.com/potato-apple-and-chicken-sausage-bake-giveaway/