Chicken Tortilla Soup
This no-fuss Cheesy Chicken Tortilla Soup is quick to make, incredibly flavorful, filling and garnished with crushed corn tortilla chips!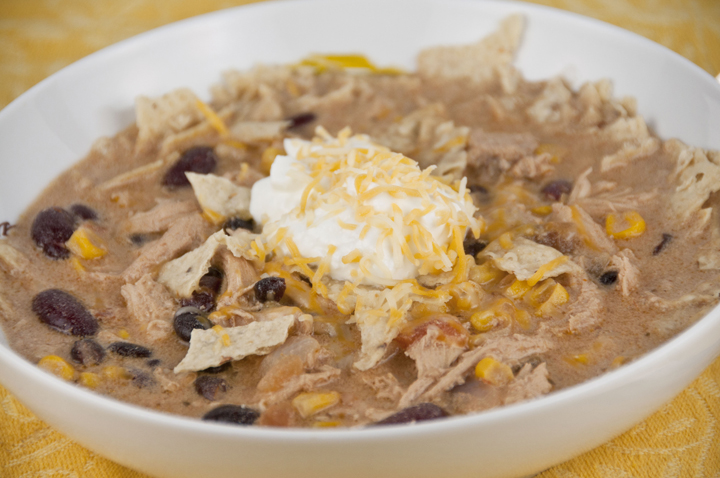 I'm on a roll this week sharing my favorite dinners.  I have had this soup and the Meatball Parmesan in my dinner rotation for quite some time now (yes, I was holding out on you) and I'm finally getting around to sharing them this week.  New year – new dinner ideas!  If you're anything like me, you can't look at another dessert after all of the holidays we just had.  Give it another week, I'm sure I'll be over that.  It also doesn't help that my birthday is so close to Christmas (today) and that means MORE cake and MORE desserts.  There could be worse problems in the world, right? Mr. Wishes got me a vanilla cake with white chocolate butter cream frosting and raspberry filling to celebrate my birthday this past weekend with family.  It was to die for!  Then he got me a small fruit tart to enjoy throughout my birthday week – I am eating like the fattiest of the fatty fat pants this week.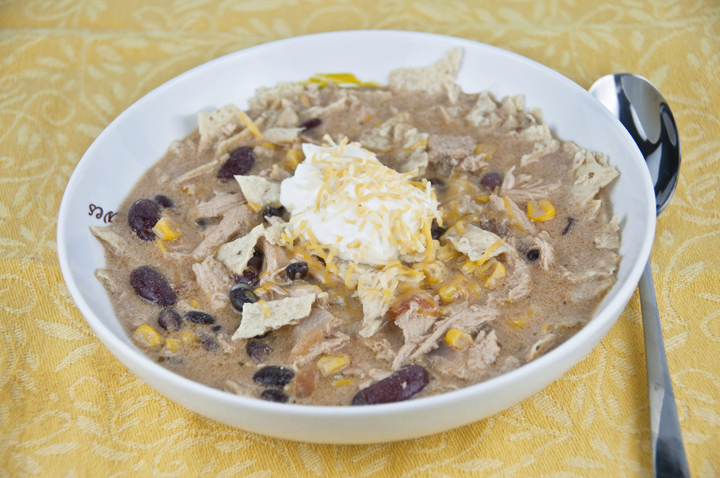 I have made this chicken tortilla soup several times and everyone absolutely loves it. I have used a rotisserie chicken once which made it a very quick and easy weeknight dinner.  If your New Year's resolution is to cook more dinners at home, I highly recommend adding this one to the list.  It's the best Chicken Tortilla soup I have ever had, including soups that I have had at restaurants.  This one is creamy, chunky, and full of flavor.
This soup makes a LOT, so this is perfect for a big family or if you're a fan of leftovers the next day.  I am one of those people!  Leftovers are the gift that keeps on giving.  Enjoy!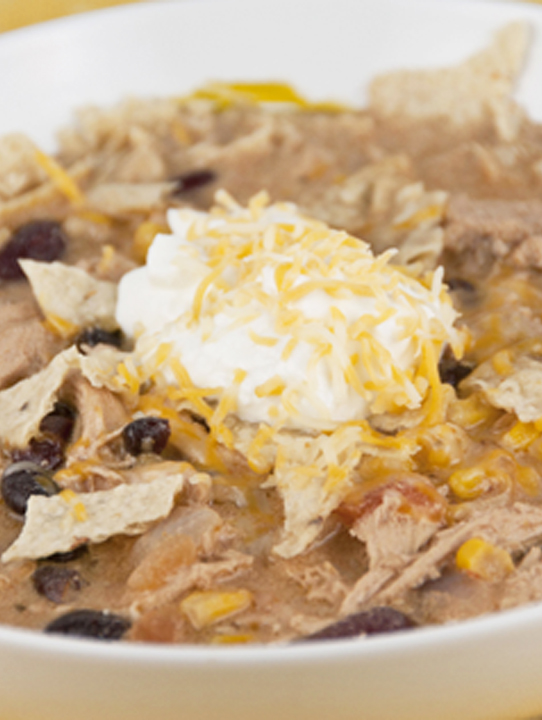 Chicken Tortilla Soup
Prep time:
Cook time:
Total time:
This no-fuss Cheesy Chicken Tortilla Soup is quick to make, incredibly flavorful, filling and garnished with crushed corn tortilla chips!
Ingredients
3 tablespoons butter
1 teaspoon minced garlic
1 medium onion, finely chopped
2 tablespoons all-purpose flour
Three 14-ounce cans chicken broth
4 cups half-and-half
One 10.75-ounce can cream of chicken soup
1 cup prepared salsa, mild or spicy
4 boneless, skinless chicken breasts, boiled, drained and shredded
One 15-ounce can black beans, drained
One 15-ounce can kidney beans, drained
One 15-ounce can whole kernel corn, drained
2 teaspoon ground cumin
One 1.27-ounce packet fajita seasoning
One 16-ounce bag corn tortilla chips
8 ounces Monterey Jack, grated
8 ounces sharp Cheddar, grated
½ cup sour cream
Instructions
Melt the butter in a large pot over medium heat.
Add the garlic and the onion and saute until softened, 5 minutes.
Add the flour and stir well, cooking for 1 minute more.
Add the broth and the half-and-half.
Stir in the cream of chicken soup, salsa, chicken, beans, corn, cumin and fajita seasoning. Continue to simmer over low heat for 15 minutes.
Crumble the tortilla chips into individual bowls and top with a ladle of soup.
Sprinkle each serving with cheese and add a dollop of sour cream.