Pistachio Pasta
My Pistachio Pasta recipe is so creamy and full of flavor. This easy pasta dish would be a great recipe to add to your arsenal of easy plant-based meals!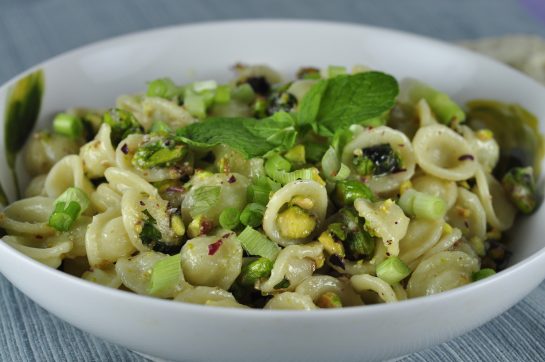 Mr. Wishes got me a really cool cookbook,  The Frankies Spuntino – Kitchen Companion and Cooking Manual, for Christmas this past year and I finally got around to making a recipe out of it.  I knew right away after reading through the whole cookbook back when I first got it that this Pistachio Pasta, or "Orecchiette with Pistachios", was most definitely the first thing I wanted to give a try.
Frankie Spuntino Italian Restaurant  is a unique Italian restaurant run by two owners by the name of Frank: Frank Falcinelli and Frank Castronovo. They have two locations in New York City; their original location in Carroll Gardens, Brooklyn and a second location is in the lower east side of the city.
The restaurant started in November 2003 when the two Franks randomly reunited after 18 years and discovered how much they had in common.  For instance, they had both grown up in Queens and had culinary training in France.
They also both had worked for top chefs in the 80's and 90's, such as David Bouley and Charlie Palmer, before running their own kitchens in New York.  Coincidentally, those of you from Rochester may recognize the name "Bouley" if you have ever eaten at the Wegman family-owned restaurant Next Door Bar & Grill.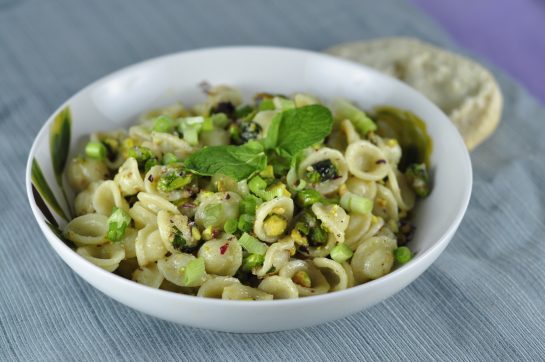 Mr. Wishes was "Engineer of Record" on the restaurant, and as he tells me, the menu item was added as a tribute to chef David Bouley, who is one of Danny Wegman's best friends that spent considerable time consulting with the Wegman's team during design of the new restaurant.
After this unforeseen reunion, they realized that they both had a longing to revisit the Italian-American cuisine of their childhood and the roots they both shared and cherished so much.  They came up with the idea Frankies Spuntino (Spuntino means "an informal meal or a snack; also, a casual Italian eatery" in Italian).
This would symbolize both of their culinary values, travel and experiences and be a place where they could cook together.  They visualized offering traditional Sunday cuisine such as homemade pastas, sausages, braciole and Sunday sauce.  It would all be food that their  Grandmothers used to make when they were growing up – home cooked, simple, and made with the freshest possible ingredients.  They offer healthy soups and sandwiches, fresh salads, roasted vegetables and small plates at their restaurants.
The cookbook describes the pasta sauce in this dish as what we think of in the States as "pesto",  but with the ratio of nuts to herbs flip-flopped.
The main ingredients are Sicilian in emphasis and the mint reflects the North African influence on Sicilian cuisine.  I recommend you give this a try!  It's easy and very delicious and has great texture to it: soft pasta and crunchy pistachios.   Once you taste it you won't believe how easy it was to make. The most tedious part of this recipe is the shelling of the pistachios (thanks Mr. Wishes). The rest is a breeze!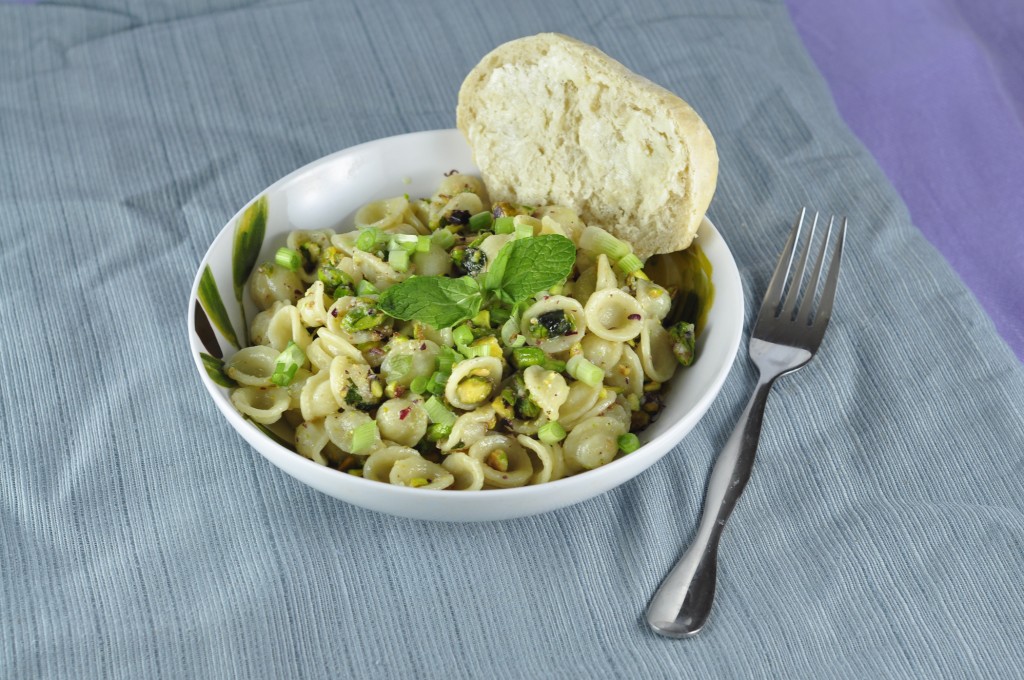 Pistachio Pasta
Prep time:
Cook time:
Total time:
My Pistachio Pasta recipe is so creamy and full of flavor. This easy pasta dish would be a great recipe to add to your arsenal of easy plant-based meals!
Ingredients
fine sea salt
1.5 cups shelled unsalted green pistachios, preferably Sicilian (I just used regular ones)
1 clove minced garlic
2 tablespoons finely chopped mint
½ cup extra virgin olive oil, plus extra for serving
½ cup grated pecorino romano cheese
1 pound orecchiette
4 scallions, white and light green parts only, thinly sliced
Instructions
Put a large pot of water on the boil and salt it well.
Meanwhile, roughly chop the pistachios by hand or in a food processor. Toss the pistachios with the garlic, mint, and olive oil in a small mixing bowl. Add the cheese and a large pinch of salt and stir to combine.
Cook the pasta in the boiling water until al dente, following the package directions. Drain, reserving ½ cup of the pasta cooking water, and return the pasta to the pot over low heat.
Add the "pesto" mixture (garlic, mint, oil, cheese, salt mixture) to the pot, along with the reserved pasta cooking water, and heat, tossing constantly, until the orecchiette are coated with the sauce.
Transfer to bowls or a serving platter, garnish with the scallions, and serve, passing additional olive oil at the table.