Pistachio Pasta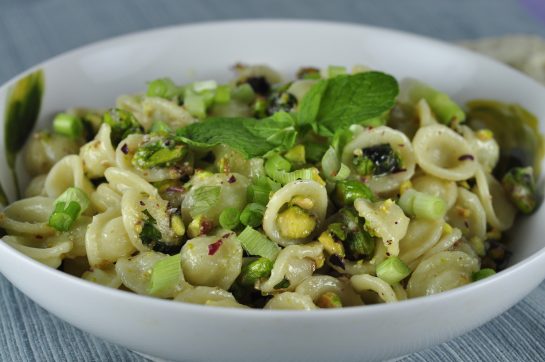 fine sea salt
1.5 cups shelled unsalted green pistachios, preferably Sicilian (I just used regular ones)
1 clove minced garlic
2 tablespoons finely chopped mint
½ cup extra virgin olive oil, plus extra for serving
½ cup grated pecorino romano cheese
1 pound orecchiette
4 scallions, white and light green parts only, thinly sliced
Put a large pot of water on the boil and salt it well.
Meanwhile, roughly chop the pistachios by hand or in a food processor. Toss the pistachios with the garlic, mint, and olive oil in a small mixing bowl. Add the cheese and a large pinch of salt and stir to combine.
Cook the pasta in the boiling water until al dente, following the package directions. Drain, reserving ½ cup of the pasta cooking water, and return the pasta to the pot over low heat.
Add the "pesto" mixture (garlic, mint, oil, cheese, salt mixture) to the pot, along with the reserved pasta cooking water, and heat, tossing constantly, until the orecchiette are coated with the sauce.
Transfer to bowls or a serving platter, garnish with the scallions, and serve, passing additional olive oil at the table.