Chicken Cacciatore
This hearty Chicken Cacciatore is so easy to make and the rich, thick broth is delicious. We love it served over pasta or with a side of rice and it's the perfect choice for Italian night!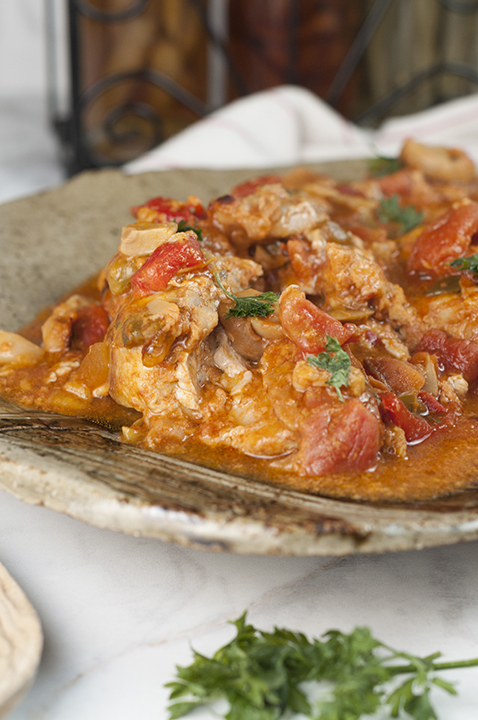 Hello, everyone! I have some good eats for you today! I am back from two weeks in Hawaii (partly a business trip for Mr. Wishes) and so glad to be home. I am extra thankful to have missed two weeks of winter here in Rochester, but it's always nice to sleep in my own bed again. This trip to Hawaii was extra special because we found out the gender of our sweet little baby! We sent in our sealed envelope to the hotel we were staying at and they decorated our room pink or blue. More to come on that soon! Let's talk about some delicious and easy Chicken Cacciatore, shall we?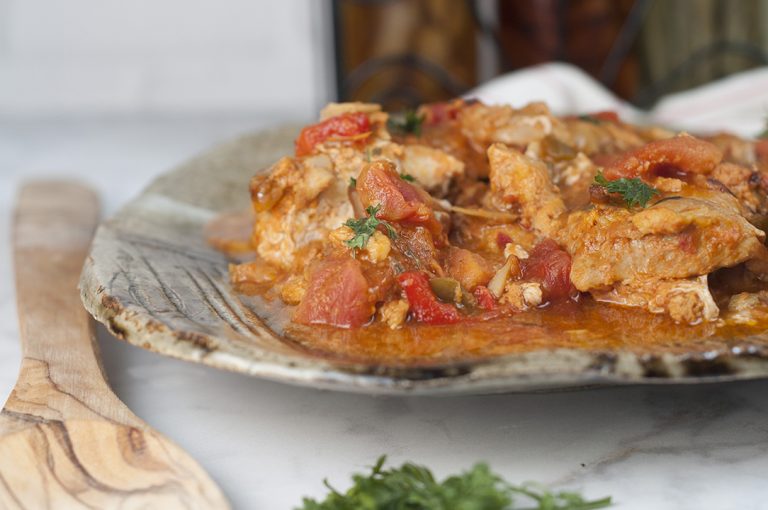 In case you are new to this dish, cacciatore actually means "hunter" in Italian. In cuisine, chicken cacciatore refers to a meal prepared "hunter-style" with onions, herbs, tomatoes, tomato juice, bell peppers, and sometimes wine. Wegmans created the absolute easiest way that we can all enjoy Chicken Cacciatore and get a hot family meal on the table in no time at all.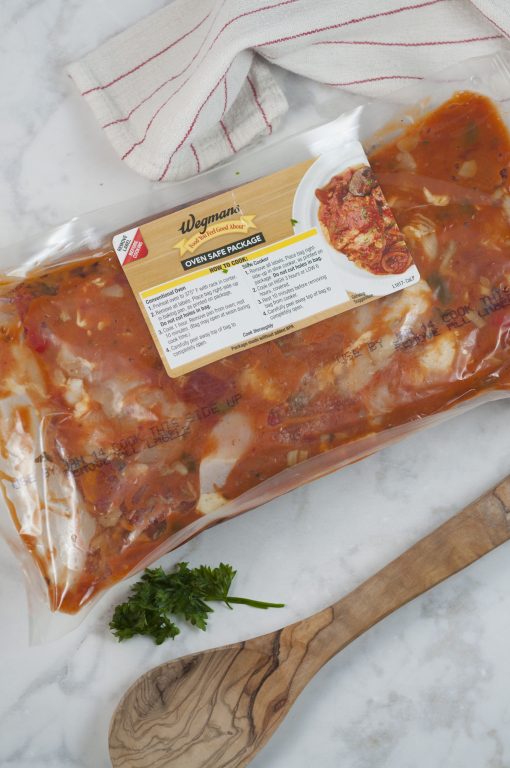 Wegmans has a line of products they just introduced last year that are unique in the grocery industry and I'm so excited to tell you about today! Called Oven-Safe Packaging Entrées, they are vacuum-packed meals sold in 100% food-safe and oven-safe packaging (with no added BPA) that you can just stick right in the oven and let it do its thing. One of the entrée varieties is this Chicken Cacciatore I'm telling you about and sharing photos of with you today. They really are the easiest meals to make, as there is no prep work to do before cooking. Minimal prep work means very little cleanup afterward – my favorite thing of all time! In this house. we're all about easy clean up
I could eat the sauce for this Chicken Cacciatore with a spoon. I pretty much did. It's delicious. I loved it because it's something different than I normally make. I feel like I make the same meals over and over again…anyone else?! Let's be honest, what I probably need is a salad after all of the heavy eating I did in Hawaii…or more like, four of them. This dish did the trick – it was nice and light and this time I served it with a side of cauliflower rice from Wegmans. It was the perfect meal! I didn't feel the need to add any additional flavorings at all and it was an adequate size for two people – we even had a bit leftover.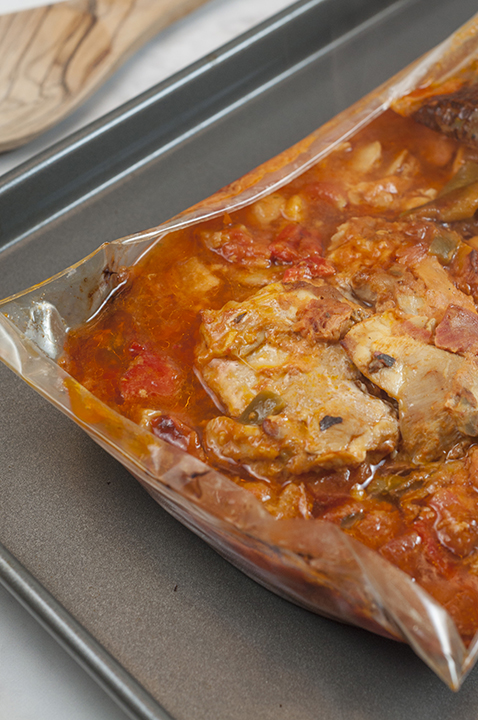 This meal tasted exactly like a home-cooked meal without all of the hard work and preparation. The boneless, skinless chicken thighs were very tender and high-quality, the hearty tomato sauce had great flavor, and the seasonings were just right. The mushrooms and bell peppers were plentiful and gave the dish great texture. It helps that the vacuum-packaging preserves flavors and speeds up cooking times. The packaging has been tested for safe direct contact with food by the FDA and two universities with packaging studies programs (Virginia Tech and Rochester Institute of Technology). Therefore, you can rest easy knowing that these meals are safe!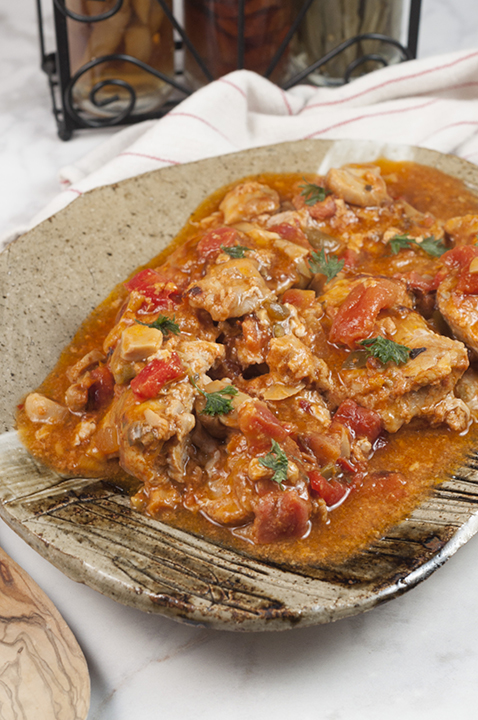 I hope you try these amazing entrées soon as the recipes are Wegmans chef-developed and each have the Wegmans Food You Feel Good About banner. The label means the meals have no artificial colors, flavors, or preservatives. They are easy meals that are ready for the oven and are just perfect for weeknight dinner when you're in a hurry.
Note: some of the entrées even have instructions to be made right in your slow cooker! Seriously, the worst part here will be waiting for the meal as it cooks in the oven, as it will make your house smell heavenly. We loved the Thai Style Red Curry Chicken.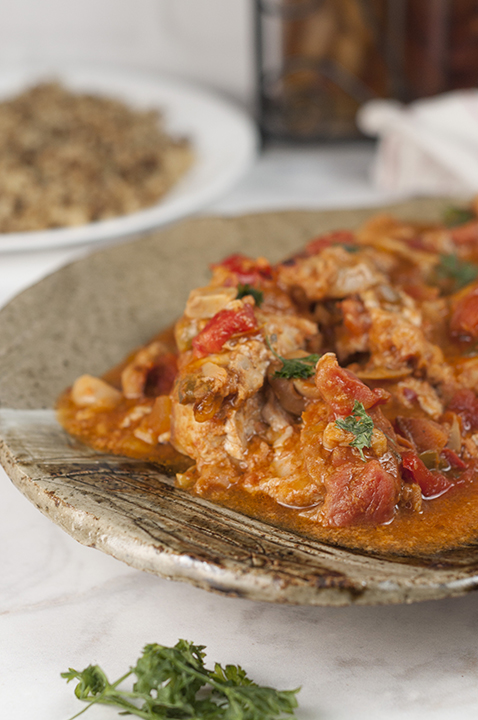 You can find these Wegmans meals in the meat department at your local store! They stay fresh up to two weeks in the refrigerator or you can keep them in your freezer for a rainy day when you don't feel like going grocery shopping! Serve them with a Wegmans bagged salad and a loaf of crusty, Italian bread and call it a day.
They also have a bunch of excellent recipes on their website that you should definitely check out when you get a chance! They have never steered me wrong when I cook up their recipes. Enjoy!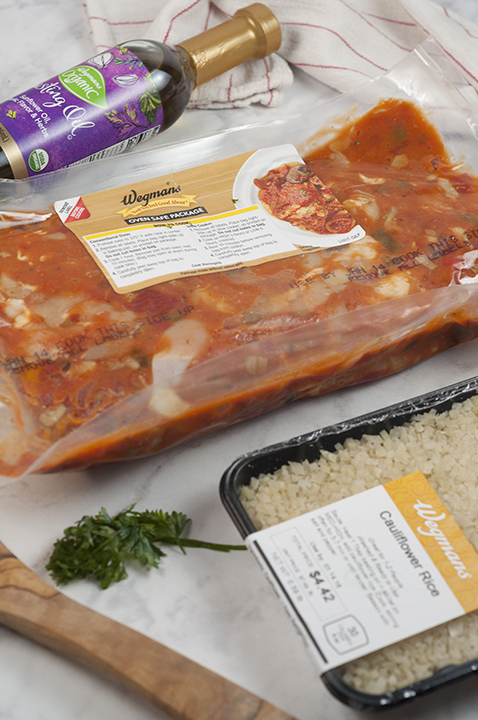 Disclaimer: Thank you to Wegmans Food Markets for sponsoring this conversation. All opinions remain 100% my own, as always. Thank you for allowing me to share the brands and products I use regularly and love.