Pineapple Shrimp Fried Rice
Skip the takeout this week and make this Pineapple Shrimp Fried Rice. It is sweet and savory and an easy Asian recipe to make at home!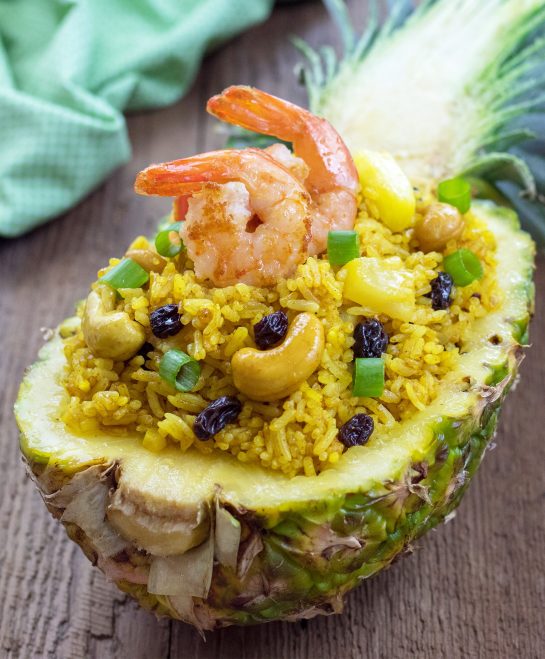 Hello from steaming hot Rochester, NY! And hello yummy Pineapple Shrimp Fried Rice to help me forget about how sweaty I am. I thought about complaining about temperatures in the 90's headed our way this weekend, but then a post showed up in my Facebook memories today…
What was the post about, you ask? The post was when we got two feet of snow in one day last February and it was a photo of Mr. Wishes digging out our cars. You can hardly pick him out in the photo because the snow was so deep and almost as tall as him. So, to that I say….bring on 93 degrees and humid!
Guys, my friend Abigail from Manila Spoon wrote an amazing cookbook. It's called "Rice. Noodles. Yum." This cookbook is packed full of southeast Asian dishes.
Anyone who knows me knows that I LOVE Asian food. When Abigail asked me to do a little review of a cookbook solely dedicated to Asian dishes I had to say "absolutely yes".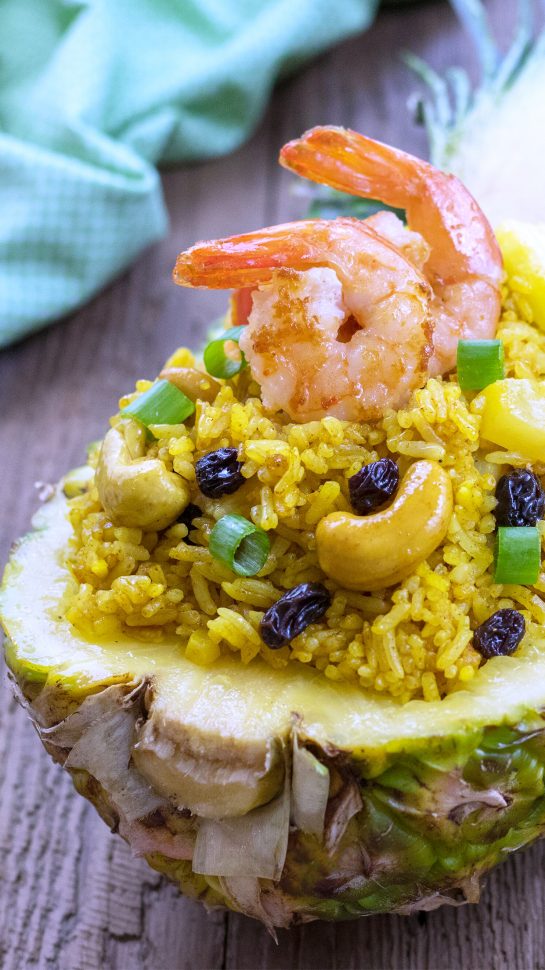 Abigail has been my online blog friend for a long time and I know for a fact that her recipes are tried and true. I often drool at her food photos and jumped at the opportunity to grab a copy of her new cookbook. She was born and raised in the Philippines and has done quite a bit of traveling to Southeast Asia to bring us all of the delicious recipes in her cookbook.
The travels Abigail has done taught her that noodles and rice are the perfect canvas for the sweet, salty and spicy flavors of Asian cuisine which was the inspiration behind all of her recipes in the book.
I decided to post about her Pineapple Shrimp Fried Rice because I know you all love seafood (as do I) and I happen to love sweet and savory meals. The flavor-packed sauce is genius and I love all of the textures in this dish. The curry powder gives the perfect amount of kick, like in my Red Curry Chicken.
I had a favorite Thai restaurant back in the day that I lived right across the street from. Let's just say I was there multiple times per week to get their pineapple Thai fried rice and spring rolls. I was addicted! I even made my own version of their Chicken Avocado Spring Rolls.
Now, time to try her fried sticky rice balls with coconut caramel sauce. Ya'll know I love my Thai sticky rice! I love serving sticky rice along side my Thai Peanut Chicken Meatballs. I can't wait to try frying it and smothering it in a sweet sauce. I am already drooling just thinking about it.
Feel free to pick up a copy of Abigail's amazing cookbook here. You should also try my Baked Honey Sesame Chicken if you love Asian food. Enjoy!

Pineapple Shrimp Fried Rice
Prep time:
Cook time:
Total time:
Skip the takeout and make this Pineapple Shrimp Fried Rice. It is sweet and savory and an easy Asian recipe to make at home!
Ingredients
2 tbsp (30 ml) sesame oil
12 oz (340 g) shrimp, peeled and deveined, but with tails intact
4 cloves garlic, minced
1 onion,chopped
1 tbsp (15 g) curry powder
4 cups (645 g) cooked long-grain white rice (jasmine or basmati), cold or chilled
1 cup (150 g) raisins
1 cup (200 g) pineapple chunks
½ cup (75 g) cashews
2 tomatoes, sliced and deseeded
2 tbsp (30 ml) fish sauce
1 tbsp (15 ml) oyster sauce (I just used all fish sauce as I didn't have oyster sauce)
½ tbsp (8 g) sugar
Salt, to taste
3 stalks or about 2 tbsp (12 g) green onions, sliced
Whole pineapple, for serving (optional, can just use a bowll)
Instructions
In a wok or large skillet, heat the sesame oil over medium-high.
When the oil is hot, add the shrimp and fry for 3 or 4 minutes or until fully cooked. Shrimp is done when their flesh is fully opaque and bright pink.
Scoop out the shrimp with a slotted spoon, transfer to a plate and set aside.
Lower the heat to medium-low.
Add the garlic and onion to the pan and cook for 1 minute or until aromatic.
Add the curry powder, stirring constantly, until fragrant.
Add cooked rice to the pan and increase the heat to medium-high. Pat the rice grains down with a spatula, then fold the rice over (Do these two steps a few times until the rice grains have separated and the rice is fully coated with the curry powder)
Add the raisins, pineapple, cashews and tomatoes and mix everything together.
Return half of the cooked shrimp to the wok/skillet. Season the mixture with the fish sauce,
oyster sauce (if using) and sugar. Stir to mix well.
Taste and adjust the seasoning with salt, if needed.
Transfer to a serving plate or hollowed out fresh pineapple and garnish with the remaining shrimp and sliced green onions. Enjoy!