Pineapple Shrimp Fried Rice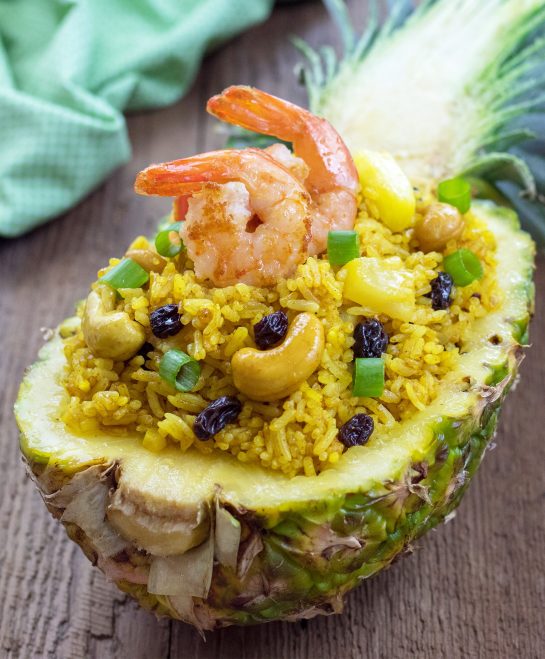 2 tbsp (30 ml) sesame oil
12 oz (340 g) shrimp, peeled and deveined, but with tails intact
4 cloves garlic, minced
1 onion,chopped
1 tbsp (15 g) curry powder
4 cups (645 g) cooked long-grain white rice (jasmine or basmati), cold or chilled
1 cup (150 g) raisins
1 cup (200 g) pineapple chunks
½ cup (75 g) cashews
2 tomatoes, sliced and deseeded
2 tbsp (30 ml) fish sauce
1 tbsp (15 ml) oyster sauce (I just used all fish sauce as I didn't have oyster sauce)
½ tbsp (8 g) sugar
Salt, to taste
3 stalks or about 2 tbsp (12 g) green onions, sliced
Whole pineapple, for serving (optional, can just use a bowll)
In a wok or large skillet, heat the sesame oil over medium-high.
When the oil is hot, add the shrimp and fry for 3 or 4 minutes or until fully cooked. Shrimp is done when their flesh is fully opaque and bright pink.
Scoop out the shrimp with a slotted spoon, transfer to a plate and set aside.
Lower the heat to medium-low.
Add the garlic and onion to the pan and cook for 1 minute or until aromatic.
Add the curry powder, stirring constantly, until fragrant.
Add cooked rice to the pan and increase the heat to medium-high. Pat the rice grains down with a spatula, then fold the rice over (Do these two steps a few times until the rice grains have separated and the rice is fully coated with the curry powder)
Add the raisins, pineapple, cashews and tomatoes and mix everything together.
Return half of the cooked shrimp to the wok/skillet. Season the mixture with the fish sauce,
oyster sauce (if using) and sugar. Stir to mix well.
Taste and adjust the seasoning with salt, if needed.
Transfer to a serving plate or hollowed out fresh pineapple and garnish with the remaining shrimp and sliced green onions. Enjoy!
Recipe by
Wishes and Dishes
at https://wishesndishes.com/pineapple-shrimp-fried-rice/