Philly Cheesesteak Baked Egg Rolls
Philly Cheesesteak Baked Egg Rolls recipe with gooey, melted cheese and juicy beef makes for a tasty dinner or party appetizer ready in no time at all!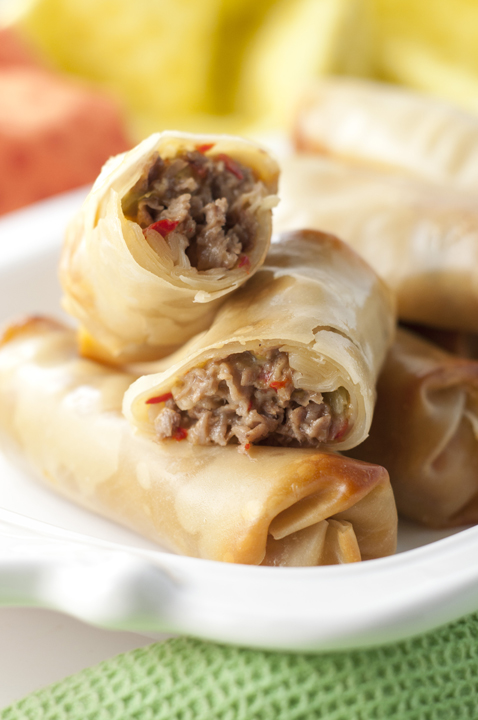 I made these Philly Cheesesteak Baked Egg Rolls for the first time a couple of years ago and I've sort of been holding out on you. Have you tried my Philly Cheesesteak Pasta yet? I took a photo of the egg roll filling before I put it in the egg rolls and posted it to my Facebook page (just a blurry/grainy cell phone picture) and I could NOT believe the response I got from people asking me what it was because they needed it in their lives ASAP.  I turned that mixture into egg rolls and, although messy, were one of the best things to ever come out of my kitchen.  I finally made them again with better photos that actually look appetizing.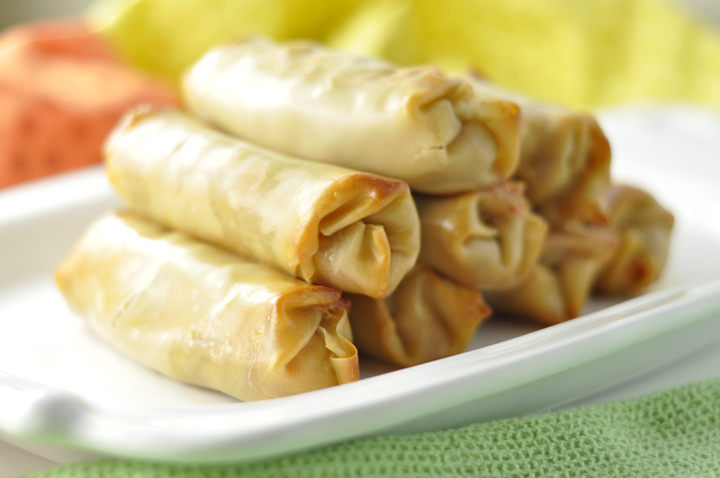 The Philly Cheesesteak Baked Egg Rolls recipe inspiration came from something I saw on the Food Network, but those egg rolls were fried and much more greasy.  I have this completely illogical fear of deep frying and just refuse to do it!  If I had a deep fryer, I guess that would change things a bit, but the thought of hot oil splattering everywhere and food burning to the bottom of another pot just scares the heck out of me.  Yes, I've been there and done that when I tried to deep fry spring rolls in my dutch oven years ago.  Let's just say there was a lot of screaming on my part and a very slippery/greasy floor (no burns, thankfully).  So, I stick to baking things…and it just happens to be healthier that way! Win/win.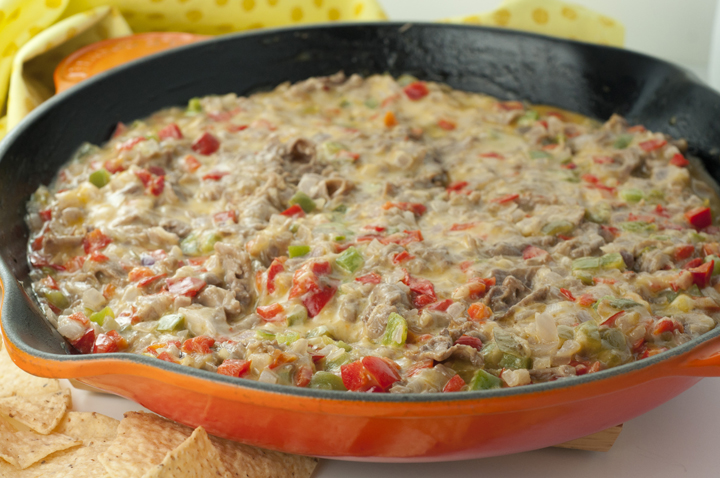 This Philly Cheesesteak Baked Egg Rolls recipe combines two of my favorites: it's a crispy egg roll on the outside, with a delicious cheesesteak filling on the inside.  I actually made a dip out of the filling! Check out my Philly Cheesesteak Dip when you have a chance. I used my brand spanking new Hamilton Beach toaster oven to bake these babies up.  When I think of uses for toaster ovens, I always think reheating leftovers or my various pizza recipes.  The reality is that toaster ovens are very practical and can be used for SO much more than that. Short of roasting an entire turkey, you can use it for whatever you would use your regular oven for.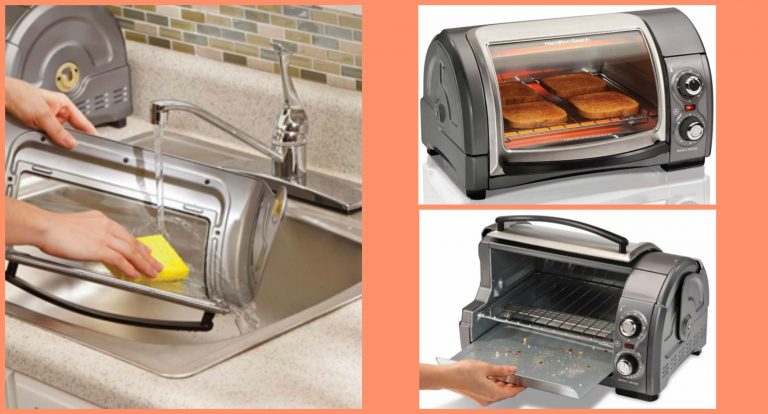 Hint: they are better to use in lieu of your actual oven in the warmer months because they won't heat up your entire kitchen!

This particular toaster oven has a roll-top door (super cool invention by Hamilton Beach) which allows for easier access to your food and saves precious counter space!  This is just one thing I love about this toaster oven.  I have a ton of counter space in my kitchen but somehow when I get cooking, that space fills up quickly.  This roll-top door also alleviates the problem of spills on the door which happens to me 100% of the time.  You will love the way it cooks!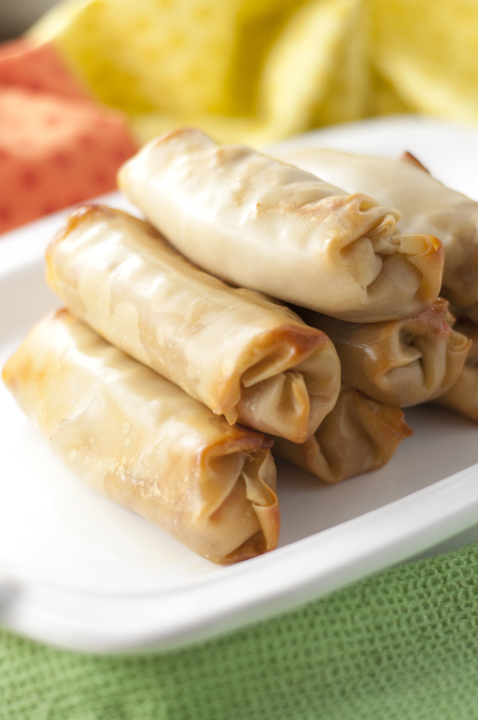 Additional product features of this toaster oven:
Fits 4 slices or a 9" pizza
Bake, broil and toast functions
Removable door for easy cleanup (love this)
30 minute timer with automatic shutoff or option to keep it on
Includes bake pan and rack with 2 positions
Front-access crumb tray slides out for quick and simple cleanup
Try serving these Philly Cheesesteak Baked Egg Rolls at your next get-together.  They will be a hit!
Here is my "how to" video with step-by-step instructions on how to make Philly Cheesesteak Baked Egg Rolls!
GIVEAWAY DETAILS (giveaway closed!)
Thanks to the generous people over at Hamilton Beach, one lucky Wishes and Dishes reader is going to receive their own shiny, new toaster oven!  Make these delicious Philly Cheesesteak Baked Egg Rolls for your next party or family dinner and also scroll down to the giveaway form for your chance to win!  It's so easy!  If you aren't the lucky winner, this toaster oven is available on their website.
Philly Cheesesteak Baked Egg Rolls
Recipe type:
Dinner, Appetizer
Prep time:
Cook time:
Total time:
Philly Cheesesteak Baked Egg Rolls recipe make for a tasty dinner or party appetizer ready in no time at all!
Ingredients
1 egg
1 tablespoons milk
2 tablespoons olive oil
1 small red onion, thinly sliced
1 small red bell pepper, chopped
1 small green bell pepper, chopped
1 pound roast beef, thinly sliced*
8 ounces pepper jack cheese, shredded
8 ounces provolone cheese, shredded
8-10 egg roll skins
salt and pepper, to taste
*Some stores sell shaved steak if you wish to eliminate a step.
Note: You can also use American cheese in place of any of the other cheeses
Instructions
Preheat the oven or toaster oven to 425ºF.
Mix egg and milk together, in a small bowl, for egg wash. Set aside.
In medium saute pan or skillet over medium, heat the olive oil until hot. Add onion and peppers.
Sweat vegetables until slightly softened, about 2-3 minutes.
Add roast beef or shaved steak and saute until onions are translucent, about 5 additional minutes.
Add the cheeses and mix thoroughly until cheese is almost melted.
Add salt and pepper, to taste.
Remove from heat and drain excess liquid if there is any (this is an important step to keep egg rolls from becoming soggy when baking), and let cool.
Divide cooled mixture into 8-10 equal parts. Place mixture in center of each egg roll skin.
Fold in side corners and roll tightly, sealing edges with egg wash (use a pastry brush). Make sure they are rolled tightly to prevent bursting/leaking of the cheese in the oven. A little bit might happen and that's OK.
Lightly coat egg rolls with cooking spray, and place, seam side down in a single layer on a baking sheet lined with parchment paper or a Silpat nonstick baking mat.
Bake in preheated oven for 20-25 minutes or until golden brown and crispy (to your liking). Keep an eye on them as different ovens tend to cook things faster/slower). If for some reason they aren't crispy enough after 25 minutes, leave them in a little longer.
Let rest for a minute or two and then cut egg rolls on the bias, place on a serving platter and serve warm.
Deadline: Wednesday, April 6th at 11:59 p.m. (EST). I'll announce the winner on Thursday 4/7. Good luck, everyone!
Winner:  Must be a U.S. resident to enter.  The winner will be chosen at random using Random.org and announced in this post. I will email the winner and if he/she does not respond within 48 hours, another winner will be selected.
Disclaimer: Hamilton Beach provided me with the toaster oven to facilitate this post and is also providing the giveaway product. The words and opinions expressed in this review are strictly 100% my own, as always.