Caprese on a Stick
Happy Wednesday!  I hope everyone is having a great week.  I know mine has been flying by because I've been so busy lately.  My hubby and I are leaving next week to go a friend's wedding in Georgia and I'm so excited!  Our weather here in NY has been stuck in the 40's and 50's this past week so I've really been craving some warm, summery weather.  What better place to go for hot, humid weather than south Georgia?!
I have a really fun and simple appetizer idea for you today….they are pretty to look at, too!  Salad on a stick?  I gave this classic Italian salad that I absolutely love a brand new look and made it a little bit more fun.  They are very impressive looking and very tasty.  I could eat a huge plate of these by myself.
So if you are looking for an easy idea for an appetizer this one is perfect for you.  It would also be great to serve at a large party or a barbeque…I'm sure people would appreciate a healthy alternative to munch on, not to mention the beautiful presentation!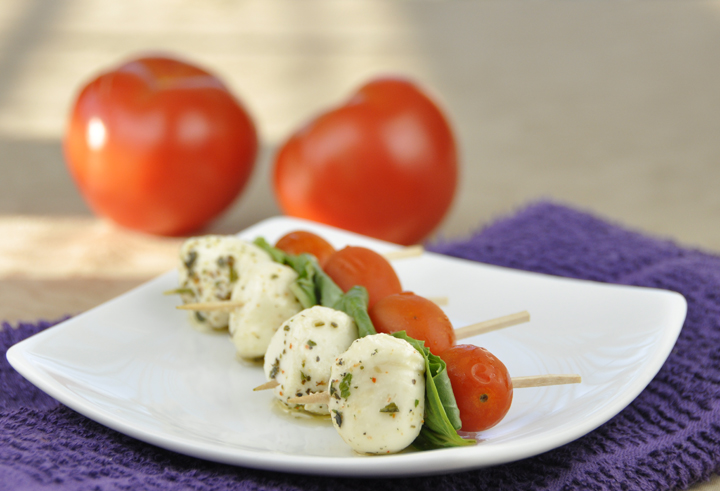 INGREDIENTS:
cherry tomatoes
small fresh mozzarella balls
basil leaves
balsamic vinegar
salt and pepper, optional
toothpicks
DIRECTIONS:
Place one cherry tomato, a basil leave (or half a leaf if it is large), and a mozzarella ball on each toothpick.
Drizzle with balsamic vinegar if desired, leaving the end of the toothpick clean, and sprinkle with salt and pepper.  You can also serve the balsamic on the side and let your guests drizzle on their own.