Perfect Prime Rib Roast
Perfect Prime Rib Roast comes out extremely tender, unbelievably juicy, and is the perfect roast to serve for the holiday season or special occasion!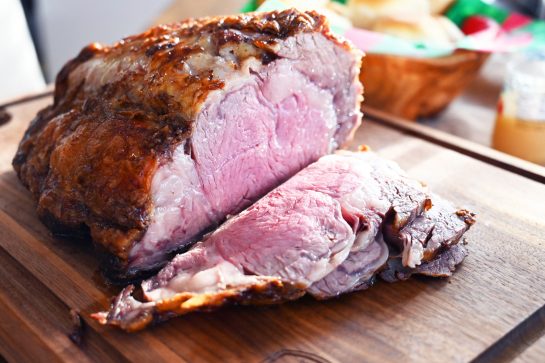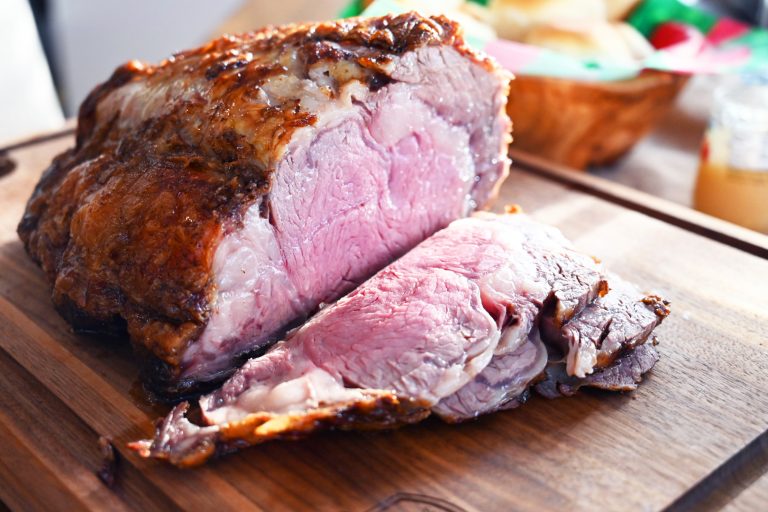 Oh hello, welcome to Christmas dinner! Because this perfect prime rib roast is here. I'm back again with another holiday meal for you today. Deeeelish.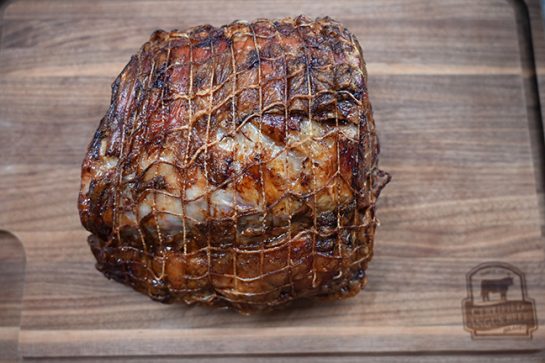 I'm desperate for this cutting board full of this juicy prime rib to appear on my table tonight. Oh how I wish! I've always said that a good prime rib with mashed potatoes is my ultimate favorite meal, because this meal is absolutely incredible. A celebration-worthy meal, if I do say so myself.
This prime rib is my favorite and special occasion-worthy cut of beef that's perfectly suited for Christmas feasts, New Year's Eve dinners, or any time you want to serve a celebratory meal. The best part is that once it's in the oven, there's only one more thing to do: prepare side dishes that pair with the succulent, rich, meaty flavor of prime rib.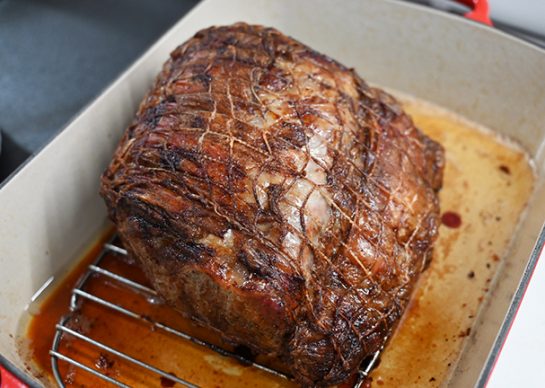 I know it can seem intimidating, but it is actually one of the easiest things you can do in the kitchen. When I spent time with the people of Certified Angus Beef® at their culinary center, the chefs told me that as long as you get the time and temperature right, you cannot fail. Those words always stuck with me!
For years now, I've been using the Certified Angus Beef Roast Perfect App because it makes it incredibly easy to prepare the perfect roast. You really can't go wrong! When going to my local Certified Angus Beef retailer (always look for the Certified Angus Beef ® brand label), I decide on the cut of beef and how many pounds to purchase, which I look up ahead of time on the app.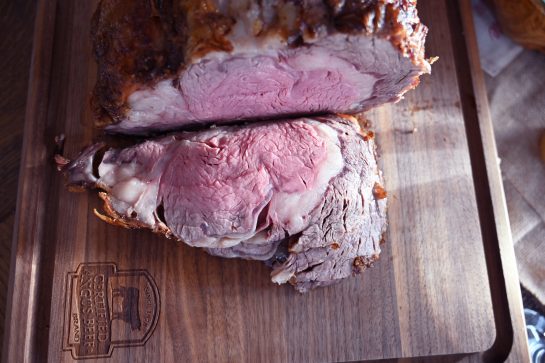 You can always have your butcher recommend the best cut for you!Once I'm home, I then can go ahead and open my phone to reference the #RoastPerfect app to help me with preparation methods and cook time.
The free app walks you through the whole cooking process. There's even a cook timer to ensure you cook it to perfection! You really can't screw it up with this app.
I made my Certified Angus Beef Holiday Strip Roast with Garlic-Herb Crust using the app and it came out tasting and looking like perfection. The Roast Perfect app really holds my hand through the whole process. It also helped me perfect my New York Strip Loin Roast time and time again.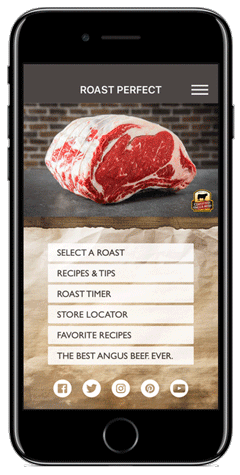 Their website really says it all if you're curious what Certified Angus Beef really means and stands for. You will learn that angus is a breed, not a brand, and there's only one Certified Angus Beef ® brand.
To earn the "Certified" logo, the very best of all Angus beef must meet 10 exacting standards for flavor, tenderness and juiciness, making it much more selective than USDA Choice beef and Prime beef. You can use this link to find out where you can buy Certified Angus Beef where you live.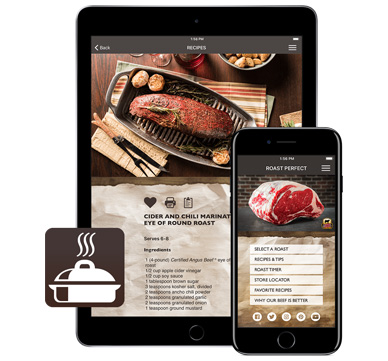 The brand's standards were established when a group of farmers got together in the 1970s and said collectively, "We can do better. We can produce beef that's extremely tender, juicier and always packed with flavor." The brand's standards have become the true mark of quality. The difference is taste is astronomical.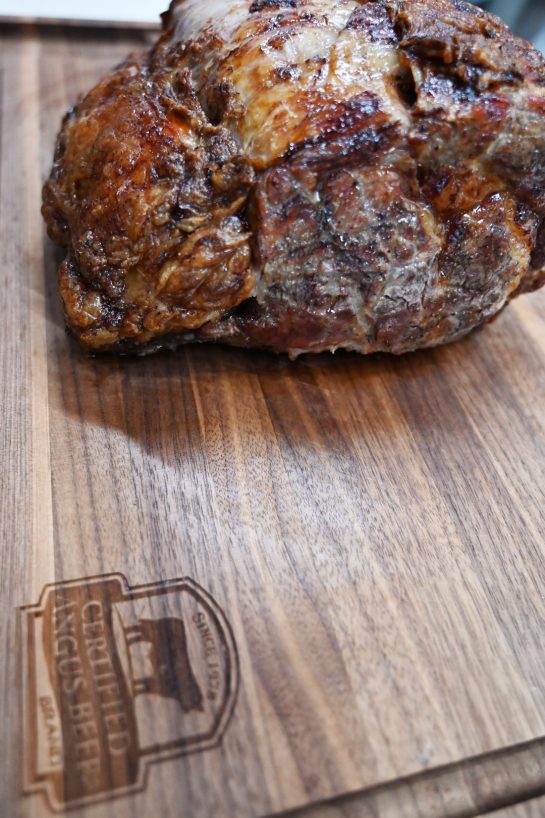 This particular prime rib has a bold flavor that needs no dressing up at all because it has natural, luscious marbling that creates built-in flavor as it cooks and the fat melts. It claims center stage during holiday season for a very good reason. I also have my Roast Beef with Quick and Easy Bourbon Marinade if you're looking for another show-stopper.
P.S. Just talking about that recipe makes me want to shout out "carve the roast beast!" because I have already watched the Grinch probably 56 times this December.
Having prime rib for your special holiday meal is definitely a bit of a splurge, but it's also the most wonderful time of the year!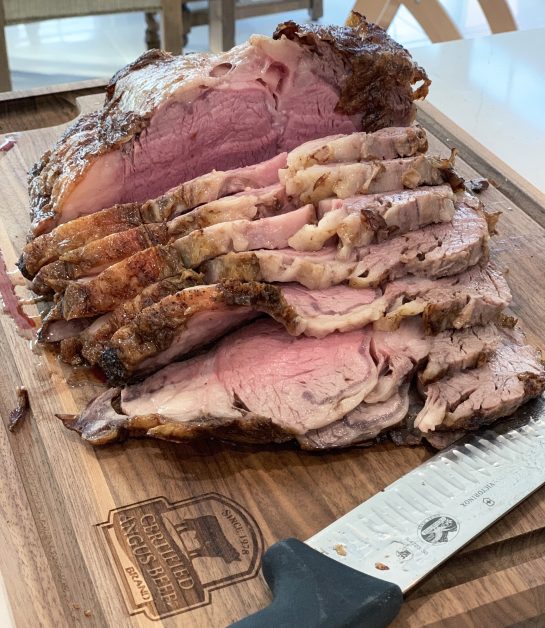 This meal would always be my choice over a Christmas ham. I've never been a huge fan of ham and I think a holiday prime rib is a million billion times better!
Feel free to make my Holiday Steak Bruschetta with any leftovers. My friend Faith makes those every Christmas Eve and New Year's Eve and raves about it. I'm also a bit partial to my Slow Cooker Beef Tips and Gravy.
Be prepared to win dinner this season if you make this!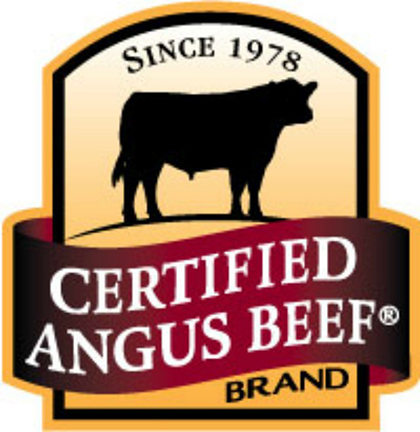 Perfect Prime Rib Roast
Prep time:
Cook time:
Total time:
Perfect Prime Rib Roast comes out extremely tender, unbelievably juicy, and is the perfect roast to serve for the holiday season or special occasion!
Ingredients
1 8 pound Certified Angus Beef ® prime rib roast (size depends on how many people you are feeding)
3 tablespoons kosher salt
2 tablespoons freshly ground pepper
2 tablespoons fresh rosemary minced
2 tablespoons fresh thyme minced
Instructions
Preheat oven to 450ºF. Season/rub boneless rib roast on all sides with thyme, rosemary, salt and pepper.
Allow meat to sit at room temperature for at least an hour prior to cooking.
Place on a roasting rack, fat side up; roast for 15 minutes. Reduce heat to 325ºF and continue roasting approximately 2¼ hours for medium (when thermometer registers 135-140°F before resting) or until desired doneness.
Transfer roast to cutting board; loosely tent with foil and let stand 15 minutes.
Slice roast across the grain. Enjoy!

Disclaimer: This post is sponsored by the Certified Angus Beef ® brand in conjunction with a social media campaign through Sunday Supper LLC. All opinions are 100% my own, as always.