Perfect Prime Rib Roast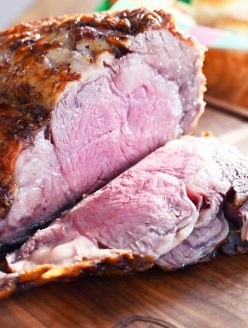 1 8 pound Certified Angus Beef ® prime rib roast (size depends on how many people you are feeding)
3 tablespoons kosher salt
2 tablespoons freshly ground pepper
2 tablespoons fresh rosemary minced
2 tablespoons fresh thyme minced
Preheat oven to 450ºF. Season/rub boneless rib roast on all sides with thyme, rosemary, salt and pepper.
Allow meat to sit at room temperature for at least an hour prior to cooking.
Place on a roasting rack, fat side up; roast for 15 minutes. Reduce heat to 325ºF and continue roasting approximately 2¼ hours for medium (when thermometer registers 135-140°F before resting) or until desired doneness.
Transfer roast to cutting board; loosely tent with foil and let stand 15 minutes.
Slice roast across the grain. Enjoy!