Coffee Chocolate Chunk Cookies
Coffee Chocolate Chunk Cookies are loaded with chocolate and a touch of brewed coffee in the dough to give them that unique flavor twist that adults and kids will both love.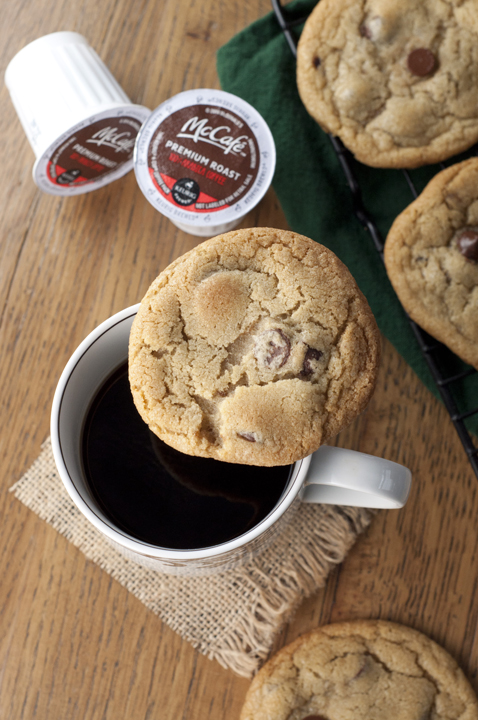 Is your morning coffee time your "me time"?  This is the case for pretty much everyone in my life, as we all have hectic routines in the morning.  I have two jobs which both allow me to work from home so I have no specific time I have to be up and at 'em, per say (I know, I know – you all are hating on me right now).  I do, however, like to try to rise and shine at a decent time so I make sure to be as productive as possible that day.  I wake up, read the morning paper (just kidding – I browse Facebook and other social media), make my plan for the day on what I need/want to get done, and occasionally eat these Coffee Chocolate Chunk Cookies for breakfast.  I really don't eat cookies for breakfast on a regular basis, but I see nothing wrong with it once in a while!  Also, since they have coffee in them, they are perfectly acceptable in the morning.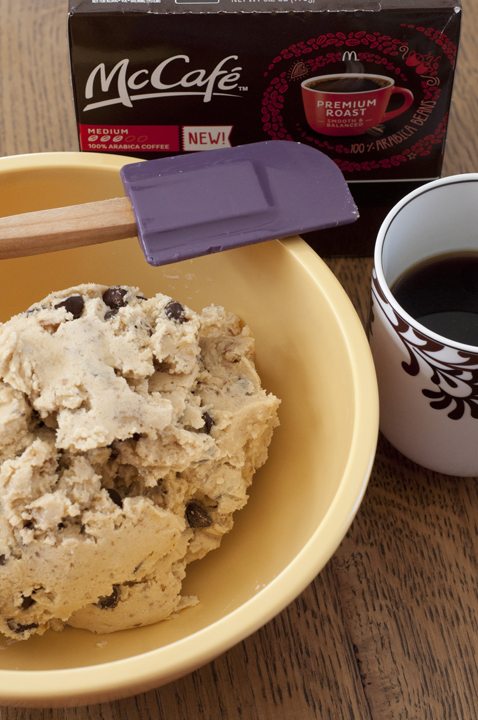 I was late to jump on the coffee train, but I have learned to appreciate it a little more as I get older.  I have found that my favorite way to enjoy it is in baked goods.  Yes, that's right – sometimes I like to eat my coffee!  I found the new McCafé coffee while shopping at Walmart.  Coffee lovers are going to love it and this is what I ended up using as an ingredient in this cookie recipe.  I bought the boxes of McCafé pods (FYI, if you don't have a pod type brewer, McCafé is also available in premium bags and that will work in this recipe, as well). There are 8 flavors available so you can feel free to mix it up a little!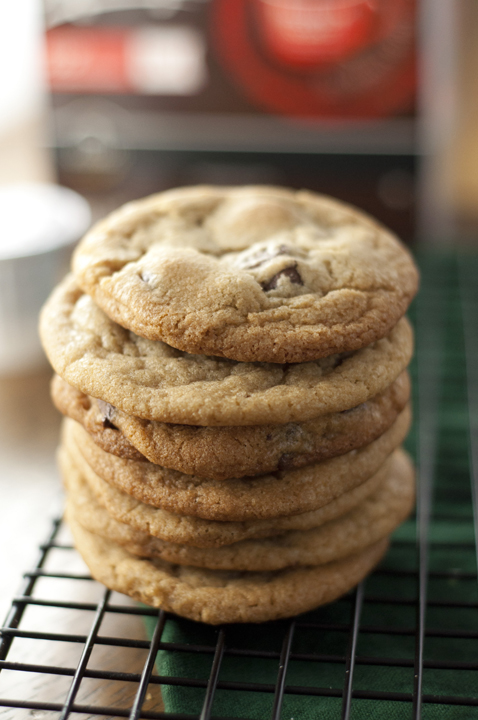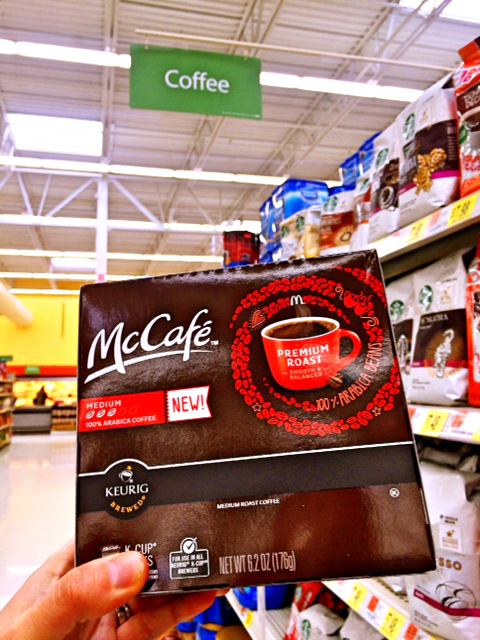 A couple little fun facts about McCafé:
It is made with 100% Arabica Beans (i.e. premium quality coffee).
It is harvested from the rich soils and mountainous regions of the foremost coffee-growing areas of the world.
I enjoyed these Coffee Chocolate Chunk Cookies with, you guessed it, a cup of coffee.  Let's face it – nothing goes better with coffee than more coffee, am I right?  These bad boys go great with a mug of McCafé.  I hope you give them a try and enjoy the unique, yet subtle flavor that the brewed coffee gives these cookies.
So, enough about me.  I would love to know what your morning routine is like.  Do share (because I'm nosy)!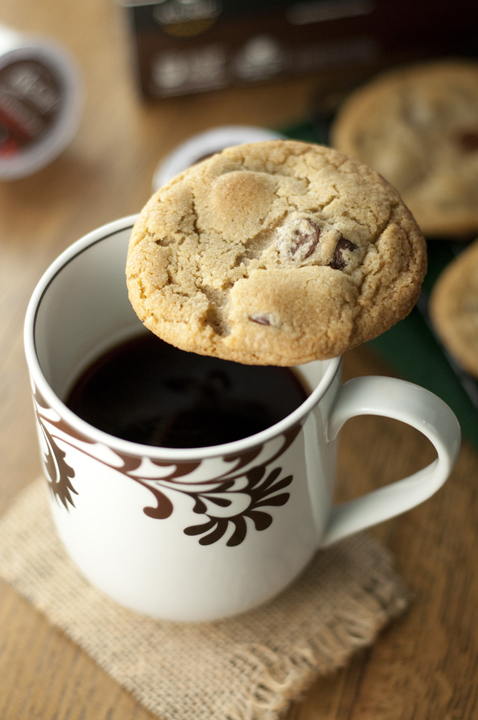 Coffee Chocolate Chunk Cookies
Prep time:
Cook time:
Total time:
Coffee Chocolate Chunk Cookies are loaded with chocolate and a touch of brewed coffee in the dough to give them that unique flavor twist.
Ingredients
2 cups all-purpose flour
1 tsp. baking soda
½ tsp. baking powder
½ teaspoon salt
¾ cup (1 and ½ sticks) unsalted butter, softened to room temperature
¼ cup granulated sugar
1 cup packed brown sugar
2 tsp. of cooled freshly brewed coffee (I used McCafé Premium Roast)
1 large egg
1 cups Semi-sweet chocolate chunks or chips
Instructions
Preheat oven to 350°F.
Whisk together flour, salt baking powder and baking soda; set aside.
Beat butter and sugars in large bowl with electric mixer on medium speed until light and fluffy.
Blend in coffee and egg.
Add flour mixture; beat until just combined.
Stir in chocolate chunks.
Roll dough into 1-inch balls; place at least 2 inches apart, on baking sheets lined with parchment paper or silicone baking mat.
Bake 10-12 minutes or until golden brown around the edges (time depends on their size).
Let cool on baking sheets for 2 minutes then remove from baking sheets to wire racks to cool completely.
Store in airtight container at room temperature.